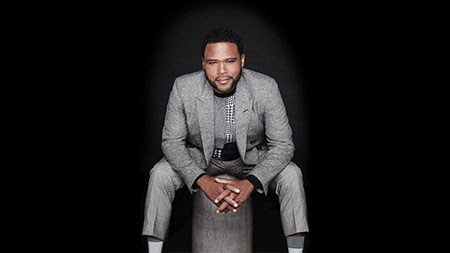 Anthony Anderson, star and executive producer of ABC's hit sitcom "black-ish," will keynote OU's 30th annual Keeper of the Dream Scholarship Awards Celebration.
Oakland University will welcome Emmy and Golden Globe nominated actor Anthony Anderson to campus as the keynote speaker for its 30th annual Keeper of the Dream Scholarship Awards Celebration. The event will take place on Dr. Martin Luther King Jr. Day, January 17, 2022. 
Anderson is the star and executive producer of ABC's multi-award nominated sitcom "black-ish." He portrays Andre "Dre" Johnson, a family man who struggles to gain a sense of cultural identity while raising his kids in a predominantly white, upper-middle class neighborhood. The show began its seventh season this fall.
In addition, Anderson is currently hosting his sixth season of the ABC game show "To Tell the Truth," a popular primetime re-imagination of the beloved classic game show of the same name. He is producing "grown-ish" for Freeform and "mixed-ish" for ABC, both "black-ish" spinoffs. He is also executive producing "Road Trippin" with Rickey Thompson and Denzel Dion, which airs on SnapChat.
Anderson has become familiar to audiences through roles in such prominent films as the Michael Bay blockbuster "Transformers," Martin Scorsese's Oscar-winning feature "The Departed" alongside a stellar cast including Leonardo DiCaprio, Matt Damon and Jack Nicholson, and the all-star comedy "The Big Year." 
Active in his community as an advocate and philanthropist, Anderson will host his fourth annual Anthony Anderson Celebrity Golf Classic next year, benefiting the American Diabetes Association, Los Angeles Mission and Boys & Girls Club of America. He also proudly serves on the GOOD+ Foundation's Fatherhood Leadership Council and was inducted into the Class of 2017 Boys & Girls Club of America National Alumni Hall of Fame. Anderson has Type 2 diabetes and is an advocate for diabetes awareness and a spokesperson for the "Getting Real About Diabetes" campaign.
Anderson has always been a supporter of his hometown, Compton, California. He has partnered with the City of Compton in holiday food giveaways in the city where they provided food to over 1,000 residents. Last year, he emceed the Los Angeles Dodgers' Ground-Breaking Event to support local youths. In the battle against Covid-19, Anderson joined Mayor Garcetti at a South L.A. clinic to urge communities of color to seek COVID-19 testing. 
Established in 1993, Oakland University's Keeper of the Dream Scholarship Awards pay tribute to the legacy of Dr. Martin Luther King Jr. for his achievements on behalf of civil rights. The awards honor students who have contributed to his legacy of interracial understanding and goodwill. In the past three decades, over 100 students have been awarded Keeper of the Dream scholarships totaling more than $500,000.
This year's keynote speaker is sponsored by PNC Bank, Rocket Companies and Oakland University Credit Union. 
For additional event information, contact the Center for Multicultural Initiatives at cmi@oakland.edu or (248) 370-4404.
Additional sponsorship opportunities are still available. Interested companies can contact Tanya Griffith at tgriffith@oakland.edu to learn more about supporting this event.