One of Murray's fondest childhood memories took place in her family's cottage in Traverse City, where as a child she would pull along a small red wagon, stopping only to pick up, examine and place bugs in her wagon. A trait that Murray's mother who, although was not a fan of "creepy crawlies," encouraged. This became a benchmark and source of empowerment for the aspiring biologist's compassion for all living creatures.
"I think it's really important, especially for little girls in biology, to have a positive female role model. When they see something like a bug or a spider they're going to look at their mom's reaction and if their reaction is 'ew that's gross' they might adopt that. My mom never discouraged me because I enjoyed them and I think that's really what influenced me strongly in loving all animals," Murray explains.
Murray would grow up to further explore this passion at Oakland University, where she earned her bachelor's in biology and immediately went on to pursue her master's with a focus in ecology and animal behavior. While at OU, her passion for conservation was fostered by faculty and through research, including her work on wasp behavior and how it affects the productivity of a colony. Murray found herself in her element, examining and caring for these underappreciated creatures.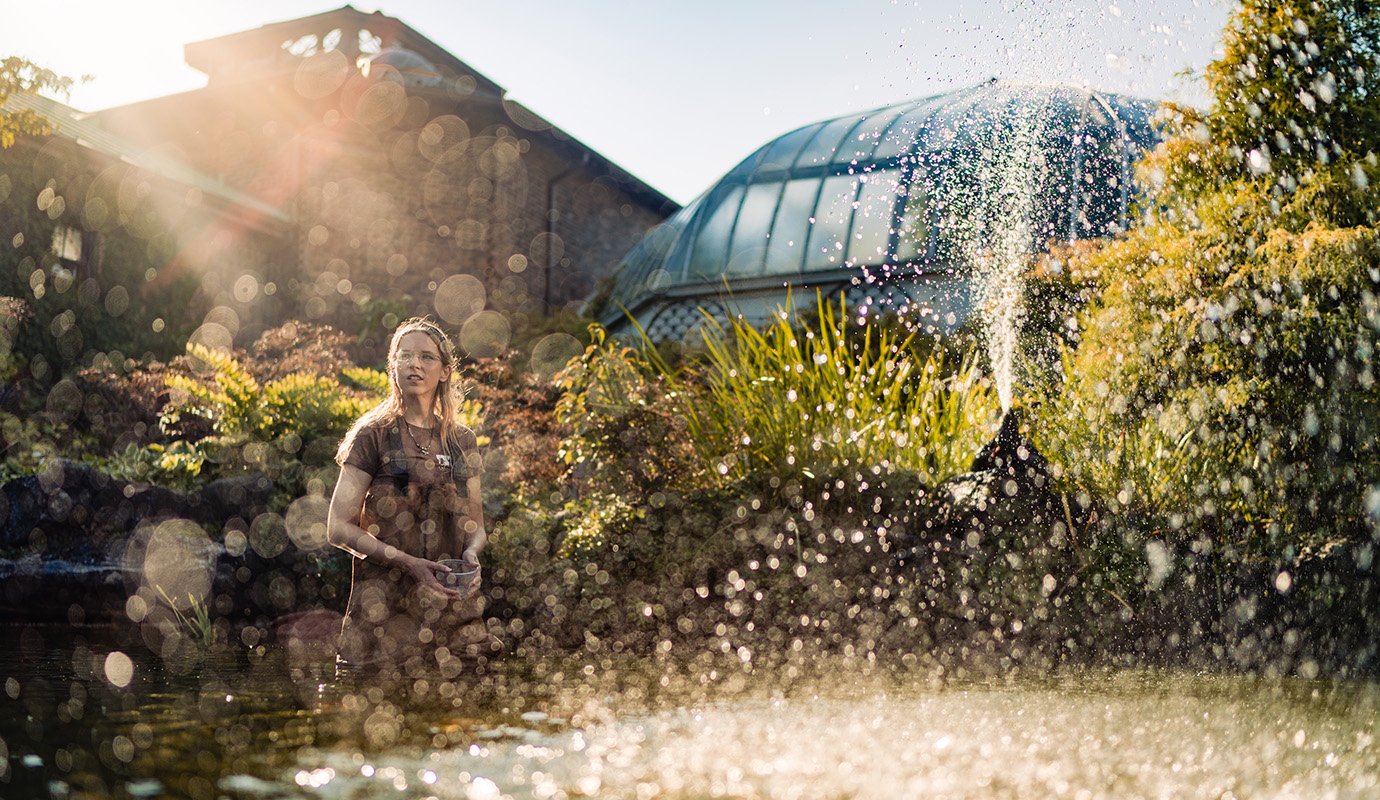 "My research experience gave me confidence in putting forth my own ideas and experiments," says Murray. "It allowed me to explore not only how to properly conduct a scientific study, but also how to analyze the data and present it to peers. I think the research I did at OU was a valuable experience in my career."
After receiving her master's, Murray began work at the Michigan Science Center. But, although she enjoyed the work there, she yearned to work with animals. So in 2018, when a position opened up at the Belle Isle Aquarium, Murray jumped at the chance to apply and shortly thereafter began her new career path.
As an aquarist, Murray utilizes her training in biology, but notes that the job requires more than just knowledge in the life sciences – from understanding physics and the mechanics of tank plumbing, to chemistry and the composition of elements in proper water filtration systems, an aquarist needs to know "a little bit of everything." In her day-to-day tasks, for example, Murray conducts behavioral analyses, checks and maintains the water quality, temperature and pumps on the tanks, ensures all vital equipment is properly functioning, cleans the tanks and feeds the animals. Additionally, Murray provides enrichment for the fish — a crucial component of their health.
"Fish have big personalities, even within the same species," Murray explains. "They need interactions, which have been lacking lately [due to the building's closure during the COVID-19 pandemic]. So, I have to make sure they stay mentally stimulated by changing around the things inside their tank, hiding food, and interacting with them through the glass."
"I want to make sure my fish are content and that I take the best care of them that I can," she says.
Gertie, a tropical gar, plays peek-a-boo while Murray wipes down the outside of her tank. A school of crappies, native of Michigan and one of Murray's favorite types of fish, follow Murray's hand as she slides it along the glass. The stingrays are fed by hand, and frequently squirt Murray with water while they impatiently wait to be fed. To provide additional interactions, Murray also enlists the help of her pet hissing cockroaches, which she sticks to the outside of the tank.
"I love my job. I love my coworkers — and not just the human ones," Murray says. "The fish are my coworkers as well, and I love that I can share my passion with others and help people learn about and fall in love with all animals."
"We share this planet not just with each other but with other species," she continues. "That's why conservation is so vital to me because I want these resources, these habitats, these animals to be around for the future. It's really important to us at the Belle Isle Aquarium and our mission to help with conservation."