To the University community,
For many of us, the approaching holiday season is a time of reflection – a time to show our gratitude for the advantages we enjoy in life and to give thanks for what, ultimately, is most important to us.
I am thankful for my loving family, many dear friends and countless mentors who have been instrumental in guiding me toward rewarding experiences. The opportunity to join Oakland University is one of those opportunities, and I am thankful to be a part of a community that is warm, inspiring and dedicated to noble values.
During the holidays, I also find myself humbled when I think of those who must make do without. I think of my mother, Bella Hirsch, who was raised in a war-torn Russia. But with great resilience, she found the fortitude to accomplish a great deal: she became a nurse, married and started a family – instilling in her children the same resilience that drove her to succeed.
As everyone does, I, too, have grappled with some of life's challenges and setbacks and disappointments. Yet, when I think of my mother's many sacrifices, I don't find it so difficult to meet those challenging moments head-on with gratitude and grace.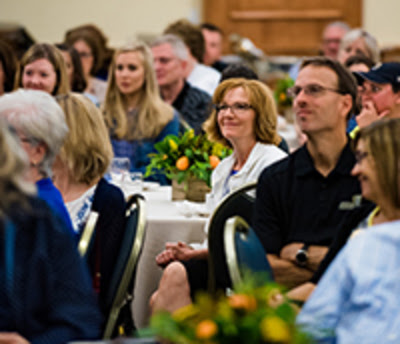 As members of the Oakland University community, we have earned for ourselves the boundless gift of opportunity. Tied to our University are some 20,000 students, thousands of faculty and staff, more than 100,000 alumni, countless donors, partners, supporters and friends – which makes our potential to explore the corridors of human knowledge, culture and experience nearly limitless.
Together, as Golden Grizzlies, we owe it to ourselves and others, to explore the full depths of our potential. With gratitude, let's shoot for the stars. Knowing that if we miss, we may still land on the moon.


Ora Hirsch Pescovitz, M.D.
President