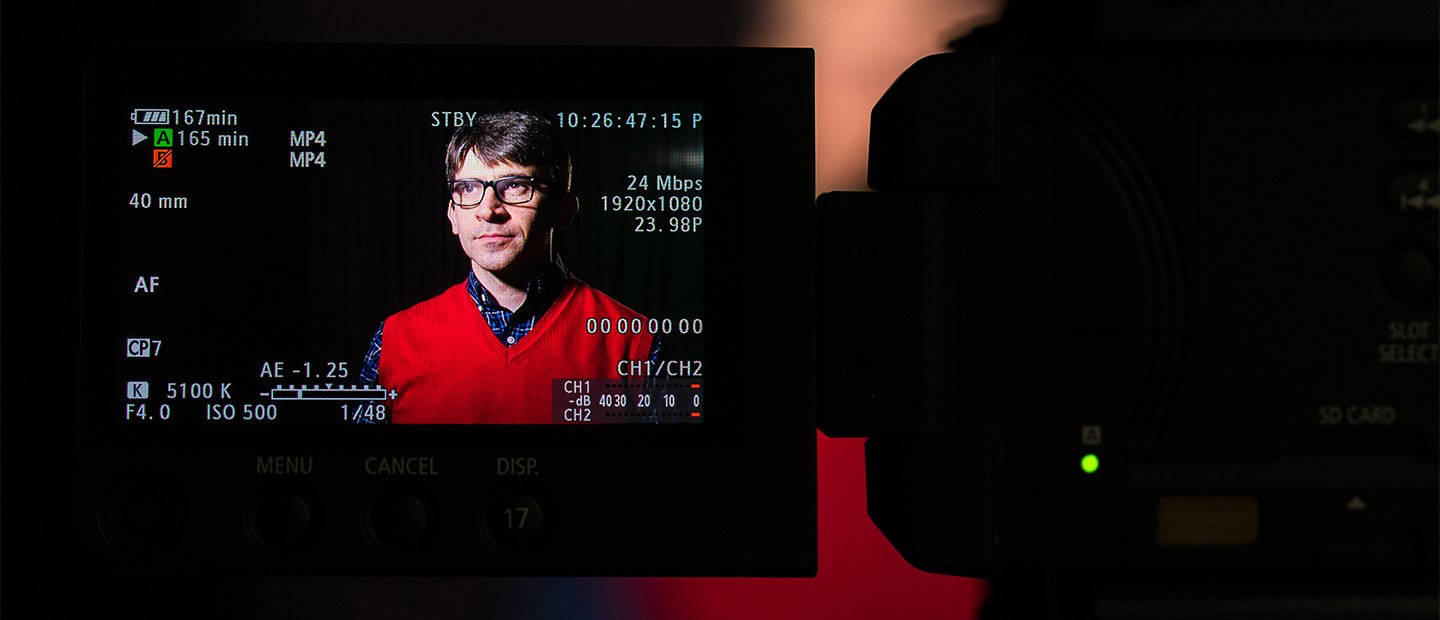 Single Camera Production
One camera used to cover events and speakers. These productions may or may not be edited into a completed program. Scripted productions may also utilize a single camera to record interviews and representative footage to videos that serve university or department needs. One-week notice for requested shoots is required. All requests are handled on a first  come, first serve basis.
Multiple Camera Production
Two or more cameras used to cover events or lectures. Multiple camera productions are typically larger scale projects with many crew members and allow for the addition of title/name graphics, PowerPoint presentation slides, multiple audio feeds. and web streaming. These productions require the use of our Tricaster system and allow for the creation of a completed product without editing. At least two weeks notice is required for these requests. This allows time for site surveys, set and graphic design and network set-up.
Video Editing
Editing services takes existing footage and combines it with music, graphics and special effects to create a purposeful finished product. Footage shot by Video Services or footage provided by clients may be used in editing. Time requirements are done on a case by case basis taking into account the scope of the edit request and other active projects.
Video Streaming
Video Services can provide on-campus overflow and public web streaming of events or lectures we are requested to cover. This service is most often used for large events that require viewing locations for additional audience members and events that are intended to reach an off-campus audience. Video streaming requests must be received with a minimum of one weeks notice to allow for network set-up and testing.
Duplication
Duplication services are available for the distribution of multiple copies of videotapes. The following formats are supported: DVD-R, DVC Pro, MiniDV, Large DV, and VHS. All video content must be clear of copyright infringement before duplication. One week is required for most dub requests; large order timelines are determined on a case-by-case basis.
Video Compression/Digital File Conversion
Video compression and file conversion takes existing video footage from tape, DVD, or other formats and converts it into a variety of file types( i.e. .mov to .mp4). Compression is necessary if a video is required for embedding into a PowerPoint presentation or posting on the web.
Video Archiving
A video archive is maintained by Video Services. This archive contains stock footage of campus events, scenery, people and buildings. This archive enhances productions by having  stock footage available year-round to all projects. Stock footage allows common scenes to be used instead of shot repeatedly. Archiving cuts down on  production costs to department clients by limiting shooting required for new projects. The cost of all production requests includes archiving raw footage and the master.
Electronic Bulletin Board
Any Oakland University group or department may request slides to air on OUTV. Simply email Heather Haughey your PowerPoint slide that you would like aired, as well as a start date and end time/date for the slide to air.
The Video Services Department is available to any university entity for consulting on best practices for creating cost effective videos. Questions regarding script writing, the production process, editing, and copyright laws are always welcome. Video Services strives to create professional and impactful videos for the university community.