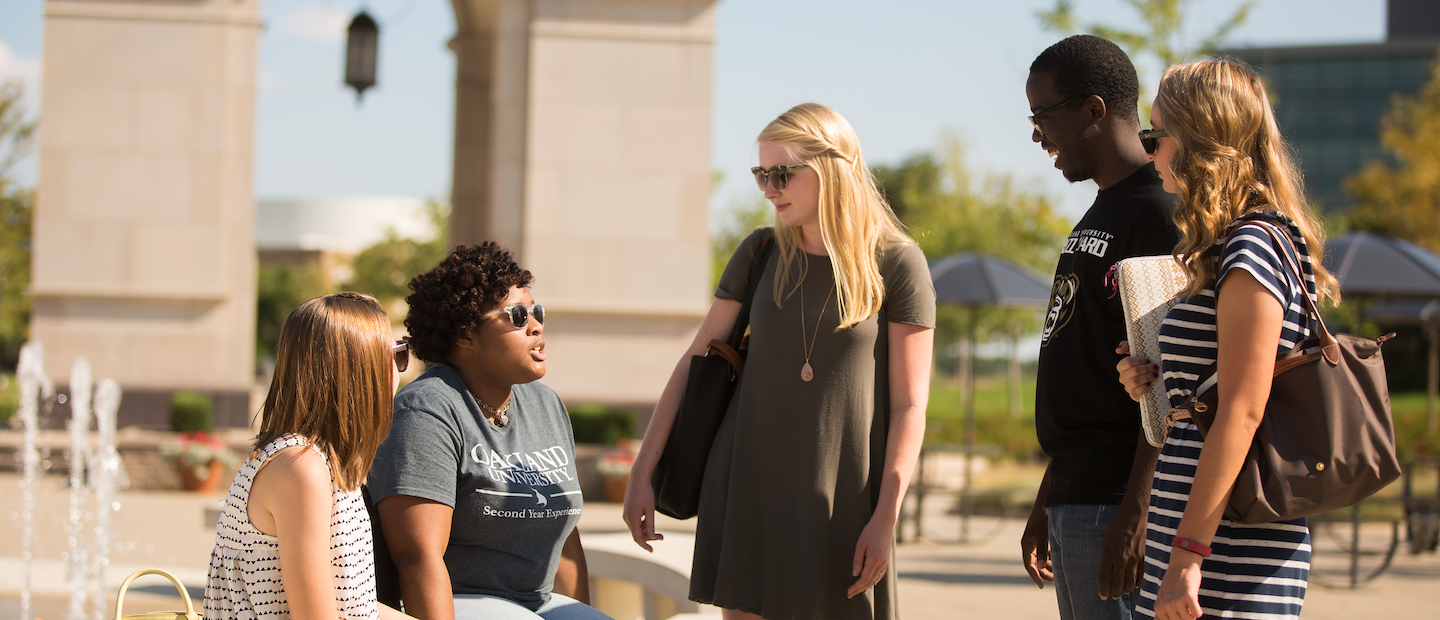 The Oakland University Committee on Undergraduate Instruction (UCUI) is a permanent standing committee of the University Senate. UCUI's charge includes the following responsibilities. You can also click to access membership criteria.
1. To recommend to the University Senate academic policies and procedures concerning undergraduate education, and when necessary, seek advice from other appropriate bodies concerning the impact of these policies and procedures;
2. To evaluate and monitor petitions of exception regarding university-wide undergraduate academic requirements except for university-wide general education requirements;
3. To prepare an annual report on all petitions of exception to be shared with the Office of the Senior Vice President for Academic Affairs and Provost, the Registrar, individual Committees on Instruction, and the Senate Planning Review Committee;
4. To make recommendations to the University Senate regarding proposed and existing undergraduate programs, including recommendations for program modification, suspension or discontinuance;
5. To advise the Senate Planning Review Committee (SPRC) and the Senate Budget Review Committee (SBRC) concerning proposed new undergraduate programs and to maintain regular communication with SPRS and SBRC through exchange of minutes;
6.  To cooperate with the General Education Committee in overseeing undergraduate instruction throughout the University and to maintain regular communication with that committee through exchange of minutes;
7. To schedule and monitor decennial reviews of all undergraduate programs in timely fashion and report findings to the Senate Planning Review Committee and the University Senate;
8. To evaluate ongoing and proposed undergraduate programs for their consistency with University academic policies and mission; to monitor catalog copy to ensure compliance with all such policies; and to monitor all catalog changes impacting outside of the Committee on Instruction making the change; and
9. To advise the Senate on all matters that body or its Steering Committee may refer to the Undergraduate Committee on University Instruction concerning undergraduate instruction and the general requirements within which the specifics of undergraduate degree programs function.
The UCUI meeting dates for the 2023-2024 academic year are listed below. Meetings will take place virtually from 9 to 11 a.m. on Tuesdays unless advised otherwise.
September 19, 2023
October 3, 2023
October 17, 2023
October 31, 2023
November 14, 2023
November 28, 2023
December 5, 2023 (additional meeting)
December 12, 2023
January 9, 2024 (additional meeting)
January 16, 2024
January 23, 2024 (additional meeting)
January 30, 2024
February 13, 2024
February 20, 2024 (Pulled forward from Spring Break)
March 5, 2024
March 19, 2024
April 2, 2024
April 16, 2024
April 30, 2024 (additional meeting)