Oakland University has embarked on a bold campaign to reimagine what is possible in Michigan, to stand up for our students and higher education funding in Michigan.
Despite being one of the fastest-growing universities in the state, Oakland University ranks last in how much it is funded per student. As a state, Michigan spends more on incarcerating its citizens than it does on higher education funding.
We can and must do better - our priorities reflect our values. Make higher education a priority in Michigan and fund our values!
Send a letter
Download a letter to send to your Senator or State Representative regarding the Strive for 45 campaign.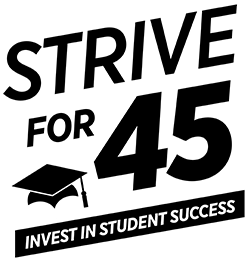 Find your representative
If you aren't sure who your elected state officials are, find out by using the following links:
Frequently Asked Questions
What is the Strive for 45: Invest in Student Success campaign?
This campaign was launched by Oakland University to correct years of disinvestment in higher education funding. Oakland University is hurt the most as it ranks last in state funding. Currently, several of the state's public universities receive funding per student that is less than they were 20 years ago.
Oakland University recognizes that a moderate funding floor for all state universities would provide support from the State of Michigan and begin to bring equity and fairness to higher education funding while not cutting into the funding many of the other state universities already receive.
This additional funding would mean more need-based financial aid, more student adviser services, increased graduate assistant employment opportunities and an overall improvement in student services.
Currently, 96% of OU graduates stay in MI, raising families, working, starting businesses and paying taxes. Bringing more investment into OU is a great return on investment for the taxpayers of Michigan.
Who is involved?
Oakland University has reached out to other universities and local legislators to garner support in the drive to change the way Michigan funds higher education, working toward equity in funding.
Elected Officials (or former)
MAYOR, ROCHESTER HILLS - Bryan Barnett
REPRESENTATIVE (R-39), HOUSE OF REPRESENTATIVES - Ryan Berman
HOUSE DEMOCRATIC LEADER (D-37), HOUSE OF REPRESENTATIVES - Christine Greig
REPRESENTATIVE (R-74), HOUSE OF REPRESENTATIVES - Mark Huizenga
REPRESENTATIVE (D-49), HOUSE OF REPRESENTATIVES - John Cherry, Jr
MAYOR, PONTIAC - Deirdre Waterman
MAYOR, AUBURN HILLS - Kevin McDaniel
SHERIFF, OAKLAND COUNTY - Mike Bouchard
COMMISIONER, OAKLAND COUNTY - Adam Kochenderfer
REPRESENTATIVE (D-29), HOUSE OF REPRESENTATIVES - Brenda Carter
REPRESENTATIVE (R- 24), HOUSE OF REPRESENTATIVES - Steve Marino
REPRESENTATIVE (R-45) , HOUSE OF REPRESENTATIVES - Mike Webber
REPRESENTATIVE (D-18), HOUSE OF REPRESENTATIVES - Kevin Hertel
REPRESENTATIVE (D-27), HOUSE OF REPRESENTATIVES - Robert Wittenberg
SENATOR (D-13), STATE SENATE - Mallory McMorrow
SENATOR (D-9), STATE SENATE - Paul Wojno
SENATOR (R-10), STATE SENATE - Michael MacDonald
REPRESENTATIVE (R-43), HOUSE OF REPRESENTATIVES - Andrea Schroeder
REPRESENTATIVE (R-51), HOUSE OF REPRESENTATIVES - Mike Mueller
SENATOR, STATE SENATE - Rosemary Bayer
FORMER REPRESENTATIVE (R43) - Gail Haines
FORMER MAYOR, ROCHESTER - Robert Ray
REPRESENTATIVE (R-38), HOUSE OF REPRESENTATIVES - Kathy Crawford
REPRESENTATIVE (D-22), HOUSE OF REPRESENTATIVES - John Chirkun
Faculty Leaders
COMMUNICATIONS PROFESSOR, OAKLAND UNIVERSITY - Beth Talbert
PHILOSOPHY PROFESSOR EMERITUS, OAKLAND UNIVERSITY - David C. Bricker
CAREER CONSULTANT/AREA COORDINATOR FOR RESIDENCE LIFE PROGRAMMING, OAKLAND UNIVERSITY - Amy Ring Cebelak
Community Leaders
PARTNER - KUNZ, LEIGH & ASSOCIATE - John Leigh
SENIOR VICE PRESIDENT, SENIOR PORTFOLIO MANAGER - WEALTH MANAGEMENT, USA - UBS FINANCIAL SERVICES INC. - Mark S. Anderson
VICE PRESIDENT, SENIOR DIRECTOR - CUSTOMER EXPERIENCE/COMMUNICATIONS AT MARCO'S PIZZA (MARCO'S FRANCHISING, LLC) - Keith Ulrich
CHAIRMAN, SECS ADVISORY BOARD - Michael Bolon
OU ALUM/ALAN OU FOUNDATION BOARD DONORS - Alan/Barbara Gough
EXECUTIVE DIRECTOR OF GLOBAL INDUSTRIAL DESIGN, GENERAL MOTORS - Teckla Rhoads
PHILANTHROPIST - Lois Shaevsky
TOTAL SPORTS - Tony Moscone
DIRECTOR AND CEO - AM GENERAL, LLC- Mark Guthrie
NIAGARA MURANO - David Barczys
VP HEALTHCARE, EDUCATION AND NON-PROFIT LENDING, FIFTH THIRD BANK - Kyle O'Neil
SENIOR VP WEALTH MANAGEMENT, UBS FINANCIAL SERVICES - Rebecca S. Sorensen
Why is this needed?
The way Michigan funds higher education follows the same pattern of disinvestment that has been prevalent for 17 years, a period marked by increased funding inequities between universities across the state. Ultimately, this unfairly penalizes our students. The $4,500 funding floor is the first step in bringing equity and fairness to higher education funding in the state. The additional funding will help improve student opportunities and strengthen programs that have proven to help students be successful.
Who can make this change?
The legislature has the power to create this funding floor, supporting Michigan students and our state universities. Oakland University is asking its legislative delegation to be their champion.
What would this funding mean for higher education in Michigan?
Currently there are five state universities that fall below this basic funding level. This funding floor will help bring equity and fairness to how they are funded and ensure they can improve the student experience. These funds can be used to:
Offer more need-based financial aid and scholarships
Increase graduate assistants
Increase student employment
Increase and improve campus safety and student experience
Offer more research opportunities and initiatives
There are many more benefits this funding would provide at Michigan campuses and each will help universities attract and retain top talent, boosting the state's economy in the long-term.
Will this lower tuition?
OU has one of the lowest freshman tuition rates in the state and we remain competitive and market driven. While ultimately, the OU Board of Trustees sets tuition rates, we remain committed to keeping our rates below the state's tuition restraints. OU has always been extremely frugal with how we allocate and spend tuition dollars, as evidenced by everything the university has accomplished while keeping tuition low and receiving the lowest level of state support for decades, with this additional support from the state we will be able to invest in programs and support for our students, including providing more need-based financial aid and investing in academic support that helps our students be even more successful during their time at OU and after.
How will this help students?
Having a funding floor will allow for more need-based financial aid for students. It will add academic advisers to keep students on track to graduate. It will allow the university to hire new faculty to reduce the faculty-to-student ratio, making the education even more personal. It will support and expand research projects that can benefit students' experiential learning opportunities. It will allow for more programs of community engagement for students and improve classroom space and technology.
How does Michigan rank in university funding currently?
Michigan ranks 44th out of 50 states for how much it funds its state universities.
How much do other states spend to fund their public universities?
The national average is 10% that states spend to fund their public universities. In contrast, Michigan spends just 4% to support their students at public universities.
How can I help?
Get involved! This affects everyone in Michigan and Oakland County, especially the students, parents and employers. We need you to write and call your legislators, go to their coffee hours and make your voices heard. Every candidate or incumbent for public office should understand how critical this issue is for the future of our state.
Download a letter to send directly to your legislators and sign up using the form below for more information. We will keep you posted on what you can do to help and how to find your legislator's next in-district event so you can speak with them directly. We will also be organizing Capitol Days, where you can join us at the capitol to make your voices heard.
OU Fast Facts
19,013 total students (15,543 undergrad/3,470 graduate)
Over 3,000 students live on campus
32% first generation college students
5,000 PELL students
78% from Oakland, Macomb and Wayne counties
3.56 GPA, ACT 25, SAT 1120 average incoming freshman scores
96% of employed OU grads stayed in Michigan
Master's in Mechanical Engineering = 3rd-highest median salaries in nation
A very selective and active School of Medicine
919 International students
Fall 2019 transfer students: 1,614, up 10 percent
146 bachelor degrees, 130 doctoral, masters and certificate programs
20 to 1 student-to-faculty ratio
66% of full time undergrad students receive scholarships / grants
More than 118,000 alumni with 75 percent living in Michigan
Record incoming freshman classes: 2,667 in 2019 and 2,700 in 2018
Appropriation per student = $3,069, lowest in the state
FY 2000 appropriation funding floor of $4,500
MI higher education spending is only 4.2 percent of state budget compared to 10 percent
President's Keynote Address Video
Video loading...
Transcript

We're so fortunate to have such amazing students here at Oakland, and while they are exceptional, we have so many more additional students just like them. So there comes a time in the history of an institution of higher learning when it's time to take a stand. For Oakland University, that moment is now. Today, we begin our campaign, Strive for 45, to draw public attention to the pressing need to better fund higher education, and address the fundamental inequities and negative impact of those inequities on our students, on public universities, and the future prospects for all of us. Today, as Michigan legislators consider the upcoming state budget, we believe that it is essential that the values of Michigan residents be reflected in the States spending and funding priorities. Did you know that Michigan created our first public university 20 years before we were even a state? Higher education has always been, and should always be, a priority for us. But in the past two decades, state support for higher education has declined to the point where higher education spending in Michigan comprises only 4.2 percent of state expenditures. This compares to a 50 state average of 10 percent. Michigan currently ranks 44th in the Nation on per resident spending in higher education. So we must increase funding for higher education. Our Oakland University students are especially impacted by both the lack of state funding and also the inequities in our funding model. As the lowest funded per student university in Michigan, and yet one of the fastest growing of the state's 15 public universities, Oakland University has not received the type of state support that our students deserve. Strive for 45 aims to achieve equity, but without cannibalizing the better funded universities. Setting the floor funding for public university students at $4,500 should not come at the expense, nor diminish, the financial condition of the state's other public universities that also make important contributions to the educational, cultural, and economic development of Michigan. But frankly, the state funding model for higher education in Michigan is broken. It's unfair that one public university receives $9,000 per student, while Oakland University receives $3,000 per student, which is far below the 15 state university average of more than $5,000 per student. Over the years, the funding discrepancies have been growing worse and worse, making the annual state funding allocation more and more unfair. Our campaign, Strive for 45, sends a clarion call for legislators, the governor, and Michigan's business, civic, and philanthropic leadership. We're calling for floor funding of $4,500 per student as the first step in solving the problem of inequity in higher education funding. In addition to Oakland University, there are other institutions who will benefit from an increase in floor funding, including: Grand Valley State University, the University of Michigan-Flint, the University of Michigan-Dearborn, and Saginaw Valley State University. Instead of considering funding to higher education as an expenditure, we need to recognize that higher education is an investment in our students and in our future. An investment that yields dividends as measured by the health of our citizens and the health of our economy. Higher education needs both more funding and a more equitable funding model. Over 25 years ago, the state recognized the need for K through 12 floor funding, and has successfully changed the model to level the playing field by providing more equitable support for K through 12 students throughout the state's school districts. So now is the time to do the very same thing for our universities. It's important to note, that in 1999, the Michigan legislature passed a public act that provided floor funding at $4,500 per student, for public universities. But two decades later, Oakland receives just $3,000 per student, the lowest among the state's public universities. Don't you think it would be reasonable to at least return to the 1999 floor funding 20 years later? In order to truly understand the impact of the state's disinvestment, I want you to do the math. If funding to Oakland students would have been kept at the 1999 level, with only inflationary increases, then today we would receive nearly $7,000 per student in 20, $20 the same as five of our 15 public universities. But instead, the amount of state funding we receive today in real dollars is far below what we received 20 years ago. State disinvestment in higher education comes at a time when there is a growing need for bachelors and graduate degrees. In fact, 36 of the hottest jobs that our students are going to go out and try to get in Michigan require at least a four-year degree. Graduates from Oakland, Grand Valley, U of M-Flint, U of M-Dearborn, and Saginaw Valley, are all contributing to building the Michigan economy. In fact, more than 90 percent of OU graduates who are employed are working in Michigan. Nationally, those who receive a college degree earn more than one million dollars more over the course of their careers compared to non degree holders. The power to establish more equitable funding rests in the hands of policymakers in Lansing. As state legislators determine the future of higher education funding, they must understand that today's students will graduate and enter a tech driven, fast changing world. Unfortunately, too many students will enter their post-college world with burdensome debt. Legislators can make a positive difference in alleviating the student debt by establishing the $4,500 floor funding, which will address immediate needs that directly impact student's success. Presently, Oakland University awards all of its current state funding to students through financial aid and scholarship. Once we receive the funding floor amount of $4,500, we will use these funds to decrease student debt by 10 percent. When we receive the funding floor amount of $4,500, we will use the funding to increase graduation rates by 10 percent. We will use additional state funds to enhance our research, contributing a further $100 million impact on Oakland's already impressive 1 billion dollar economic contribution to our region. The states continued disinvestment in education, and the broken funding model that has been used to determine public universities funding has simply been accepted as the status quo, but Strive for 45 aims to change all of that. The unfair funding level to Oakland University students is an example that demonstrates the great inequity in the current system. Along with Grand Valley, Michigan State, University of Michigan at Ann Arbor and Dearborn, and Michigan Tech, Oakland has had positive enrollment growth for the past 10 years from 2009 until 2019, and yet, during Oakland's two-decade period of steady enrollment growth, revenue from state funding has declined as a percent of the budget from 44-18 percent. While at the same time, revenue from tuition as a percent of budget increased from 54-81 percent. We can't help but wonder, how could it be that a thriving university in the heart of the state's second most populated county, that has an R2 Carnegie designation as a research university, a record of impactful community engagement, and proudly claims that more than 90 percent of its graduates remain in Michigan to build the Michigan economy, receives such inadequate financial support from the state? Can you just imagine what Oakland University will do in addition to reducing student debt and increasing graduation rates when we do receive an equitable amount of state funding? I want you to just imagine, with a fair amount of state funding, Oakland will have an even greater impact on working with our communities to improve the health, education, and economic prosperity of the residents in our region and further contribute to the growth of Michigan's economy. I really wonder what parents of college-aged students, who are living in Oakland and Macomb counties, will tell their legislators when they hear about the many possibilities and the potential of the underfunded university that's in their backyard. Perhaps, it's time that they have that conversation, and while we appeal for the establishment of floor funding and a more equitable funding model, we are well aware that there are no quick fixes to the current static funding model. But at the same time, while there are no quick fixes, the first step toward finding a funding fix can and must begin today. So we've identified a solution that's based on all public universities and legislators working together in a practical way for the benefit of all public university students, and we believe that we can accomplish our goal of achieving equity in state funding by committing to the following. First, implement the $4,500 floor funding, not immediately, but over four years. Second, reach the national average for investment in state public universities for higher education, which is 10 percent of the budget by 2030 and get started now, this year. Clearly, the Strive for 45 campaign is inseparable from a broader public discussion about other pressing state funding needs, including the need to improve funding for health care, public infrastructure, and of course, also K through 12 education. As you go about making up your own mind about funding for Oakland University students and other public universities, I want you to ask yourself, if your values align with the state's budgetary priorities, do we want to be known as a state that's recognized for spending more money on the corrections budget that funds the incarceration of our residents than we spend on educating college students who are tomorrow's leaders and vital to the Michigan economy and our own future prosperity? As a state, we can and must think more innovatively and have a broader and more serious discussion about our priorities, and make sure that those priorities reflect our values. We are optimistic about the odds for our success. From the governor's office, to the Detroit Regional Chamber, to the business leaders of Michigan, there is a great effort going on now in statewide and method focused Detroit to improve the state's post-secondary attainment level from our current rate which is 45.5 percent to 60 percent by 2030. At the heart of achieving this goal is a central role for higher education institutions to be fully engaged in making education more affordable, providing debt forgiveness programs, and finding ways to connect to adult learners, those who are 25 years old and older, who would gain greater financial stability and opportunities with a college degree. In these efforts and more, Oakland University is right at the forefront. In the final analysis, Strive for 45 calls for much needed funding to further support our efforts to make sure we're continuing to do all that we can to help our students succeed in academics, in their careers, and in their lives, from the UP, to Western, mid, and Southeastern Michigan. Michiganders believe ardently that education is a core value and at the heart of Michigan's cultural and economic transformation. Education is a principle that stands on the pillars of reason, fairness, diversity, the pursuit of knowledge, and upon the notion that progress should and must benefit all of us. Among the state's highest priorities must be a public investment in the students that we have that create better prospect for all residents, businesses, small and large, and has the support of the state's core, civic, corporate, and cultural institutions, and that investment must be in higher education. Can you imagine the possibilities if Michigan, the birthplace of the auto industry, the labor movement, and with the legacy of innovation, also became the model of public education? What would that say about who we are and what we value? So Strive for 45 is a decisive step toward properly funding higher education and working to achieve an equitable funding model. Both are essential to making Michigan all that it can be. Thank you very much for being with us here today. Thank you for supporting our initiative and advocating for us, and we also suggest that you spend some time mingling and having a bite to eat. Thanks again.
Transcript

There comes a time in the history of an institution when it's time to take a stand.

For Oakland University, that time is now.

Over the past two decades, state support for higher education in Michigan has declined

to 4.2% of state expenditures, compared to the 50-state average of 10%, ranking Michigan

44th in the nation.

"Strive for 45" aims to achieve better funding for higher education as a whole, and

to address fundamental inequities between universities within that funding structure.

I'm Ora Hirsch Pescovitz, President of Oakland University.

Let's work together to ensure Michigan's future is as bright as it can be.