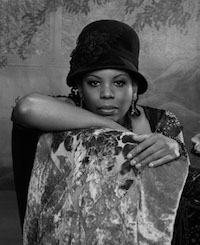 Artist-in-Residence
Links: 
www.reginacarter.com

Violinist Regina Carter combines dazzling technical proficiency and profound compositional and improvisational gifts with a fresh, aggressive approach to her instrument and a multicultural perspective, and she challenges our preconceptions regarding the instrument. In Carter's hands, the violin reveals both its melodic side and its potential for percussive expression. Perhaps more significantly, Regina Carter demonstrates the violinist's eagerness to explore musical combinations and contexts both familiar and unexpected.

Carter, an OU alum, has been named artist-in-residence and will spend two full weeks on campus during each academic year to teach master classes and work with students, faculty and ensembles, individually and in groups.

A Grammy nominee and a 2006 recipient of the John D. and Catherine T. MacArthur Foundation Fellowship, Carter earned her bachelor's degree in music from OU in 1985. In 2001, she became the first jazz musician and African- American to play "The Cannon," a 250-year-old Guarneri violin once owned by Niccolo Paganini, which is kept in Genoa, Italy, and only played once a year by an individual deemed worthy.

Carter is well known as an innovative musician, a trait that led her to Oakland University more than two decades ago. A native Detroiter, Carter studied at the Center for Creative Studies and the New England Conservatory of Music before transferring to Oakland because she wanted to play jazz on the violin, traditionally a classical instrument.