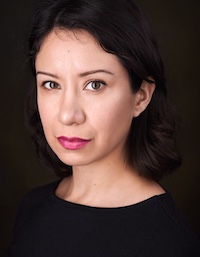 Visiting Assistant Professor of Theatre
Monica Lopez Orozco holds an MFA in Acting from University of Illinois at Urbana- Champaign, a BFA in Acting from Northern Illinois University, and a certificate of training from the Moscow Art Theatre.

Her stage work includes many premieres and the development of new works by ground-breaking artists such as; Ike Holter's Rightlynd (World Premiere, Victory Gardens Theater) and Lottery Day (Goodman Theatre's New Stages Series), Sandra Delgado's Hundreds and Hundreds of Stars (Goodman Theatre's New Stages Series), Philip Dawkins' Charm (World Premiere, Northlight Theatre, Joseph Jefferson Nomination, Best Ensemble, Time Out Chicago Nomination, Best Supporting Actress) and Keith Huff's Six Corners (World Premiere, American Blues Theatre). Other credits include Camino Real, and The Cook (Goodman Theatre), The Doctor's Dilemma, Hay Fever (ShawChicago), Coriolanus (Shakespeare Project of Chicago), A Midsummer Night's Dream (Tantrum Theatre) and Merchant of Venice and Macbeth (Utah Shakespeare Festival). Monica has also appeared in numerous commercials and in television on Chicago Med and, most recently, in the upcoming Netflix series, Soundtrack. She continues to work professionally and is a proud member of Actor's Equity Association and SAG/AFTRA.

Monica serves as an observing member for the CAT (Chicago Area Theatre) Contract Committee where she advocates for equitable relationships between artists, producers, and theaters. Her most happy work is serving as mentor to young emerging actors, empowering them to empower themselves.