Amy Hardison Tully, D.M.A.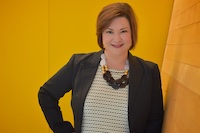 Director – School of Music, Theatre and Dance
Associate Dean – College of Arts and Sciences
Professor of Music
Orchestral, chamber, and solo artist Amy Hardison Tully was principal flutist with the Long Bay Symphony in Myrtle Beach, S.C. for 10 years, and as a freelance flutist she has performed with the Charleston Symphony Orchestra (S.C.), the Orlando Philharmonic Orchestra (Fla.), the Wilmington Symphony Orchestra (N.C.), and the Thalian Hall Opera Theatre Orchestra (N.C.). Internationally, she has held principal flute positions on orchestral and wind symphony tours to Germany, Austria, Italy, Bulgaria, and the Czech Republic.

An active performer and clinician, Amy was the 2007 winner of the Convention Performers Competition sponsored by the National Flute Association, when she performed at the annual conference in Albuquerque, N.M. Other conference invitations include recitals on the 2008 Florida Flute Association annual conference; the 2008 and 2017 South Carolina Flute Society annual conferences; the 2011 National Flute Association conference in Charlotte, N.C.; and the 2009 and 2015 South Carolina Music Educators' Conference. As a strong advocate of new music, she helped commission and then performed the world premiere of Paul Rice Songs by Beth Wiemann, a song cycle for soprano, flute, and guitar. Most recently she gave the world premiere of Dance Suite for Flute and Piano and Duetto for Flute and Guitar by South Carolina composer Andrew Fowler. Other new music projects include commissions for flute choir and chamber choir, Love is Not Love by Andrew Fowler and Two from Twelfth by Donald Sloan, both of which premiered at the Charleston, S.C. Piccolo Spoleto festival in summer 2015. In 2018 she was invited to perform on the composers' concert at the Mid-Atlantic College Music Society annual conference in Conway, S.C.

As a chamber musician, Amy performs and tours with the Tully Hull Flute and Guitar Duo with guitarist Daniel Hull. They have concertized on many local and regional concert series including the Mid-Atlantic Flute Convention in Washington, D.C., the Piccolo Spoleto music festival, and the Music by Women Festival at Mississippi University for Women.

In addition to performing and teaching, research continues to be an important focus of Amy's scholarship. Her paper and workshop on teaching young piccolo players was given at the Nevada Music Educators' Conference in Las Vegas, Nevada (2019). Other papers include addressing issues that face contingent faculty in higher education entitled "The State of Music Adjunct Professors in the USA: The Martyrs, the Victims, and the Success Stories," presented at the National College Music Society annual convention (2017), and her article "Chamber Music in American in the Twentieth Century" is found in the music encyclopedia Music in American Life: An Encyclopedia of the Songs, Styles, Stars, and Stories That Shaped Our Culture (California: ABC-CLIO, 2013).

Other research contributions include Henry Cowell: Diverse Works for Flute (published by VDM-Verlag, 2008), which discusses little-known works for flute by American composer Henry Cowell and "A Guide to Flute Clubs" published by the National Flute Association (2011). She has also produced articles for and served as president and editor for the South Carolina Flute Society quarterly newsletter. In 2013 she wrote a grant to fund America's Music: A Film History of Our Popular Music from Blues to Bluegrass to Broadway project. This grant awarded money from the Tribeca Film Institute in collaboration with the American Library Association, the National Endowment for the Humanities, and the Society for American Music. The project featured six documentary film screenings and scholar-led discussions of the 20th-century American popular music genres blues and gospel, Broadway, jazz, bluegrass and country, rock 'n' roll, and mambo and hip-hop. The documentary and performance presentations were held on the campus of Coastal Carolina University in spring 2014.

Amy is currently professor of music, associate dean, and director of the School of Music, Theatre, and Dance at Oakland University in Auburn Hills, Mich. She was previously associate dean of the humanities and fine arts at Coastal Carolina University in Conway, S.C. She holds memberships in the College Music Society and the National Flute Association and she is an artist endorser of Azumi Flutes by Altus and Jupiter Flutes. She holds a B.A. in flute performance (with Honors) from the University of North Carolina – Wilmington, a M.M. in musicology from Northwestern University, and an Artist Diploma and D.M.A. in flute performance from the University of South Carolina in Columbia, where she studied with Constance Lane and Donna Shin.