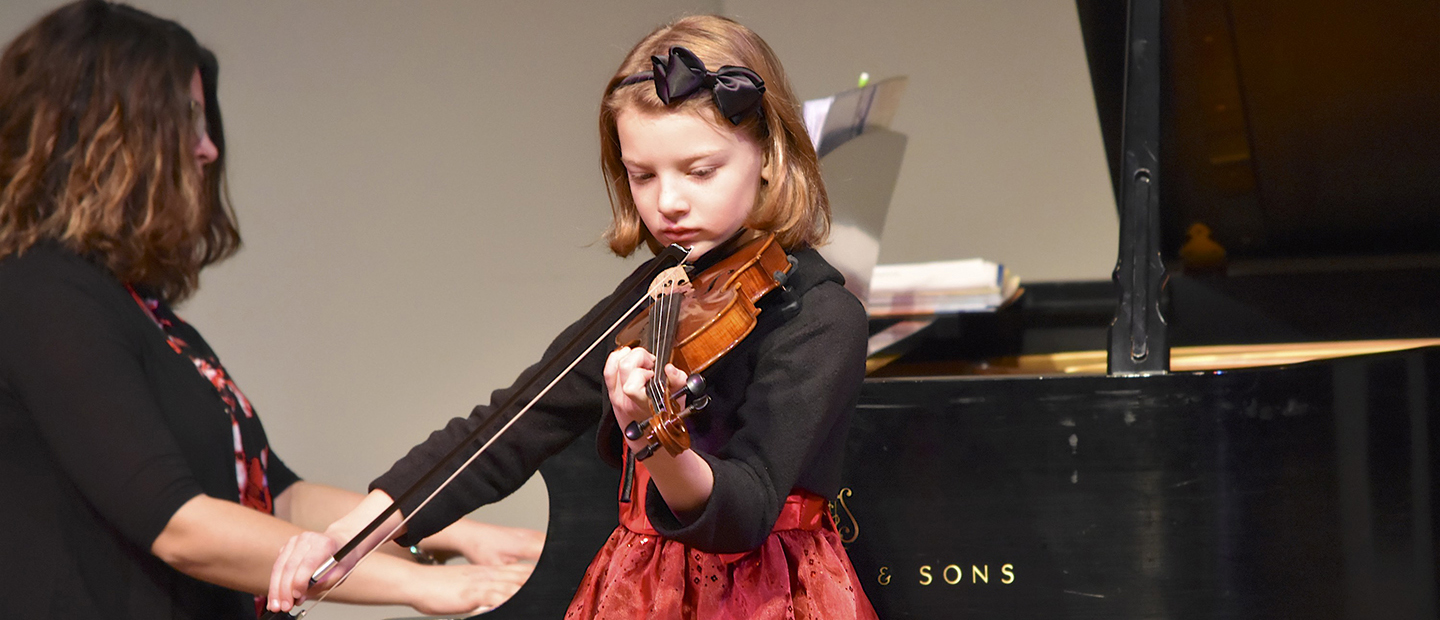 Oakland University Community Music (OUCM) is offering virtual lessons and classes for all ages in all instruments/voices until further notice. Our highly qualified teachers — who offer the expertise, commitment and vibrant energy of a university music department — would like to help your students to keep playing and increasing their skills.
OUCM offers the expertise, commitment and vibrant energy of a university music department to anyone who wants to explore the world of music through performing with musical understanding.
OU Community Music serves music learners of all ages, including:
pre-school and elementary-age children
middle school and high school students
adults of all ages
students seeking serious preparation for college careers
learners who are simply seeking to learn more about music to enhance their lives.
OUCM offers experiences that foster learning success and a lifelong love of music. 
For more information:
Elizabeth Medvinsky
communitymusic@oakland.edu
(248) 370-2034
Meet the OU Community Music Instructors!
Like OUCM on
Facebook
!
Questions? Contact
communitymusic@oakland.edu
.
Statement of Policy
Cash or Check Registration
Online Registration
Lessons begin September 14 and run through December 20, 2020 (no lessons November 23-29)
Private Lessons
Private Lessons in Instruments and Voice for All Ages

Weekly one-on-one 30, 45 or 60-minute lessons in the following instruments:
Oboe
Violin
Jazz Saxophone
Piano
Bassoon
Viola
Voice
Saxophone
Cello
Guitar
Trumpet
Double Bass
Percussion
French Horn
Jazz Bass
Flute
Trombone
Jazz Percussion
Clarinet
Euphonium
Jazz Piano
Carillon
Tuba
Jazz Guitar
In each 13-week semester, two performance opportunities are offered as goal-setting encouragements to maximize potential musical achievements, regardless of age.

Oakland University's highest priority in providing exemplary academic, athletic and social programs for youth is protecting the health, safety and welfare of all participants. Please see oakland.edu/youth for detailed information.
Group Online Classes
OUCM is offering five-week group online classes, running from November 14 - December 18.

Click here to register for a group class!

Class Title
Date and Time
Ages
Price
Musical Story Time
Tuesdays 10:30 - 11 a.m.
Up to age 5
$50
Beginning Group Piano
Mondays 10:30 - 11 a.m.
3 - 5
$50
Elementary Music
Tuesdays 3:30 - 4:15 p.m.
8 - 10
$65
Elementary Music
Wednesdays 2:15 - 3 p.m.
5 - 7
$65
Intro to Ukulele/Guitar
Mondays 10:30 - 11:15 a.m.
8 - 13
$65
Beginning Music Theory A
Mondays 

3:30 - 4:15 p.m.

8 - 11
$65
Beginning Music Theory B
Tuesdays 4 - 5 p.m.
12 and up
$80
Intermediate Music Theory
Mondays 4:30 - 5:30 p.m.
12 and up
$80
Acting the Song
Saturdays 11 a.m. - Noon
13 - 18
$80
At Home World Percussion
Fridays 3:30 - 4:15 p.m.
9 - 13
$65
Group Drum Kit
Saturdays 11 a.m. - Noon
11 - 15
$80
Summer Camps
Information about our 2021 summer camps coming soon!
Past camps have included:
Piano Camp
Theatre Camp
Golden Grizzlies Jazz Camp
NewDANCEfest (Eisenhower Dance Detroit)
Assembly Quartet Saxophone Workshop