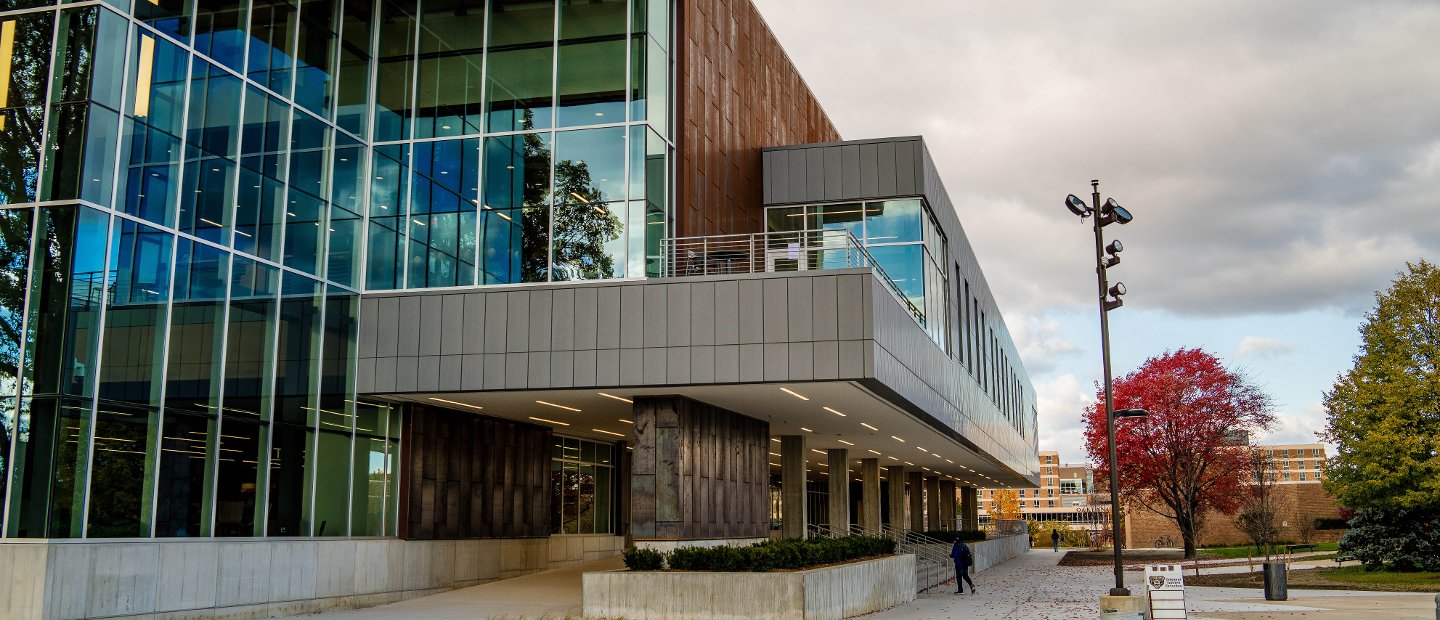 Campus Facilities, Services and Events
In response to the gubernatorial executive orders the following University facilities are closed or providing modified services until further notice. This does not prohibit essential employees entering the listed facilities while working in their professional capacity.
Modified facilities
Modified academic facilities
Kresge Library and OUWB Library fall semester hours are:

Monday - Friday 8:00 a.m. - 8:00 p.m.
Closed on Saturday and Sunday


Campus community members are encouraged to use library resources online.

As a substitute for in-person meetings, the use of video conferencing or live streaming will be an option, wherever necessary.

Electronic materials, such as eBooks and journal articles can be accessed through Library OneSearch and the library databases.
Research help is available via remotes services including phone, chat, and email.
OU Libraries are suspending late fees and will automatically renew OU materials that have already been checked out.
Mask are required at all times while in the building

The Educational Resource Laboratory at Pawley Hall is open to patrons with socially distanced work areas available. Books may be checked out at the circulation desk or retrieved from the shelves by ERL staff for browsing. Contactless pick-up option is available upon request.
Oakland Center
Oakland Center is open Monday through Thursday, 7 a.m. to 9 p.m.; Friday from 7 a.m. to 7 p.m.;

Saturday and Sunday from 

12 p.m. to 6 p.m

.

As a reminder facial coverings are required when in the Oakland Center, and should be worn at all times (except while eating), maintain proper social distancing and not move furniture, practice regular hand washing, and not enter if one has a cough, fever, and/or been around those infected with COVID-19 within the past 14 days.
The ID Card office is open 8 a.m. - 5 p.m.
All reservations for meeting rooms have been canceled through December 9.

The 

Oakland University Credit Union Oakland Center branch is open Monday through Friday from 9 a.m. to 5:30 p.m. Starting on November 18, the OC branch will be closed.

Barnes and Noble Bookstore at Oakland University hours are Monday - Thursday 9:00 a.m. - 5:00pm and Thursday - Friday 9:00 a.m. - 4:00 p.m. For further information visit Bookstore website.


The following Oakland Center locations are not currently open:
Campus Food Services
The following locations are open for the semester:


Panda Express (OC) - Monday - Friday 10:30 a.m. - 3:00 p.m.

Plum Market Kitchen ft. Zingerman's Coffee - limited operation (OC) - Monday - Friday 8:00 a.m. - 3:00 p.m.

Subway (OC) - Monday - Friday 10:30 a.m. - 3:00 p.m.

Tilly's (Oak View Hall) and The Hive (Hillcrest) - Monday - Friday 9:30 a.m. - 5:00 p.m. / Saturday and Sunday 11:30 a.m. - 7:00 p.m.

For more information, please view the campus dining website.
University Recreation & Well-Being
The Rec Center will continue to operate on modified hours of Monday - Friday from 11 a.m. - 7 p.m. for the remainder of the Fall Semester.
The Rec Center will be closed Thanksgiving weekend. The facility will close at 5 p.m. on Wednesday, November 25 and reopen Monday, November 30 at 11 a.m.
Information on what to expect when you arrive at the Rec Center can be found here.
The Recreation and Athletics Outdoor Complex (RAOC) track, Stadium Field, and tennis courts and restroom facilities are closed for the season.
The Recreation Superfield at the RAOC, the OU Disc Golf Course and the Priority Health Fitness Court will remain open for OU Community individual use during daylight hours.   Each outdoor space is a use-at-your-own-risk facility.  Users should always wash their hands and follow social distancing guidelines.
University Recreation & Well-Being will offer a combination of in-person and online fitness and wellness programs and services that will remain in compliance with all COVID-19 policies and procedures and balance the comfort and safety of individuals.
University Closing Policy 482
What happens if the University declares an emergency closing?
See the University Closing Policy 482 which includes identification of essential personnel.
Campus Events
Faculty and staff members interested in hosting an event on campus are advised to follow the steps to submit a request. Student organizations are advised to work through the Office of Student Involvement and GrizzOrgs to plan events.
Step 1
Ensure the proposed event complies with the following current State Executive Order guidelines:
Indoor gatherings can include 10 people or less
Outdoor gatherings can include 100 people or less
Event participants must maintain social distancing of 6 feet between each other.
All participants must wear face coverings throughout the event.
Step 2
Verify that the university department hosting the event has an approved "Return to Work Plan" in place.
Step 3
Ensure that an event space is available.
Oakland Center
Available rooms have newly established capacity limits based on social distancing requirements. Event organizers are asked to contact ocreservations@oakland.edu or (248) 370-3230 to inquire about available space.
General Purpose Classrooms
Campus community members interested in reserving rooms for campus events should send requests to the Office of the Registrar at gproomrequest@oakland.edu. Student groups should coordinate requests through the Office for Student Involvement. All requests should meet the following guidelines:
Events must be compatible with room features, which are detailed in the classroom inspector
Event participation must meet newly established room capacities.
Requests must be submitted at least 14 days prior to the proposed event date. Event planners should be aware that insufficient information provided in requests may lead to delays in responses to the requests.
General purpose rooms are unavailable during exam weeks and semester breaks.
Athletics O'rena
Oakland Athletics facilities are currently unavailable for campus event utilization, but will be made available as soon as space becomes available. Campus community members interested in renting an Oakland Athletics facility are advised to review facility rental policies and fill out a facility request form. Those with questions or concerns should contact Facilities Director Andy Adrianse at adrianse@oakland.edu.
Step 4
Fill out the Event Determination Form
Event organizers with requests that meet the guidelines above, but are still unsure if the event is able to be held, should complete and submit an Event Determination Form. All requests will be reviewed by the Coronavirus Large Events Task Force (LETF). Event organizers are advised that event guidelines may change at any time based on State Executive Order and university policy updates. Those with questions should contact LETF Co-chair Stephanie Lee at lincoln@oakland.edu or Co-chair Anita Hicks at hickswhi@oakland.edu.


Large Event Emergency Planning

While all events are different, it's important to have some level of an emergency plan in place before hosting an event at Oakland University. For all events on campus, planners should discuss an emergency plan with the venue contact person and/or the host department supervisor. Concerns relative to the location of the event as well as the type of event should be reviewed. In some cases, the Oakland University Police Department and other areas may need to be involved. Items to discuss could include:

Indoor Events
Where are the closest exits to the space?
Where are the closest fire extinguishers, AED, and bleeding control cabinets located?
What types of emergency situations could occur during the event and how would they be managed?
How will event managers communicate emergency information to participants?
Will time be dedicated prior to the event to train event coordinators regarding emergency plans?
Outdoor Events
Where will event participants take shelter if lightning occurs?
Where is the tornado shelter closest to the event location? Will this space be open and accessible during the event?
Will a first-aid kit or other safety equipment be available at the event?
How will event managers communicate emergency information to participants?
Those with questions about emergency planning are encouraged to the visit the Emergency Management web section (https://oupolice.com/em/) or contact OU Emergency Management at em@oupolice.com.