Wednesday, Jan 11, 2023
FCMA's Salmon in the Classroom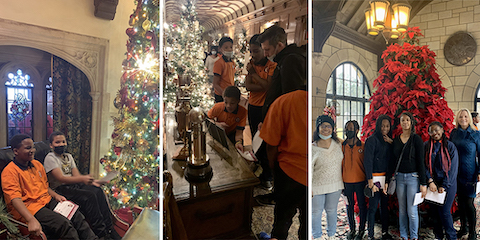 Sixth and seventh graders from Weston Preparatory Academy along with four staff members toured historic Meadow Brook Hall, located on Oakland University's East Campus.
The nearly century-old former home of Matilda Dodge Wilson and Alfred Wilson is a National Historic Landmark which sits on a 1,500 acre estate that includes the Meadow Brook Farm grounds. The mansion is especially known for its superb craftsmanship and its grand scale of 88,000 square feet. In 1957, the Wilsons donated the estate along with $2 million dollars to fund what would later become Oakland University. During the holiday season, the home is elaborately decorated and welcomes visitors from around the world.
Bolstered with prior knowledge of the Wilson and Dodge families and their charitable contributions to the area and to many service organizations, students were able to see and appreciate the many unique facets of the home. The students engaged in a holiday ornament scavenger hunt and several even participated in singalong with the Aeolian organist in a round of Jingle Bells. The festivities were followed up by lunch Hamlin Hall.