Friday, Mar 01, 2019
Scholastic Art and Writing Awards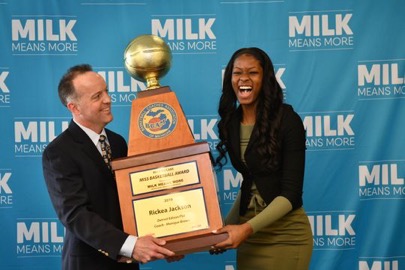 Rickea Jackson receiving her Miss Basketball award.
Detroit Edison Public School Academy's Rickea Jackson wins another title. At the 2018 Free Press Sport Awards Rickea was named the Girls Basketball Player of the year, Female Athlete of the year, and is a McDonald's All-American. She can now add 2019 Michigan Miss Basketball to her list of accomplishments.
Jackson received 2,939 votes by the Basketball Coached Association of Michigan to become the first player from the city of Detroit to win the award since 1990.
Rickea will continue her basketball and academic endeavors at Mississippi State.
Oakland University Office of Public School Academy wishes Rickea well at Mississippi State.
The full Detroit News article can be read at: https://www.detroitnews.com/story/sports/high-school/2019/03/18/detroit-edisons-rickea-jackson-named-michigan-miss-basketball/3202545002/