The Oakland Symphony Orchestra will present its 24th Annual David Daniels Young Artists Concert at 3 p.m. on Sunday, Feb. 20 at the Macomb Center for the Performing Arts in Clinton Township.

"Named after Professor Emeritus David Daniels in recognition of his distinguished career at Oakland University and sustained commitment to teaching Oakland University's aspiring student musicians, the concert is always an annual highlight of the OSO season," said Gregory Cunningham, music director of the OSO and professor of orchestral and wind conducting at OU.

The Young Artists Concert program will feature three solo student performances by the winners of the 2021-22 Oakland University Concerto and Aria Competition, an annual, highly competitive, two-tiered music competition in which students from OU's Department of Music compete for the opportunity to perform as a soloist with the OSO. This year's winners include:

• Deven Mallamo(piano)

• Kyle Paoletti (timpani)

• Cassidie Singelyn (soprano) 

"The piece I will be playing is the Prokofiev Piano Concerto No. 3, Op. 26 in C major, I. Andante-Allegro," Mallamo said. "Prokofiev wrote this piece in the summer of 1921 while living in Brittany, France. It was then premiered in December of that year in Chicago, but did not gain popularity until he performed it again a month later.

"It is a massive honor and privilege to be playing this piece with the OSO, as playing a piano concerto with an orchestra has been one of my biggest goals in music making. It will be my biggest performance yet, and I hope I will be able to share music in a way that I have not been able to previously."

Paoletti will be performing John Psathas' Planet Damnation which is a timpani concerto.

"The piece is extremely intense and easily the hardest piece I've ever committed to," Paoletti said. "I actually originally found out about the piece when I learned of the 'Melodic Timpani Project.' Timpani are beasts of instruments and have never really been approached, compositionally, outside of their rhythmic and basic tonal abilities. However, this piece takes a melodic approach to timpani, having the performer pedal through countless note changes.

"I started learning this piece back in May of 2021 and have spent close to 128 hours in the practice room with it as of now," he added. "I'm also someone who has struggled with performance anxiety and my self-image as a musician, but this piece has helped me overcome a lot of that. I truly connect with the drums on the concerto as if they're part of me. I play without shoes so that I can feel every minute motion of the pedals and always rely on my ear for the note changes."

Singelyn will be singing one of Agathe's arias from Weber's Der Freischütz titled Und ob die Wolke.

"This is an incredibly meaningful and sincere aria of hers, as she is praying for peace from her anxieties about her fate," Singelyn said. "I find it so easy to empathize and relate to Agathe in this moment because I think we have all been in a position where we hope our worst fears do not come true.

"Performing at the 24th Annual David Daniels Young Artist Concert is such a marvelous opportunity," she added. "It is so humbling to be able to reminisce on my time at Oakland University and remember my peers who have also performed at this concert. To be able to consider myself in the same position is an honor. I am so excited to present this aria with the fantastic musicians of the Oakland Symphony Orchestra under the incredible direction of Dr. Gregory Cunningham.

Other works to be performed that afternoon include the stunningly beautiful Lyric for Strings by Pulitzer prize-winning composer, George Walker and Jean Sibelius's masterwork, Symphony 1 in e minor, op. 39.

Due to the renovation of Varner Hall, the concert will be held at the Macomb Center for the Performing Arts, which is located at 44575 Garfield Road in Clinton Township, Mich.

Tickets for the performance are $12 for students and $22 for general admission, and can be purchased online at etix.com.

For more information about Oakland University School of Music, Theatre and Dance programs and performances, call (248) 370-2030 or visit www.oakland.edu/smtd.

About the Artists


Kyle Paoletti
Kyle Paoletti is an award-winning percussionist studying percussion performance and music education at Oakland University. His achievements include multiple solo awards such as the Dora Dawson scholarship and performing in a PASIC showcase, as well as partaking in multiple community tours with duet partner Kylie Bedard. Paoletti is also a music educator, having worked with multiple community ensembles such as the Dearborn Youth Symphony, the Oakland Youth Orchestra, and the Motor City Academy Brass Band. Paoletti is also a drumline tech and is currently working with Rochester Adams as the drumline instructor. He is also currently teaching private lessons and classes at Red Piano Music Studio.

Outside of teaching, Paoletti serves as the president of the Oakland University Percussion Studio and is currently a member of The Magnificent 7, a percussion septet that will be touring through the country starting with a performance on the OU bands concert at the Macomb Center on Feb. 23. He would like to thank his professor, Dan Maslanka, for being a compassionate and supportive figure whose dedication to his students and support on all fronts has helped Paoletti get closer to achieving his dreams. He would also like to dedicate this premiere performance to his former student, Lila. Paoletti is planning to pursue a master's degree in either melodic timpani with Diana Loomer at Appalachian State in North Carolina or percussion performance at the Eastman School of Music in New York.


Deven Mallamo
Deven Mallamo is currently studying piano performance and computer science at Oakland University. He began playing piano at the age of 10, and began studying under Stephen Vaglica at 15. Currently, he studies under Tian Tian and Rebecca Happel at Oakland University. He has also explored other genres outside of classical piano, such as playing jazz piano and vibraphone with a big band and trio, and also played the alto saxophone in a wind ensemble. He hopes to spread his passion for music to other people through performing and teaching piano, as well as continue to explore other genres of music further.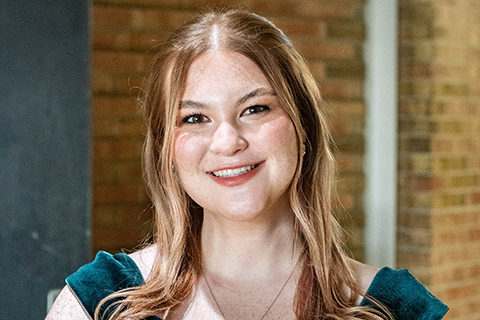 Cassidie Singelyn
Cassidie Singelyn is a senior soprano vocal performance and music education double major at Oakland University. She has performed the roles of Patience in Gilbert and Sullivan's Patience as well as Madame Lidoine in Poulenc's Dialogues of the Carmelites through the Oakland University Opera Program. In May, she will be performing the role of Galatea in Handel's Acis and Galatea at OU.

Singelyn is a proud sister, founding member, and the music director of the Nu Zeta Sigma Alpha Iota Chapter at Oakland University. She also served as the vice president of the Opera Club at Oakland University for two years. Singelyn looks forward to her 10-day European Concert Tour this summer with the Oakland Chorale, an ensemble she has been a part of since her freshman year. She wants to thank Alta Boover and Victoria Shively for their guidance and support, as well as her parents for their love and encouragement.

About David Daniels


David Daniels
Professor Emeritus David Daniels, who passed away on April 24, 2020, taught music for 28 years at Oakland University — including three years as chair of the former Department of Music and three years as chair of the then newly-formed Department of Music, Theatre and Dance.

An accomplished and devoted musician throughout his life, Daniels holds degrees from Oberlin College, Boston University, and the University of Iowa, where he earned his Ph.D. in orchestral literature and conducting. 

During his 28 years at OU, Daniels taught a wide array of courses, including music history, music theory, music appreciation, orchestration and conducting. His six-year tenure as department chair saw the Department of Music successfully merge with the Department of Theatre and Dance.

In addition to teaching, Daniels was well known for his orchestral conducting. He conducted the Oakland University Orchestra from ​1969 to 1997, ​ and the Warren Symphony Orchestra from ​1973 to 2010. Daniels also conducted opera with the Boston Academy of Music for many years, where his performances were five times named "Best Opera of the Year" by the ​Boston Globe. Other guest conducting appearances included the Detroit Symphony Orchestra, Michigan Opera Theatre, Ann Arbor Ballet Theatre, Detroit Chamber Winds & Strings, Meadow Brook Festival Orchestra, and the Orquesta Sinfonia de Maracaibo, Venezuela.

Over his​ lifetime, Daniels wrote and edited five editions of the acclaimed reference book ​Daniels' Orchestral Music,​ first published in 1972. The book is widely regarded as essential to any conductor's reference collection.