Thursday, Sep 16, 2021
OU Peace Day Concert to celebrate Native American culture, indigenous music traditions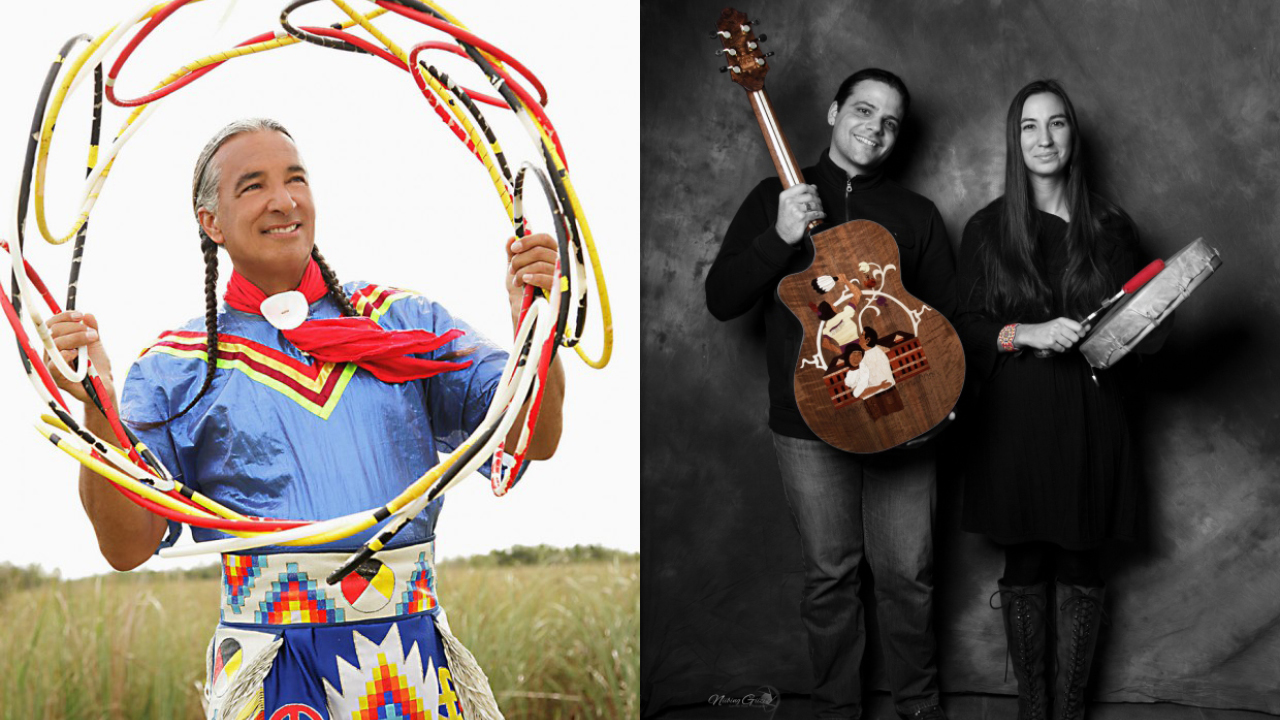 On Sunday, Sept. 19, OU will celebrate the International Day of Peace with an outdoor concert with Kevin Locke and Spirits Rising on the Varner Courtyard Stage.
Grab your chair or blanket and join Oakland University's School of Music, Theatre and Dance at 4 p.m. on Sunday, Sept. 19 for an outdoor concert on the Varner Courtyard Stage with Kevin Locke and Spirits Rising in celebration of the International Day of Peace, Native American culture and indigenous knowledge systems.

The concert will also include Oakland University faculty members Marion Hayden, Gayelynn McKinney and Mark Stone.

"The celebration of indigenous music traditions at this year's Peace Day Concert is especially important given Oakland University's recently approved Land Acknowledgement Statement," said Stone, an associate professor of world music and percussion at OU.

Kevin Locke is a world-famous visionary Hoop Dancer, preeminent player of the Indigenous Northern Plains flute, traditional storyteller, cultural ambassador, recording artist and educator.

Spirits Rising is led by the dynamic musical duo of singer/songwriters Alice Sun and Joe Reilly. Drawing on their Native American heritage (Powhatan and Cherokee respectively), their songs include traditional indigenous musical elements as well as notes of jazz, folk, blues, hip-hop and rock.

"I met Kevin Locke through an online course that I attended during my recent sabbatical entitled 'Indigenous Perspectives on the Sacred,'" Stone said. "It was an incredibly enlightening class and I am thrilled that our OU community will have the opportunity to also learn about and experience Native American traditions with him."

Established by a United Nations resolution in 1981, the International Day of Peace is observed around the world each year on Sept. 21 as a "globally shared date for all humanity to commit to peace above all differences and to contribute to building a culture for peace."

Admission to the Peace Day concert is free, but an advance ticket from etix.com is required. All guests must fill out a health screening form before arriving on campus. The form can be found at www.oakland.edu/return-to-campus/daily-screening-forms.

For more information about the Peace Day Concert and other events please contact the School of Music, Theatre and Dance at 248-370-2030 or smtd@oakland.edu.