Oakland University's School of Music Theatre and Dance will present The Diary of One Who Disappeared/Needle Point at 7:30 p.m. on Thursday, Feb. 28 in Varner Recital Hall on the OU campus.

A semi-staged pairing of Leoš Janáček's haunting song cycle about a young farmer who is seduced by a Gypsy woman — and the ramifications of his subsequent abandonment of his family and their traditions to be with her — and a new work by Ben Fuhrman, special lecturer of music technology and composition at OU, The Diary of One Who Disappeared/Needle Point features Oakland University voice students and faculty members Alta Marie Boover (mezzo-soprano), Drake Dantzler (tenor) and Victoria Shively (piano).

"Needle Point tells the story of a young unnamed narrator and their descent into addiction," Fuhrman said. "I'd like to say that this story is an anomaly, but unfortunately, it's all too familiar."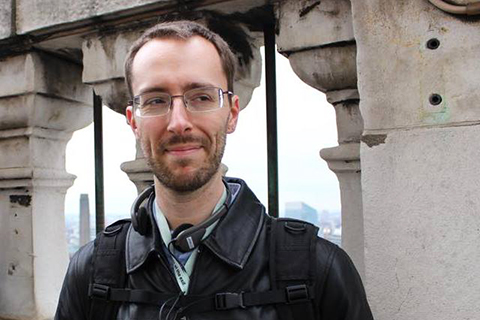 Ben Fuhrman
Fuhrman was approached by Dantzler in the fall of 2017 to write a companion piece for a performance of Janáček's The Diary of One Who Disappeared. After some discussion, they decided to tackle the topic of opioid addiction.

"Living in the U.S., it's hard not to be aware of opioids," Fuhrman said. "I've had prescriptions for them multiple times myself for knees and shoulder injuries, but the scale of their misuse has been a national focus since at least 2000."

According to the U.S. Department of Health and Human Services, there are approximately 2.1 million Americans currently struggling with addiction to opioids, which can include drugs such as Oxycontin, Vicodin and Percocet.

"The New York Times, Washington Post, Wall Street Journal and nearly every regional paper I searched had large numbers of articles on opioid users," Fuhrman said. "Many fit a pattern — normal life interrupted by an injury, getting addicted to Vicodin and then losing the prescription, then turning to heroin or fentanyl in desperation, and a cycle of recovery attempts. Some ended with years of sobriety, some relapse and recover, but more often than not, the people chronicled succumbed to an overdose."

After researching the topic, Fuhrman set about recreating this pattern in a narrative.

"I used a computer program to select random snippets of text from each source and arrange them in a free verse output," Fuhrman said. "These sources were weighted based on segmenting the sources into sequences — pre-addiction, addiction, recovery and post — with the resulting texts being lightly edited to remove extraneous punctuation or nonsensical words and phrases.

"Musically, it's reinforced by the gradual loss of harmony, increasing use of extended techniques on the piano, Sprechstimme, and computer processing as the cycle progresses," he added.

Tickets to The Diary of One Who Disappeared/Needle Point are $8 for student and $14 for general admission, and can be purchased online at startickets.com. Due to its mature language and themes, The Diary of One Who Disappeared/Needle Pointe is intended for ages 18 and older.

Performance Schedule

• Thursday, February 28 at 7:30 p.m.

• Saturday, March 2 at 7:30 p.m.

• Sunday, March 3 at 3 p.m.