Varner: Act II, a special fundraising campaign debuting in conjunction with a comprehensive renovation of Varner Hall, launched this fall. This campaign will create opportunities for SMTD students to reach new heights in the performing arts. The student opportunity fund will support undergraduate and graduate students in SMTD and provide student enrichment experiences beyond the classroom. These enrichment experiences are a critical component to success, especially in the competitive field of the performing arts, and also allow students to develop important skills such as collaboration and teamwork, creative authorship, design, global learning, civic engagement, critical thinking and the ability to learn from constructive criticism. Your support prepares students to flourish in the performing arts and contribute, in very meaningful ways, to our community and the world. Want to leave your mark on Varner Hall? You have the chance to name a seat in the newly-renovated Varner Recital Hall, opening March 2023. Your gift to name a seat can celebrate your personal love for the arts, honor a loved one or be a surprise gift to the art lover in your life. For more information and to support Varner: Act II, click here.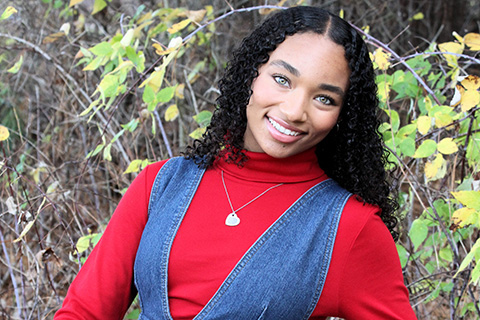 Oakland University student and dance major Aliyah Spears was recently interviewed with her mother WNEM TV 5, where they discussed their involvement with Social "U," a 501(c)(3) non-profit that provided social interaction and community involvement for adults with intellectual and developmental disabilities who have aged out of the education system. "Many of these adults do not have any means of socialization once they have completed their education, significantly impairing their quality of life post-graduation," said Spears, who serves as assistant director of the Social "U" group in Saginaw County. The group holds a meeting each month that features a theme and correlating activities of all kinds. "Some of our activities include holiday dances, holiday parties, luaus, hoedowns, carnivals, trips to local sporting events, community service projects, game nights, arts and crafts, and much more," Spears said. "Our mission at Social 'U' is to provide a place for these adults to connect with others, have fun, and be their amazing selves." You can watch the full interview on YouTube.

Dr. Amanda Ross joined the OU music faculty this fall as visiting assistant professor of music (trumpet). Prior to this appointment, she served as interim instructor of trumpet at the University of Michigan and acting principal trumpet of the Ann Arbor Symphony Orchestra. She is a prolific chamber musician and co-founder of Girlnoise, a mixed-chamber ensemble committed to celebrating the artistry of women in contemporary chamber music. Dr. Ross's research focuses on making music performance and education more equitable, accessible and diverse. She earned a Doctor of Musical Arts in Trumpet and graduate degrees in Trumpet and Chamber Music at the University of Michigan and completed a Bachelor of Music in Trumpet with a Jazz Emphasis at Baldwin Wallace University. Learn more about Dr. Ross here.

Ash Moran and Antonio Vettraino, 2022 graduates of OU's musical theatre program, performed in The Dio's completely sold out run of RENT, which took place Aug. 19 - Oct. 2. EncoreMichigan.com called the production "fresh, vibrant and a must-see" and Ash (Maureen) was a "power performer" in the show.

Dr. James Isabirye (Ph.D. '19) was recognized on Sept. 2 by Professor Eli Katunguka, vice chancellor of Kyambogo University, as one of the best researchers among the university's teaching staff in a ceremony that took place in the university's Council Room. Isabirye was among 22 awardees — including four associate professors and 18 doctors — to be honored.

Jess Julian (BM '17) joined the faculty at Mississippi State University as Lecturer of Guitar, where they teach guitar lessons and conduct guitar ensembles. "I am grateful for the opportunity to begin this journey at Mississippi State University helping to form young musicians," Julian said. In addition, Julian teaches music courses at The University of Memphis, such as Introduction to Music and Ear Training. In the past, Julian has been on faculty as the guitar teacher at two Michigan music studios: Rochester Conservatory of Music and Forte Academy of Dance. Julian is currently pursuing their Doctorate in Musical Arts in Guitar Performance at the University of Memphis in Tennessee, studying with Dr. Lily Afshar. They also perform as a soloist and a chamber musician in different genres such as classical, jazz, and popular music. "I am deeply grateful for all Oakland University's School of Music has given me," Julian said. "This school is truly special and one that I look back on with such fondness. The faculty, instruction, connections, and music have given me gifts that I will hold near to me for the rest of my life."

Maggie Hinckley (BFA '17) started this fall as an MFA graduate student in acting at Purdue University. She attends on a full ride scholarship with a teaching assistantship. "I'm very thankful to my teachers at OU for paving the way," Hinckley said. She graduated from OU with a degree in musical theatre, and she has been busy acting with The Pigeon Creek Shakespeare Company, Actors' Theatre Grand Rapids, and Shadblow Theatre, among others.

Amy Toomey, soprano, (BM '14) made her Detroit Opera debut in September as Ortlinde in The Valkyries. This high-tech treatment of the most famous act in Wagner's Ring Cycle also included OU alumna Krysty Swann as Rossweisse.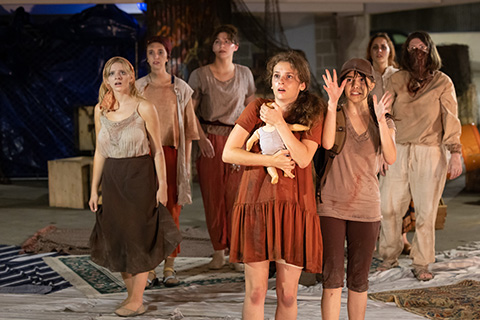 Students from this summer's Classical Theatre Study in Greece program presented The Trojan Women, an ancient play by Euripides, September 9 - 11 outdoors on the campus of Oakland University. Directed by Lynnae Lehfeldt, the production takes in the wake of Troy's devastating defeat as the women, all now widows, wait on the beach below the ravaged city to be claimed by their Greek conquerors as slaves and concubines. Though the war is over, exile and degradation lie ahead and the fates of these women, including Queen Hecuba, her daughter Cassandra, the doomed, mad prophetess, and her daughter-in-law Andromache, widow of the great Hector, are still in the balance. You can view a video featuring images from the production on YouTube.

Karen Sheridan, distinguished professor of theatre, directed a production of Nunsense in Indiana which ran from Sept. 9 - 25 at Actors Theatre of Indiana, a professional, not-for-profit theatre organization of local and national artists dedicated to excellence in theatre production for a diverse patron base in Carmel and central Indiana. "It's a great team at Actors Theatre of Indiana," Sheridan said. "My musical director and choreographer were both faculty at Ball State University." 

In celebration of the International Day of Peace, Oakland University presented its 5th annual Peace Day Concert on September 21 at Upland Hills School in Oxford. The theme for this year's International Day of Peace was "End racism. Build peace." 

Jeffrey Heisler, associate professor of music, performed two concertos from the French saxophone repertoire — Scaramouche by Darius Milhaud and Tableaux de Provence by Paule Maurice — on Sept. 23 with the Rochester Symphony Orchestra. The concert, entitled Flight of Fancy "Tour de France," took place at St. Paul's United Methodist Church in Rochester. Zeljko Milicevic, OU music faculty member and director of the Oakland University Chamber Orchestra, has been music director and conductor of the Rochester Symphony Orchestra since 2014.

OU special lecturer Milica Govich reprised her role as Judge Leanne Dreben on Sept. 29 on "Law and Order" in an episode entitled "Battle Lines" (S22, E2). You can watch the episode now with an NBCUniversal Profile at https://www.nbc.com/law-and.../video/battle-lines/9000254126. Govich teaches acting for the camera at OU while living and working in Los Angeles.

The Oakland Symphony Orchestra's 2022-23 season kicked off on Sunday, October 3 with a program that included Danza del Sol by Kevin Day; Lieder eines fahrenden Gesellen (Songs of a Wayfarer) by Gustav Mahler with Dr. Alta Boover, mezzo-soprano; and Piano Quartet in g minor, op. 25 by Johannes Brahms (orch. by Arnold Schoenberg.) The OSO, under the direction of Gregory Cunningham, will perform next on Sunday, February 19 for the 25th Annual David Daniels Young Artists Concert.

Antonio Vettraino (BFA '22) stepped into the lead role of Seymour in Meadow Brook Theatre's production of Little Shop of Horrors in early October. Vettraino was originally cast as "Resident of Skid Row/Swing." The production was full of OU alumni/faculty/staff on and off stage, including: Tyler Bolda (BFA '19) - Audrey II (Puppeteer), Travis Walter (BA '02) - Director, LisaMarie Gabriele (BA '84) - Group Sales Manager, Kai Stidham (BF '18) - Marketing Coordinator, Shelby VanOphem (BFA '18) - Head Wardrobe Technician, Jen Price Fick (BA '01) - Scenic Design - BA '01, Mike Duncan (theatre lecturer) - Sound Design & Audio Engineer, and Kristen Gribbin (theatre lecturer) - Properties Director.

Josh Young, assistant professor of theatre, and Emily Padgett-Young, theatre vocal coach, joined some of their fellow Broadway stars — including Neil Berg, Jason Bernard, Joey Calveri, Laurel Harris, Rita Harvey, and Lakisha Jones — on Oct. 5 to recreate their roles from the Broadway shows that made them famous in support of Covenant House: A Night of Broadway Stars. Proceeds raised during the event benefited Covenant House Michigan, a non-profit organization which empowers young people to overcome homelessness and trafficking, and find hope and progress by strengthening their resilience through relentless support, unconditional love, and absolute respect. To promote the event, Young appeared on WXYZ-DET (ABC), Fox 2 News Morning, and The Nine on Fox 2.

The Department of Theatre presented Qui Nguyen's She Kills Monsters from Oct. 27 - 30 in the new Oakland West Campus location. Kelli Crump, director and visiting assistant professor of theatre, said "I am unbelievably proud of everything our students have accomplished with this production. They have let their imaginations and artistic passions provide a beautiful mosaic to tell our story with purpose, compassion, and heart. Watching our students work has reignited my own journey of artistic self-discovery."

Frank Pitts, vocal coach and collaborative pianist for musical theatre, was interviewed for a November 2 article in Broadway World about his role as Music Director for the Arkansas State University-Beebe Theatre Department's production of Big Fish.


A New Brain, which ran Nov. 3 - 6 in Varner Lab Theatre, received rave reviews from Emily Shenk of Broadway World Michigan, and Sarah Hovis of Rochester Media. Shenk called the production "great," noting that "while the show explores some pretty serious topics, the audience saw some of the rawest performances from Oakland University's theatre program." Hovis also praised the production, noting that, in the smaller venue, "the staging is minimal, and the action is deeply engaging." "With the actors occupying every inch of usable space, it gives way to an immersive experience," Hovis wrote. "The timing, tone, and facial expressions sell the hilarity of this production, and the beautiful, blended harmonies tug at your heartstrings." You can read Shenk's full review here and Hovis' full review here. A New Brain was directed by Rachel Stevens, a visiting professor of theatre at OU. Stevens was also interviewed about the production on The Oakland County Megacast. You can watch the interview here.

On November 4, Assistant Professor of Theatre Whitney Locher was honored as a distinguished alumna of her graduate school, the University of Missouri-Kansas City. The event was called "Crescendo," which is a benefit gala for the UMKC Conservatory. 

An interview with Ali Woerner, associate professor of dance, was featured in the November edition of CanvasRebel Magazine. The magazine seeks to create a space for artists, creatives and entrepreneurs to be able to learn from their peers through the magic and power of storytelling. "The more attention artists can get for the work they are doing to build communities, the better," Woerner said. "The arts are instrumental in our lives as a community; as building blocks, as foundations, as support systems. I am thankful I am in the position to advocate for the importance of the arts and their essential needs." You can read the full interview here.


The Department of Music hosted two high profile recruiting events in November. The OU Honor Band brought 100+ students from over 30 different high schools on campus to work with guest conductor Dr. Brant Karrick and OU music faculty; and the OU Honors Orchestra included 56 high school students from 27 Michigan schools to work with OU music faculty members and conductors Zeljko Milicevic and Gregory Cunningham. These successful events wouldn't have been possible without the tremendous SMTD and Oakland Center staff and a dedicated team of student workers. Dr. Pamela Klena, assistant professor of music, said "We are so grateful to provide meaningful music-making experiences for students in our community."

Several music majors are raising funds through the National Association of Music Education (NAfME) to attend the Midwest International Band and Orchestra Conference in Chicago, widely known as the most distinguished clinic for instrumental musicians and gathers thousands of students, teachers, and professionals each year. If you would like to help offset travel expenses for these students, please click here.

The Oakland Post, Oakland University's independent student newspaper, ran an article on Nov. 9 asking students to share their experiences during the ongoing Varner Hall renovations. You can read their comments, and the full article, here.

The Oakland Chorale and University Chorus presented their first concerts of the season November 11 - 12 at the University Presbyterian Church. The concerts featured works of Mozart, Tallis, Mendelssohn, Glass, Bussewitz-Quarm, Gibbs, and U2, with a tribute to civil rights leader John Lewis and music from the Child Refugee Awareness Choral Consortium.

​​
On Nov. 13, the Michigan Jazz Festival and the Music Hall Center for the Performing Arts/Aretha's Jazz Cafe presented "Understanding Latin Music - Masterclass" with Enrique Rios-Ellis, visiting assistant professor of music, and the OU Latin Jazz Ensemble. Rios-Ellis also presented "Indigenous Instruments of Mexico" on Saturday, Oct. 22 at the Flint Public Library.

Lily Talevski (BFA '18) attended some of Theatre Special Lecturer Mila Govich's classes in November, participating in a Q&A with Advancing Acting for the Camera 3 and Camera 1, as well as mock auditions with Camera 2. Talevski's current television credits include the hit Netflix series The Watcher (Rose Pierce) and CBS's FBI (Jamie Barker); and she just completed a run as Wendla in Northern Stage's production of Spring Awakening. "Lily led a very inspirational talk," Govich said. "The students got so much out of it. Lily and I stay in very close touch. She coaches me now and I coach her!"

The 2021-22 Wilde Award Winners were announced on November 18, including: theatre alum Travis Walter, Best Director Play, Clue at Meadow Brook Theatre; alum Ash Moran, Best Supporting Actress in a Musical, Rent at Dio Dining + Entertainment; faculty Karen Sheridan, Best Supporting Actress in a Play, The Hat Box at Williamston Theatre; retired faculty Leslie Littell, Best Costumes, Clue at Meadow Brook Theatre.

The Fall Dance Concert — featuring Oakland Dance Theatre and OU Repertory Dance Company — took place Nov. 18-20 at the Seligman Performing Arts Center at Detroit Country Day School. The annual showcase featured a collaboration of faculty choreographers and guest artist works performed by the talented artists in the School of Music, Theatre and Dance. Works were choreographed by Stephanie Pizzo (Eisenhower Dance Detroit, director) Shannon Gillen (Vim Vigor) and Lauren Anderson (Houston Ballet.), and directed by Teresa Muller and Elizabeth Riga.

A Christmas Carol, now in its 40th year, opened November 18 at Meadow Brook Theatre on the OU campus. The holiday classic, which captivates audiences with the tale of a mean-spirited miser and the ghosts that haunt him, features several OU faculty and alumni on stage and behind the scenes, including OU faculty members Thomas D. Mahard (Ebenezer Scrooge), Anthony Guest (Ghost of Jacob Marley/Belle's Husband/Merchant/Londoner) and Lynnae Lehfeldt (dialect coach); alumni Kai Stidham (Charwoman/Londoner), Antonio Vettraino (Dick Wilkins/Merchant/Londoner), Tyler Bolda (Scrooge as a Young Man/Spirit of Christmas Future/Londoner), Shelby VanOphem (staff dresser) and Travis Walter (Artistic Director of Meadow Brook Theatre.) For more information and to purchase tickets, click here. 


This past semester, Associate Professor of Music Drake Dantzler performed as Frederic in Opera Grand Rapids' production of The Pirates of Penzance. The show also had SMTD alums Lily Belle Czartorski (Kate) and Lauren Lenz (Stage Manager). Dantzler also participated in an Ironman event on Sunday, November 20 in Cozumel, Mexico. "I have been doing triathlons for 12 years, and this is the only Ironman I have ever done," Dantzler said. "I started training for this one specifically in March." The Ironman consisted of a 2.4 mile swim, a 112 mile bike ride, and a 26.2 mile run (marathon).

On November 24, Lynnae Lehfeldt, associate professor of theatre, taught "Linklater Voice Warm Up," an online class which included attendees from Great Britain, Canada, Mexico and the US. Linklater Designation is the most prestigious certification in the field of Stage Voice and Lynnae is a Designated Linklater Voice Teachers (DLT.) "Teaching online for the Linklater Center allows me to maintain an international presence. I am deeply honored to teach for the Center and continue Kristin Linklater's work." In December, Lehfeldt taught two workshops at the Michigan Thespian Festival: Unlocking Character Through Resonators and Michael Chekhov's Psychological Gestures. Lehfeldt starts rehearsals on December 20 for The Birthday Club at Meadow Brook Theatre.


Last winter semester, Oakland University's Nu Zeta Chapter of Sigma Alpha Iota Music Fraternity received a $500 grant from the Pontchartrain Alumnae Chapter. With that grant, SAI decided to use that money to help provide and serve meals for students in the Accent Pontiac program. On Tuesday, November 29, SAI had its first Service Project with Accent Pontiac and provided Subway Catering to feed 65 students. "We also plan to serve a few more meals within the next couple of months," said OU student Alanna Courtright, who is majoring in English with a minor in Theatre. SAI has been spotlighting its members on social media pages on Sundays and also plans to recruit new members next semester and hopes to extend invites to those interested in becoming a member of Sigma Alpha Iota. Potential new members can fill out an interest form here. 

On December 3-4, the Department of Music hosted the OU Youth Brass Band Expo, a two-day workshop for high school brass players that culminated with a performance with the Oakland University Brass Band. Dr. Kenneth Kroesche, director of the OU Brass Band, said "We had 26 high school students and one middle school student join us. It was a huge success!"

OU Music faculty member Terry Herald joined Alexander Zonjic and Friends on Sunday, Dec. 4 for a Christmas Concert at Calvary Lutheran Church in Clarkston. The concert also featured James Lloyd and Beth Herald. On Friday, Dec. 9, Herald joined Alexander Zonjic and Friends for "Smooth Home for the Holidays," a free concert at Hartford Memorial Baptist Church in Detroit featuring the Hartford Combined Choirs directed by Alvin Waddles, and AZ's Holiday Friends.

Marion Hayden, applied instructor of jazz bass, is among the Detroit musicians being celebrated for their contributions and legacy at the Charles H. Wright Museum of African American History. Click here to read more in BridgeDetroit.


Devin Price (BFA '15) has been cast as Al Bryant/Norman Whitfield/Understudy Paul Williams in the first national tour of Ain't Too Proud: The Life and Times of the Temptations. Price's first national tour was Motown the Musical in 2015. For more information about the tour, click here.

Alyssa Primeau (BM '17) won first prize at this summer's National Flute Association Orchestral Masterclass Competition in Chicago. "It's definitely an honor to have won first prize," Primeau said. "This competition has been a long time coming for me, and having the opportunity to compete and then learn from Kersten McCall of the Royal Concertgebouw Orchestra was truly inspiring." Primeau has also won a position as a  flutist in both the Concert and Ceremonial bands in the United States Navy Band, which is the premiere Navy Band stationed in Washington D.C. Her responsibilities will include performing with the Concert Band, and also playing on official military and government functions and special events with the Ceremonial Band. In January, she will enter a ten-week boot camp and after completion of that will take up her post in D.C. performing in the band. "We are so proud of her," said Brandon LePage, applied instructor of flute at OU. Primeau is a former OU MaTilDa award winner, attended Boston University for her Master of Music degree, and is finishing up a fellowship with the Civic Orchestra of Chicago working with the Chicago Symphony Orchestra.


Melissa Hoag, associate professor of music theory at Oakland University, has been interviewed on a couple of podcasts recently, including Note Doctors and Notes from the Staff, for her research in theory pedagogy and her work as reviews editor for the Journal of Music Theory Pedagogy. She also has a book, Expanding the Canon: Black Composers in the Music Theory Classroom, coming out this month. Directly addressing the underrepresentation of Black composers in core music curricula, Expanding the Canon: Black Composers in the Music Theory Classroom aims to both demonstrate why diversification is badly needed and to help faculty expand their teaching with practical, classroom-oriented plans that focus on teaching music theory with music by Black composers. You can learn more about the book here.

Mark Stone, associate professor of world music and percussion, traveled to South Africa in December for the South Africa/America Music Exchange (SAME) Festival, which features 190 local and international musicians on a single stage. The initiative seeks to amplify the spirit of unity and collaboration through music. It will include live concerts, an international symposium, and a regional workshop. "I have been most fortunate to have studied music from Europe, Africa, and the Americas for many years," Stone said. "To see all of these musical traditions come together in a single event gives me great joy." Joining Stone on the trip will be OU music faculty member Gayelynn McKinney, OU theatre faculty Member Jeremy Barnett, and OU alumna Regina Carter. McKinney, Carter and Stone will be performing and taking part in both the symposium and workshops, while Barnett will be taking part in the symposium and providing technical assistance during the concerts. "What the leadership team here has done is truly extraordinary," Barnett said. "The fact that four representatives from OU get to participate is incredible. But there's also the fact that Mark premiered a piece of his own — one that he wrote in Ghanna while leading OU students in a study abroad, that has now been performed in South Africa with a combined band of Jazz musicians and South Africans students." You can read more about the SAME Festival here.


The Oakland University Brass Band took third place in the Championship Section of the 2022 U.S. Open Championship at the Clarkston Performing Arts Center in Clarkston, Mich. The US Open is a unique competition in that bands are able to choose the music they plan to perform. The OU Brass Band presented music inspired by the sights and sounds of the city of Detroit. The event was hosted by the Great Lakes Brass Band Association. "The band really enjoyed working on this U.S. Open program, which was a very different experience from other competitions we have taken part in from the past," said Kenneth Kroesche, professor of music and coordinator of the OU Brass Band. You can read more about the competition here.

During this year's OUFD (Oakland University Fund Drive), the most-improved fund was the SMTD Student Opportunity Fund and will receive a $2500 bonus! We'd like to thank the faculty/staff for their support, especially SMTD's OUFD representative Gregory Patterson. The CAS SMTD Student Opportunity Fund supports SMTD undergraduate and graduate students to study away or abroad, learn from critically acclaimed performers in master classes or in residence at OU, provide assistance for auditions and assistantships, and create other enrichment experiences.


Cáitlín Burke (BM '01) is currently playing the Mother Abbess in The Sound of Music at the legendary Paper Mill Playhouse in Milburn, New Jersey. Professor Emertius of Theatre Michael Gillespie, his wife Carolyn, and OU alumnus Corey Skaggs attended a recent performance. Professor Gillespie raved, "Cáitlín brought down the house!" Cáitlín said, "My wonderful theatre professors Michael and Carolyn Gillespie came all the way from Michigan to see The Sound of Music tonight, with Corey Skaggs. They taught me so much my entire life, and I'm so grateful to them. Thank you for everything Michael and Carolyn, it meant so much to me that you all were there!" Read more about Cáitlín (and her rave reviews!) here.

Award-winning violinist and OU alumna Regina Carter was featured in an article in Jazz News highlighting the upcoming performance of her new multimedia work, Gone in a Phrase of Air, on Wednesday, Dec. 14 at the August Wilson African American Cultural Center's Uhuru Jazz Series. The opus tells the history of Black American communities of the early to mid-20th century that were erased and destroyed by the government's 50's and 60's renewal programs that erected highways and buildings, while celebrating the artistry that emerged from those African-American enclaves across the country. For more information, click here.

This Thursday December 15 at 8 p.m., members of the Golden Grizzly Jazz Singers (under the direction of Scott Gwinnell) will sing solo and duet renditions of favorite holiday classics in a cabaret style presentation at Aretha's Jazz Café at the Music Hall Center for the Performing Arts in Detroit. Tickets are $8 at the door.


In the new year, we are thrilled to welcome countertenor John Holiday for a free concert on Friday, January 13 at 7 p.m. at the Flagstar Strand Theatre for the Performing Arts in Pontiac. One of the opera world's fastest-rising stars, Holiday deftly bridges genres from baroque to contemporary classical, jazz to spirituals, and brings his unique voice and charisma to every performance. This concert is sponsored by the Judd Family Endowed Fund. Learn more about Holiday on his website or this compilation of his performances on NBC's his television show The Voice.