Theatre alumnus Esau Pritchett has joined the cast of Keenan Scott II's Thoughts of a Colored Man on Broadway. The production began performances at Broadway's Golden Theatre on October 1, ahead of an official opening on October 31. Natasha Ashey with Broadway World has called Thoughts of a Colored Man "a jaw-dropping, thought-provoking, incredibly real production that is not to be missed," and Pritchett's performance has been praised by The New York Times.

Born in Saginaw, Mich., Pritchett received a B.A. in Performing Arts Theatre from Oakland University. Michael Gillespie, professor emeritus in theatre at OU, cast Pritchett in his first role ever — as Orsino in Oakland's production of "Twelfth Night" — and said he was "grateful" to have worked with him. "He's a real gentleman with a big soul," Gillespie said. Pritchett recently recurred as Mr. David for two seasons on Fox's primetime drama "Prodigal Son." He currently has a recurring role on the STARZ Network drama "Power: Book III Raising Kanaan."

Tara Sievers-Hunt (PhD '21) successfully defended her doctoral thesis, "Called to the Conversation: A Digital Ethnodrama Exploring Collisions of Calling and Shadow Across a Cohort of Hero's Journeys Into Professional Musicianhood" in August.

The 17-piece Scott Gwinnell Jazz Orchestra performed on September 5 at this year's Detroit Jazz Festival. At OU, Gwinnell is a special lecturer and director of the OU Jazz Singers and Golden Grizzlies Jazz Singers. Also at this year's festival, music major Peyton Miller performed on September 6 with the Collegiate Detroit Jazz Festival Orchestra with special guest Keyon Harrold. The orchestra includes students from the University of Michigan, Michigan State University, Wayne State University, and Oakland University.

Music Technology student Ana Miller has been selected by the Detroit Jazz Festival Foundation and the International Alliance of Theatrical Stage Employees (IATSE) Local 38 as a recipient of the 2021 Jazz Goes to College Scholarship for music technology. "I am proud to say that I am a female composer and attend Oakland University," Miller said. "It excites me to see the music technology program at OU grow, and I don't know where I'd be without it. Music technology allows me to compose music and release it into the world, create lasting friendships, and be as creative as I allow myself to be." The 2021 Jazz Goes to College Scholarship seeks to reward music technology students who have shown initiative, professionalism, and a positive attitude while continuing to pursue credits toward a music technology degree in a competitive and demanding environment. Scholarship recipients receive a $2,500 cash award from the IATSE for the 2021-22 school year, as well as recognition on stage at the 2021 Detroit Jazz Festival, which was held Sept. 3-6. For more information about the 2021 Detroit Jazz Festival, visit www.detroitjazzfest.org.

The Center for Civic Engagement and the School of Music, Theatre and Dance presented a staged reading of "Two Towers" by Damon DiMarco on September 10 in Founders Ballroom A in the Oakland Center. Directed by David Gram, assistant professor of theatre, the free event featured a cast of current students and recent alums of the OU Department of Theatre. Gram also presented "Serious Laughter: Contemporary Farce in the 21st Century" — a comedy that seeks to entertain the audience through situations that are highly exaggerated, extravagant, ridiculous, absurd, and improbable — on September 13. This presentation, which was part of the OU Explorations Virtual Event Series, was 40 minutes long and was followed by a live Q&A.

Oakland University's School of Music, Theatre and Dance celebrated the International Day of Peace, Native American culture and indigenous knowledge systems on September 10 with an outdoor concert on the Varner Courtyard Stage featuring Kevin Locke and Spirits Rising. The concert also included Oakland University faculty members Marion Hayden, Gayelynn McKinney and Mark Stone. "The celebration of indigenous music traditions at this year's Peace Day Concert is especially important given Oakland University's recently approved Land Acknowledgement Statement," said Stone, an associate professor of world music and percussion at OU.

The new Classical Cabaret Series, which was presented in September, featured three concerts and two masterclasses by OU faculty and world-class guest artists: "American Optimism, American Operetta" with Alta M. Boover, Drake Dantzler and Lois Kaarre on September 10; "Krysty Swann, Mezzo Soprano" on September 14; and "Leah Crocetto, Soprano" on September 30.  Drs. Alta M. Boover and Drake Dantzler have also been accepted to present "American Operetta" for the International Congress of Voice Teachers in Vienna, Austria in August 2022.


On September 13, the National Association for Music Education (NAfME) presented its Collegiate Awards Ceremony, and the OU NAfME chapter was recognized with two awards: The 2021 Chapter of Excellence in Professional Development, was awarded to Oakland University NAfME for their work in creating and hosting the 2020 Media Club, which was a series of discussions of media around racial injustice in the classroom. Also, the 2021 Collegiate Professional Achievement Award was awarded to Kasey Julian for her exceptional work as president and founder of our chapter, among other accomplishments including her presentation at the Michigan Music Conference this past year. Julian and Hannah Combs spoke on behalf of the Oakland University chapter to accept the awards.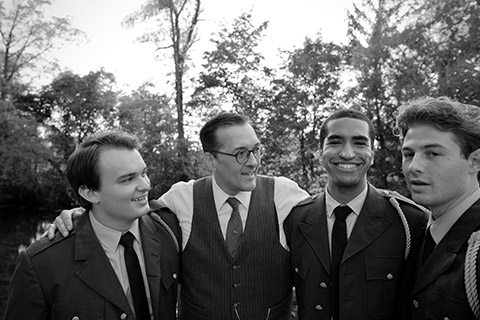 OU theatre faculty Karen Sheridan and Anthony Guest, along with theatre alums Doran Berger (BFA '20), Dryden Zurawski (BFA '21) and current theatre student Jalen Wilson-Nelem performed inWishing Well Theatre Inc's production of Much Ado about Nothing, part of Fenton's First Annual Shakespeare Festival, which ran September 18-19 in Rackham Park.

Milica "Mila" Govich, a special lecturer in theatre, plays Eileen on the new Showtime series "American Rust," starring Jeff Daniels. She appeared in episode 3, which aired on September 26. "It's a small role but was so much fun to shoot," Govich said. "I play a down-and-out Pittsburgh woman who can't afford to pay for her prescription. I was excited because my scene is with Dallas Roberts who I adored in The Good Wife." Govich is an LA-based film and TV actor who teaches Acting for the Camera 1 and 2, as well as coaching for actors at OU.

Alyssa Primeau (BM '17) played second flute for the Detroit Symphony Orchestra Pops concert in September. She shared the stage at Orchestra Hall with her two former flute instructors from OU, Sharon Sparrow (DSO assistant principal flute) and Jeffery Zook (DSO Piccolo). Primeau is currently a regular member of the Civic Orchestra of Chicago. She received a Bachelor of Music degree from OU and a Master of Music in Flute Performance from Boston University. In addition, Primeau and Alex Sellers (MM '15) are consortium leads of an upcoming commissioning project with Boston-based composer Joseph Sowa. The piece is entitled "6 Inventions" and is written for flute, saxophone and optional multimedia. Primeau (flute) and Sellers (saxophone) — joined by fellow consortium lead Eddie Farr (visual artist from Atlanta, GA) — will give the world premiere in spring 2022. Click here to learn more about the project.

Malleability, a piece by OU lecturer Ben Fuhrman, premiered at the Sound Museum in St. Petersburg, Russia as part of the Epicentroom Festival on October 10. "It's my first world premier in Russia, even though I was unable to attend in person," Fuhrman said.

Jessica Payette, an associate professor of musicology, released her newest book, "Choreographic Music Writings in American Arts Periodicals, 1914-1993," in October 2021. The book is the first reference work to compile writings on dance music from periodicals, such as Dance Observer, Dance Perspectives, Modern Music, and Theatre Arts, that have not been digitized. The bibliography catalogs all writings pertaining to choreographic music in prominent American dance and arts periodicals spanning from 1914, the publication date of the first issue of Modern Dance Magazine, to 1993, after which many periodicals are digitized and can be accessed through academic research databases.


The Department of Theatre opened its 2021-22 season in October with Passage, Christopher Chen's gripping and enigmatic play set in the fictional "Country X," directed by Brandon A. Wright. Next up, senior musical theatre major Antonio Vettraino directed Jason Robert Brown's brilliant musical The Last Five Years. And lastly, Anthony Guest directed The 25th Annual Putnam County Spelling Bee from November 14-21 in the Varner Studio Theatre. Guest, associate professor of theatre, said "The point is to make people laugh, but at the same time, there is humanity and there's hope. I think in our world today if we can leave the audience with hope about friendship and human connection, I think we've done our job." The winter semester will include productions of classics such as Sense and Sensibility and Pippin. Details coming soon!

OU alumna Sarah Bussineau (BM '20) is the new director of band and orchestra at Armada Middle School. Bussineau came to Armada very highly recommended from a number of local band directors. She was the recipient of the Michigan Association of Teacher Educators Secondary Student Teacher of the Year Award during her student teaching internship at Warren Cousino High School.

Lynnae Lehfeldt, associate professor of voice and movement for the School of Music, Theatre and Dance, led an online workshop, "Linklater and Chekhov: Energetic, Physical Linklater Warmup with Michael Chekhov Exploration of Text" on Thursday, November 18. Lehfeldt has the distinction of being the only Designated Teacher of Linklater Voice in the state of Michigan. Additionally, she has trained with the SITI Company (Saratoga International Theatre Institute), LIMS (Laban/Bartenieff Institute of Movement Studies, and GLMCC (Great Lakes Michael Chekhov Consortium).

Jess Julian (BM '17) recently earned their Master of Music degree and plans to continue graduate studies with a teaching assistantship at the University of Memphis Rudi E. Scheidt School of Music, where they will pursue a Doctor of Musical Arts degree in guitar performance. "I'm grateful for continuing my graduate studies with a teaching assistantship at the University of Memphis," Julian said. "Oakland University provided me with top notch experiences to further my career as a musician and I couldn't be more grateful for that, as well. Finding your unique voice as a musician is rewarding, and because of both institutions, I'm able to do that."

Music major Peyton Miller's "Stravinsky Octet for Winds Conducting Project" has been selected as the awardee for the Provost Undergraduate Student Research Award - Fall 2020. The project will entail historical research regarding Stravinsky's Neoclassical period and will include Miller conducting a performance of Stravinsky's Octet with the help of eight hired musicians. He will use both the resulting recording of the performance (date TBD) and scholarly research to provide a basis for his findings. Miller says he is "very grateful to the committee for being willing to select a research proposal rooted in the arts."


Em Hadick (BFA '18) has been cast in the Broadway National Tour of "Pretty Women: The Musical." Hadick has been working professionally for several years, but this is their first national tour. They are currently based in New York City and are represented by the Price Group Talent Agency. "My role is a swing for the female character ensemble and an understudy for the role of Violetta," Hadick said. "This means that I've learned seven 'tracks' and go on any time one of those tracks has to call out or go on for a role they understudy. Swings are basically a show's insurance policy; they make sure the show goes on when something goes wrong. It's a great opportunity to work with this creative team and be on my first national tour. Swinging has been a rewarding mental and physical challenge, and I'm grateful for the way I've grown through it already." The touring musical, based on the 1990 film, stopped in Detroit from November 2-14 for a series of performances at the Fisher Theatre. Hadick's involvement in the production was highlighted in The Oakland Press and The Lansing State Journal. To learn more about the tour, visit www.broadway.org/.../pretty-woman-the-musical,1182.

Jennifer Fox Oliverio, assistant professor of music, recorded an album, Enigma, over the summer of all new works for cornet/flugelhorn and piano with fellow music faculty member I-Chen Yeh. The album includes new works for composers Andrea Hobson, Lucy Pankhurst, Dorothy Gates, Jen Mitchell, Joel Collier, and Kevin Day. Drs. Oliverio and Yeh also performed music from Enigma on October 5 in Varner Recital Hall.


Oliverio also competed in the U.S. Open Brass Band Championships on November 20 in Kansas City with the Fountain City Brass Band (FCBB). The FCBB won the competition and Oliverio was named outstanding soloist. She also received a review from 4barsrest (the primary brass band media site) on her album, Enigma. "I'm grateful for the outstanding soloist award and for the first place finish for the band," Oliverio said. "Most importantly, I got to spend time with some of my favorite people and musicians in the whole world."

Paige Grider was interviewed by The Oakland Post about her band, Rio and the Rockabilly Revival (RRR), and their recent Josie Music Awards nominations. Grider is a current music education major at OU, and she plays saxophone in RRR. You can view the article here.

Alta Marie Boover (mezzo-soprano) and Tian Tian (piano) recently released Life (and Love) on Centaur Records. It includes two song cycles, Robert Schumann's "Frauenliebe und Leben" and Sara Carina Graef's "A Woman's Life and Love." Terry Herald, OU sound technician and music faculty, recorded and engineered the album in the summer of 2019. The album is available on Amazon, Apple, Spotify and more. Early praise for Drs. Boover and Tian came from the Atlanta Audio Club: "Alta Marie Boover's mezzo-soprano provides just the right penetration of warmth and immediacy to put these songs across with the greatest effect. And let's not forget her superb rapport with Tian Tian, whose role calls upon her to conclude the cycle with a postlude by the piano based on a reprise of the first song. At this point, it all comes together beautifully, the piano effectively carrying on the vital message of 'A Woman's Life and Love' where more words would only prove superfluous. Beautifully realized in the present performance, it adds to a very noticeable feeling of unity."

"Teaching Culturally Diverse Choral Music With Intention and Care: A Review of Literature," an article by Assistant Professor of Music Cat Bennett, has been published with SAGE Publishing and Update: Applications of Research in Music Education. Dr. Bennett joined OU's faculty this past fall and currently teaches Learning and Teaching Music, Choral Methods, and Teaching Music in the 21st Century. The article, which focuses on practical implications for teaching culturally diverse music with intention and care, can be read here.

Members of the OU Repertory Dance Company presented "Bodies in Protest" on October 1 at the Elliott Tower on the campus of Oakland University. You can view a video of "Bodies in Protest" on Facebook.

The Oakland Symphony Orchestra returned to Varner Recital Hall on October 3 with an exciting program that included "Starburst" by Jessie Montgomery (arr. Norpoth), "Homenaje a Federico Garcia Lorca" by Silvestre Revueltas, "Trittico Botticelliano" by Ottorino Respighi, "TenFold" by Jennifer Higdon, and "Serenade in d minor, op. 44" by Antonin Dvorak. On November 7, the OSO presented its second concert of the season. Works included the emotionally austere Chamber Symphony, op. 110a of Dmitri Shostakovich, conducted by retired OU faculty member and founding conductor of the Oakland University Chamber Orchestra, Alan MacNair; Igor Stravinsky's delightful suite from his ballet Pulcinellla, and the rarely performed Dog Breath Variations/Uncle Meat composed by barrier-breaking American rock icon, Frank Zappa. The featured soloist for the afternoon concert was Jaquain Sloan, bassoonist for the Detroit Symphony Orchestra and applied instructor of bassoon in OU's School of Music, Theatre and Dance.

Two of Dr. Jeffrey Heisler's saxophone students — Brant Ford and Ian Mahoney — took part in Regina Carter's residency at OU this fall. With dance major Grace Whan and Take Root dancer (company-in-residence at OU) Kaitlin Arena, musicians and dancers created an improvisation based on a dust storm.

Oakland University music technology students Kaitlyn Furman and James Holk enjoyed amazing internships this summer with the Detroit Symphony Orchestra (DSO) and Sweetwater Music Instruments & Pro Audio, respectively. "As part of my internship, I was able to spend some time working with the audio team during the DSO's Star Wars concert at Meadowbrook Amphitheater," Furman said. "I was able to help with setting up the microphones and got to see the live mixing process for the orchestra during the rehearsal and performance. I learned a lot and had a great time." Holk interned with Sweetwater Studios at the company's massive, three-studio facility in Fort Wayne, Indiana from May 17-August 17. "Studio A is the large, full-band recording studio, where B and C were usually used to track vocals and overdubs, as well as mastering various projects," he said. "I also met with some amazing audio engineers as well, and played a crucial role in Sweetwater's Gearfest. Additionally, I had worked with hundreds of clients throughout the internship, including the legendary Bootsy Collins and Daru Jones." To learn more about OU's music technology degree program, visit www.oakland.edu/careers/music-technology.

Meadow Brook Theatre presented Clue October 13 - November 7, and it was full of OU faces on and off stage: Lynnae Lehfeldt (associate professor of theatre) as Mrs. Peacock; Olivia Ursu (BFA '18) as Yvette; directed by Travis W. Walter (BA '02); costume design by Leslie Littell, recently retired theatre faculty member, with OU student Eli Cavaliero as assistant; scenic design by Kristen Gribbin (lecturer, theatre); and sound design by Mike Duncan (lecturer, theatre.)


Frankie Sulla, who graduated with a Bachelor of Arts in Dance Education with a L-12 teaching certification in December 2019, is working as a teaching artist for the New York City Ballet. Sulla moved to NYC after graduation to pursue a career in dance and after some time she was hired as an assistant teaching artist with the Mark Morris Dance Group, as well as a resident teaching artist with the New York City Ballet, where she is working with them on "The Nutcracker Project." "I travel to different K-12 schools throughout the city and work with children on learning about various themes from George Balanchine's 'The Nutcracker' and help them learn and create movement," Sulla said. "Working with NYCB means so much to me because it has been my dream for as long as I remember to move to NYC to pursue a career in dance and dance education, and now I am quite literally living one of my biggest dreams and using my dance education degree to its fullest potential."

Music, Theatre and Dance Day was held on Saturday, October 16 in the Oakland Center. The event provided a sneak peek into the world of vocal and instrumental performance, theatre, dance, music education, musical theatre, and technical theatre. Over 100 participants joined us for an exploration of academic and career options within the performing arts field, admission requirements, scholarships, financial aid and more. If you missed this event but are interested in learning about becoming a student in the School of Music, Theatre and Dance, please reach out to smtdadmissions@oakland.edu about our Be a Major for a Day program.

Dr. Pam Klena, assistant professor of music, was a guest conductor for "Women of Music," a concert presented by the Royal Oak Concert Band and the Woodward Avenue Jazz Orchestra and sponsored by Sigma Alpha Iota International Music Fraternity, on Sunday, October 24 at Royal Oak Middle School. Dr. Klena conducted Virginia A. Allen's march, "Women of the Podium."

The month of November is always filled with recitals from our music studios, and this year was no different. The OU Flute Studio — along with their instructors Jeffery Zook, Sharon Sparrow and Brandon LePage — featured all Latin American composers in their recital.

Lily Talevski (BFA '18) played the role of Jamie Barker on the November 2 episode of FBI on CBS. Talevski is represented by the Hybrid Agency and lives in New York City. To follow her career, visit https://www.lilytalevski.com.


With great sorrow, we announce the passing of music alumna and faculty member Jennifer Kincer Catallo on November 2. Jennifer served the Department of Music as a special lecturer for nearly 20 years, and her legacy of excellence in teaching and performing will continue with the "Jennifer Kincer Catallo Memorial Arts Scholarship'' through Rochester Community Schools.

November 12-13, the Department of Music hosted the OU High School Honor Band. Over 50 students from 18 schools participated in two intense days of rehearsing and performing under the direction of guest principal clinician, Andrea Brown, associate director of bands at the University of Maryland, as well as OU music faculty. The following weekend, November 19-21, 22 high school students from 14 schools participated in the OU High School Honors Orchestra, under the direction of principal clinician Zeljko (Bill) Milicevic, conductor of the OU Chamber Orchestra. The high school students also got a chance to perform with the Oakland Symphony Orchestra wind, brass and percussion sections which are made up of OU faculty, professional freelancers and OU students.


A Christmas Carol, now in its 39th year, opened November 19 at Meadow Brook Theatre on the OU campus. The holiday classic, which captivates audiences with the tale of a mean-spirited miser and the ghosts that haunt him, features several OU faculty and alumni on stage and behind the scenes, including OU faculty members Thomas D. Mahard (Ebenezer Scrooge), Anthony Guest (Ghost of Christmas Present/Londoner), Kristin Gribbins (properties director), and Mike Duncan (audio engineer), as well as OU alumni Olivia Urso (Spirit of Christmas Past/Londoner), Kai Stidham (Charwoman/Londoner), Travis A. Walter (artistic director of MBT), Erin Wiley (intern, costume design), Andrew Long (intern, lighting and scene shop) and Tyler Bolda (assistant carpenter.) Stidham (BFA '18) also serves as MBT's marketing coordinator and Erica Kennedy (BFA '20) was recently hired as development associate.

On November 20, the NAfME Collegiate chapter at Oakland University sponsored a professional development day with Ashley Killam. In attendance were around 20 current and future educators, including Oakland University students, professors, alumni, and community members. Killam is the president of Diversify the Stand, which "provides accessible educational music for younger musicians through commissioning composers of color, gender-marginalized composers, and composers identifying as LGBTQ+." Hannah Combs, instrumental music education senior, said "Ashley provided examples of inclusive instrumental concert programs, discussed the importance of deconstructing gendered language in the classroom, and introduced us to composers and resources that I will continue pulling from for the rest of my teaching career. I can't say enough about Ashley's candid and passionate dialogue, and am so grateful that we had the opportunity to bring her to OU."

Elliott Varga (BFA '19) and Torri Johnson (BFA '20) are performing with Intertwine Movement Collective, a professional dance company based in Detroit, on December 3-4 for their fall concert entitled "Exhale." Tickets for the performances, both at 7:30 p.m., are available for purchase through Intertwine Movement Collective's Cash App and Venmo accounts. Details can be found on their Instagram page.

OU alum Mekhi Holloway (BFA '21) will perform in "Elf: The Musical" at the Great Plains Theatre in Abilene, Kan. The musical, based on the hit movie starring Will Ferrell, runs Dec. 3 - Dec. 19. For more information, visit www.greatplainstheatre.com/elf.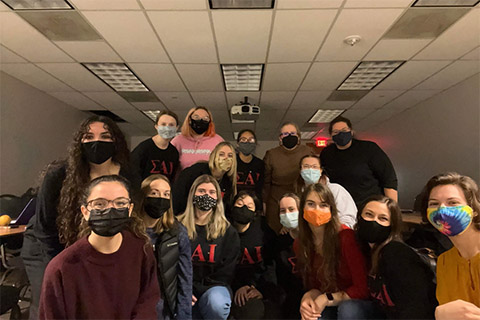 What started as a dream of a few women in the OU SMTD community that longed for sisterhood in music will become a reality on Saturday, Dec. 4 as 17 strong, wise, beautiful women will be initiated into a newly-installed chapter of Sigma Alpha Iota, an international music fraternity for women.The names of these women in the newly-formed chapter are: Angela Bonello, Ilyssa Brunhild, Letty Costilla, Alanna Courtright, Danielle Di Nardo, Olivia Friedenstab, Nina Gojcaj, Rachel Hiatt, Sydney King, Corrin Kliewer, Emily Klochack, Iyla Miller, Abigail Minor, Claudia Montoya – Hernández, Alexia Przyojski, Cassidie Singelyn, and Nicole Tremonti. "As faculty advisors for these amazing women, we are continually humbled by their service and love for this school, university and fraternity," said Dr. Pam Klena and Dr. Jennifer Fox Oliverio. "It has been a privilege to watch them grow in wisdom over the past semester. It is our greatest honor to celebrate the lasting sisterhood of the Nu Zeta Chapter of Sigma Alpha Iota at Oakland University."

Former OU faculty member and pianist Flavio Varani will present works by Robert Schumann, Johann Sebastian Bach, Frederic Chopin, and Claude Debussy during The Steinway Society of Michigan's "Sundays with Classics" concert beginning at 3 p.m. on Sunday, Dec. 5. The concert will take place at the Steinway Piano Gallery of Detroit Recital Hall, located at 2700 E. West Maple Road in Commerce Township. Tickets are $20 general admission and $15 for Steinway Society members, and are available at the door, by calling 248-560-9200, or online at www.steinwaydetroit.com.

Music faculty member Dan Maslanka has been hired to play percussion for Andrea Bocelli at Little Caesars Arena on December 5.

Sam Torres (BFA '21) relocated to Salt Lake City and has worked on a new FOX pilot called "The Last Police" and a feature film called "The Graduates." "I have also been fortunate enough to get my foot in the door at some prestigious theatres here in Salt Lake and starred in a production of Knuckle by David Hare," Torres said. "I have signed a contract for another project happening in March/April with a theatre that only produces work written by POC and directed by POC."  

Current music students Peyton Miller and Brant Ford have received The Tuesday Musicale of Detroit awards. Miller, who studies piano at OU with Dr. Rebecca Happel, received the Bernice Van Husen Piano Award; and Ford, who studies saxophone at OU with Dr. Jeffery Heisler, received the Mary Levack Quick Award. Miller and Ford will perform at 7:30 p.m. on Thursday, March 31 at Birmingham Unitarian Church in Bloomfield Hills.

Connor Rajan (BFA '21) was recently hired to work as a dialect coach for Clarkston High School's upcoming production of "Newsies." Jennifer Ward (BA '16) is the theatre director at CHS, and she was thrilled to have both Connor and his mentor, Professor Karen Sheridan, working with the students at their first session.

Senior vocal performance and music education major Angela Bonello has placed first in the "Upper Collegiate and Graduate Level Treble Singers" category in the National Association of Teachers of Singing (NATS) Michigan fall auditions. Bonello has placed in each of the four years that she has participated in this contest, and she has won first place three times.

Oakland University Assistant Professor and Tony Award nominee Josh Young will headline Tokyo's 2022 New Year's Musical Concert at Tokyu Theatre Orb on January 8-10. On February 12, Young and his wife, Broadway veteran and fellow OU faculty member Emily Padgett-Young, will be will be performing in "Valjean, Cosette and a String Quartet" in the Great Hall inside the Detroit Institute of Arts; on Feb. 22-23 in "Find Your Dream: The Songs of Rodgers & Hammerstein" with the Toronto Symphony Orchestra at Roy Thomson Hall in Toronto, Ontario; and on March 25-27 in "The Best of Rodgers and Hammerstein" with the Detroit Symphony Orchestra at Orchestra Hall in Detroit. Padgett-Young joined the SMTD faculty in the fall of 2021. You can read more about her here.

The Oakland Chorale is currently fundraising for its tri-annual European Concert Tour. This study abroad program allows students to experience life on the road, while providing them with the opportunity to perform at concert venues at locations across Europe, including Portugal and Spain. On this 10-day tour students will also learn about the history, culture and musical life at each location. To support the Oakland Chorale on their 2022 trip, please click here

Due to renovations at OU, many of our winter performances will be held at venues throughout Oakland and Macomb counties, such as Detroit Country Day School (Beverly Hills), Howarth United Methodist Church (Lake Orion), Macomb Center for the Performing Arts (Macomb), Flagstar Strand Theatre for The Performing Arts (Pontiac) and University Presbyterian Church (Rochester Hills). All of the details of our winter tour, as well as about the performances held on OU's campus, will be live on our website next week! We hope you will join us!