From June 3-5, the Department of Theatre presented the children's musical How I Became a Pirate, based upon the well-known book written by Melinda Long with illustrations by David Shannon. "Being an actor in a children's show is overall really exciting," Antonio Vettraino, who played Braid Beard, said. "I don't have to be afraid of taking huge risks/choices during rehearsal, which allows all of us in the cast to have a lot of fun during the show, which is great because our sense of play/bold choices can translate to something magical for any children that see the show. It's also very relieving to be back doing in-person theatre and having people in the room to work off of, which I haven't had in over a year." Each performance was shadow-signed for the Deaf by Synergy on Stage.

Associate Professor of Music Jeffrey Heisler's transcription of Maurice Ravel's Tzigane (Rapsodie de Concert) for soprano saxophone was recently published by Theodore Presser. The program note states, "Jeffrey Heisler's brilliant transcription for soprano sax captures all the sparkle of Ravel's violin writing and is fully compatible with both authentic versions, to allow optimum performance for saxophonists with either accompaniment." For more information, visit https://www.presser.com/114-41989-tzigane.html.

Whitney Locher has been appointed assistant professor of theatre (costume design.) For the past academic year, Whitney was with SMTD as visiting assistant professor of theatre, and she is "very excited to continue to teach at OU!" Locher is an award-winning costume designer who holds an MFA in costume design and technology from the University of Missouri-Kansas City. She has designed costumes for productions and events in New York City (Roundabout Theatre, The 66th Annual Tony Awards) as well as national tours (Into the Woods, Love Never Dies), regional (Cleveland Playhouse, Ohio Light Opera) and international theatre (London, Bulgaria). To view Locher's portfolio and to read a complete list of her design credits, visit https://www.whitneylocher.com/.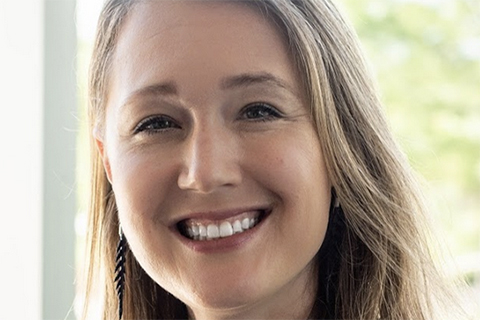 Dr. Cat Bennett is joining the music faculty this fall as assistant professor of music (music education.) She joins SMTD from Miami, Fla., having recently completed her Ph.D. at the University of Miami where she received the Frost School Outstanding Graduate Student Award. Her research centers around international, intercultural, and equity-based music pedagogies and music teacher education. Over the past 15 years, Dr. Bennett has taught and studied music in many countries around the world. She has taught K-12 general and choral music in Japan and Thailand and has worked as a volunteer music teacher in Honduras and South Africa. She has studied Hindustani Classical voice in India, choral music in South Africa, Tembang in Indonesia and Ewe music in Ghana. She has also performed as a contemporary vocalist in Japan and Thailand and studied vocal jazz and Creative American Music (CAM) at the University of Miami. She has presented at numerous national and international conferences and her research has been published in the International Journal of Music Education. She holds additional music education degrees from Ithaca College (B.M.) and Indiana University (M.M.)

Lauri Hogle, visiting assistant professor of music, received a teaching award at OU's annual Faculty Recognition Celebration. Dr. Hogle was one of 35 faculty members honored, and you can watch the virtual ceremony (and her portion at 4.54) here: https://youtu.be/KgNvLd7xDeU?t=294.

Four OU students — Xochitl Rios-Ellis, Alessia Fionda, Kaye Hoffmeyer and Emily Nichter — were selected as finalists for the Art Speaks Play Festival in Midland, Mich. for their original play submissions. Fionda won first prize in the 10-minute play competition and Hoffmeyer won an honorable mention. These plays were written as their final projects for Playwriting 1/Beginning Playwriting/Advanced Playwriting with Kitty Dubin. For more information about Creative 360's Art Speaks Festival, visit https://becreative360.org/.../entry-form-for-the-june.../.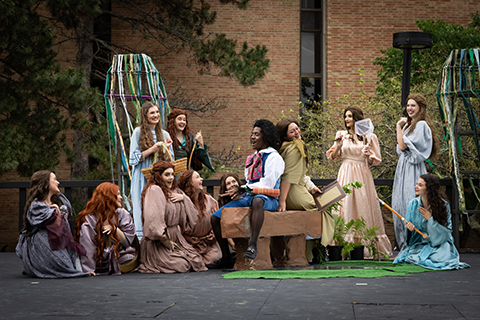 The OU Department of Music presented Patience — a comic opera in two acts with music and libretto by Gilbert and Sullivan — from June 24-27 on the Varner Hall Courtyard Outdoor Stage. Kellan Dunlap, who played the Lieutenant Duke of Dunstable, said "The entire opera is a hilarious farce on the Victorian aesthetic period and with each line of text and nuance of musical color, Gilbert and Sullivan have created a comedic masterpiece. I'm not sure if I have ever had so much fun playing a character as I have had playing the Duke, I just get to go onstage and make fun of myself."

OU music faculty member and sound engineer Terry Herald guest conducted the West Michigan Symphony (Muskegon) on June 25 for "Funky Groovin' with Jazz Flutist Alexander Zonjic." The concert was recorded and shown in their virtual concert hall on July 2. Herald arranged six of the seven songs for the concert.


Musical theatre alumna Erica Kennedy (BFA '20) was in the top 11 semi-finalists for the Miss Michigan Scholarship Program. Kennedy, who is a native of Flint, performed "Not for the Life of Me" from Thoroughly Modern Millie for the talent portion of the competition. Her social impact initiative is Broadway Cares/Equity Fights AIDS, and Kennedy partnered with them during her time at OU by collecting red bucket donations during our theatre productions.

Dr. Pam Klena, visiting assistant professor of music, was one of the coordinators of the Women Band Directors International Summer Conference: A Season of Renewal event held July 8-9. This free international conference was open to all (not just women) high school and college students, band directors, retirees, etc. Sessions included the topics of conductor health and self- care, physical and emotional wellness, mindfulness, social justice, improvisation, creativity, poetry, and ensemble culture.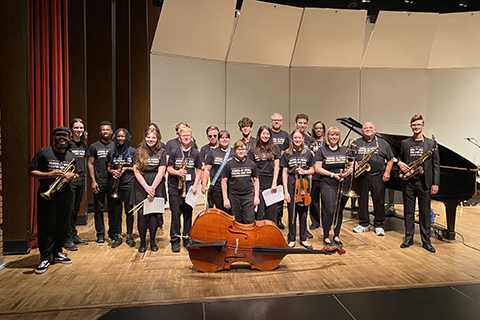 In July, the OU Department of Music welcomed high school students on campus for the OU Virtual Jazz Intensive, a five-day event focused on topics such as the history and lineage of jazz, bridging classical to jazz, jazz as language and much more. The format featured daily, 50-minute sessions that include listening, improvisation and virtual ensemble rehearsals.

Anthony Guest, associate professor of theatre and outgoing department chair, was interviewed by Zippia regarding the changing job market for recent graduates. Out of the 3,743 experts that Zippia polled, Professor Guest's interview was featured on their main page. His entire interview can be found here:  https://www.zippia.com/production-coordinator.../trends/....

Alum Michael Baker (BM '20) will be pursuing a Master of Music in Trumpet Performance, studying with Brandon Craswell and Philip Smith at the University of Georgia. Baker recently graduated with a Bachelor's Degree in Music Education and Trumpet Performance in 2020. "I've been fortunate to have so many teachers who have gone out of their way to invest in me," Baker said. "From the Lamphere school district through and beyond the walls of Oakland University, the dedication of our community to bringing up the next generation makes Southeastern Michigan a very special place to learn and grow." One of the recipients of SMTD's Outstanding Student in Music Education MaTilDa Award in 2020, Baker student-taught at Troy High School and is currently performing with the Five Lakes Silver Band.

Regina Carter — OU alumna, SMTD artist-in-residence, Grammy-nominated jazz violinist, and recipient of the MacArthur "genius" and Doris Duke Artist Awards — delivered the keynote address at the UCLA Herb Alpert School of Music 2021 commencement celebration on Friday, June 11. Carter also discussed her teaching of Jazz on the Los Angeles TV show Fox Soul: The Tammi Mac Late Show on July 12. You can watch the interview here. 

Mannon McIntosh (BFA '19) has accepted a full-time position at Interlochen Center for the Arts as artist relations and administration coordinator. Prior to this, McIntosh worked as stage manager for Lean Ensemble Theater (Hilton Head, S.C.) and The Encore Musical Theatre Company (Dexter, MI) and spent several summers stage managing at Interlochen, this summer as the production stage manager. "I was hired at Interlochen for the first time in 2017, and I am so lucky to have spent the last five years growing as a stage manager, artist, and collaborator with the incredible faculty, staff, and students here," McIntosh said. "My work at Interlochen has truly helped shape me as a professional, and it is a dream come true to be joining Interlochen Presents full time!"

Instead of traveling to New York City this year, the graduating musical theatre seniors participated in "Senior Experience Week" which included virtual masterclasses, seminars, coaching and more. Josh Young, assistant professor of theatre and coordinator of the musical theatre program, presented their Senior Showcase on YouTube on July 18 (https://www.youtube.com/watch?v=0cHo53dYQUE).For more information about each of the seniors, visit www.oaklanduniversitytheatre.com/musical-theatre-showcase.

Voice alumna Krysty Swann (Mezzo Soprano) is playing The Mother in Michigan Opera Theatre's upcoming production of Blue, a powerful portrayal of a black family. For more information about the production, as well as how to purchase tickets for the Sept. 11-12 performances, visit: https://michiganopera.org/season-schedule/blue/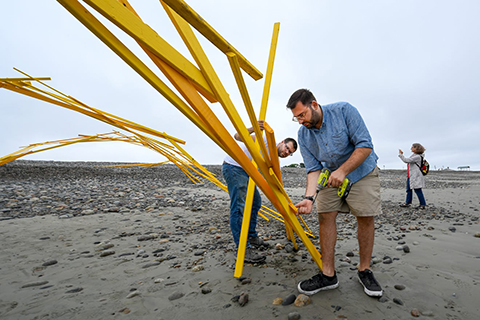 Jeremy Barnett, associate professor of theatre and interim chair of the Department of Theatre, and theatre alumnus Jason Maracani created a pop-up art installation at Goldthwait Reservation in Marblehead, Mass. on July 19. Maracani, who is based in New York, went to visit Barnett, who is in Marblehead for the summer with his parents. Barnett and Maracani explained to local paper Wicked Local that they "are committed to the principle that public art should be accessible and interactive." Barnett said, "To draw people to this place and give them the opportunity to see the beach and see the rocks in a different way, and to do it together...that's why we do this." Last summer, Barnett created large painted canvases for Marblehead Little Theatre and the Arnould Gallery. Barnett and Maracani have worked together on art installations all over the world, including throughout the Midwest and Spain. https://vimeo.com/578105485.

Two SMTD flute faculty members — Jeffery Zook and Brandon LePage — were featured artists at the CanAmerican Flute Symposium which was held Aug. 5-8. Zook's schedule included two masterclasses and a YouTube Premiere Pop-Up Performance with Susan Hoeppner. LePage presented "Mapping Moyse: Discovering the Hidden Wealth of Sound." For more information, visit: https://canamericanflutesymposium.org/schedule-of-events/.

Jess Julian (BM '17) recently earned their Master of Music degree and plans to continue graduate studies with a teaching assistantship at the University of Memphis Rudi E. Scheidt School of Music, where they will pursue a Doctor of Musical Arts degree in guitar performance. "I'm grateful for continuing my graduate studies with a teaching assistantship at the University of Memphis," Julian said. "Oakland University provided me with top notch experiences to further my career as a musician and I couldn't be more grateful for that, as well. Finding your unique voice as a musician is rewarding, and because of both institutions, I'm able to do that."

OU alum Jake Skipworth has been accepted to the doctoral program in opera performance at the University of Texas at Austin and will be singing the role of Belcore in L'elisir d'amore in the fall. Earlier this year, he was Filiberto in Il signor Bruschino with the Sarasota Opera, and then Silvio in Pagliacci with the St. Pete Opera. While at OU, Jake Skipworth studied voice with Distinguished Professor of Music John-Paul White.

Dr. David DiChiera, a former OU professor of music, department chair, assistant dean and honorary degree recipient, was featured in an article about the Michigan Opera Theatre's 50th anniversary. DiChiera, who passed away in September 2018, joined Oakland University in 1962 and was named director of the MOT's "Overture to Opera" program. "Over the next nine years, DiChiera built the program as a grass-roots community effort, quickly establishing its reputation, financial support and respect among patrons, community partners and the musical industry," the article states. You can read the full article here.

Dr. Amy Hardison Tully, director of the School of Music, Theatre and Dance and associate dean of the College of Arts and Sciences at Oakland University, was featured in an Oakland Press article in May 2021 titled "Performance arts students stay the course as Broadyway plans to reopen." In the article, Tully discusses the changing landscape of arts professions during the COVID-19 pandemic: "My hope is that future performing artists persist, work hard, don't give up and trust the process," she said. You can read the full article here.

This fall, the Department of Music is launching a new music ensemble: Creative Jazz Ensemble. This eclectic group, directed by Mark Stone, explores improvisation within the American experimental jazz tradition. In taking an organic approach to musicking that transcends but includes jazz, the ensemble is open to performers of all instruments and all stylistic backgrounds. The group will perform this fall on Oct. 16 and Dec. 5. For information about joining the group — which meets on Thursdays from 1-3 p.m. in 231 Varner Hall — email Professor Stone at stone@oakland.edu. There will be an informational meeting about jazz and world music ensembles on Thursday, September 2 at noon in 110 Varner Hall.

The SMTD costume shop was used as the backdrop for a promotional video for the "I See You Awards," whose mission is to recognize and reward low-budget independent filmmakers. You can view the video at https://www.iseeyouawards.com/.

Percussion performance student Peyton Miller's "Stravinsky Octet for Winds Conducting Project'' culminated on Aug. 11 with Peyton conducting a performance of Stravinsky's Octet with the help of eight hired musicians, including OU faculty Dr. Jennifer Oliverio, Dr. George Stoffan, alumnus Scott Voytush and current student Josh Tobias. The project, which has entailed historical research regarding Strabinsky's Neoclassical period, was also selected as the awardee for the Provost Undergraduate Student Research Award - Fall 2020.  "It's so wonderful to have the opportunity to conduct Stravinsky's Octet," Miller said. "His work from this period in his output is very exoskeletal in nature, so a listener can hear so much of the 'musical architecture' as it were. This makes the need even greater for textural identification, as well as balance within such an intimate ensemble. I'm very grateful to have been selected for the undergraduate research award to make this performance possible." For more details, visit https://fb.me/e/6tQJKVSaB.

Miller will also be playing the Detroit Jazz Fest this year with the Collegiate Detroit Jazz Festival Orchestra with special guest Keyon Harrold. The orchestra has students from the University of Michigan, Michigan State University, Wayne State University, and Oakland University. Miller will be performing from 2-3:15 p.m. on Sept. 6.

The 17-piece Scott Gwinnell Jazz Orchestra will be performing at the 2021 Detroit Jazz Festival on Sunday, Sept. 5 at Hart Plaza on the main stage from 2-3:10 p.m.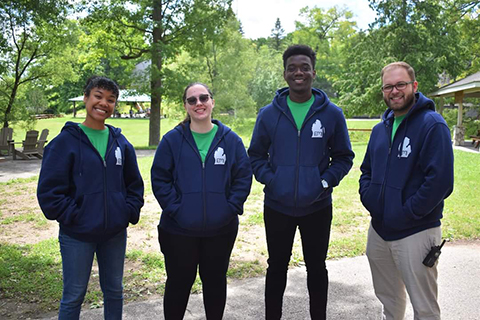 Several OU music students that have been working at marching band camps this summer: Paige Grider worked at the Armada camp and is currently at Stoney Creek's camp. "I will also work with the L'Anse Creuse (central) in a few weeks," Grider said. "I've also been working with my band, Rio and the Rockabilly Revival to get ready for our first show in almost two years that will be in Fort Wayne on August 27." Thomas Corbett is currently the assistant marching band director at Rochester Adams High School and is working on a themed show called "Ascension," which includes the songs Higher Ground, Mr. Blue Sky, Skyfall, and Stairway to Heaven. "We just finished week one, and can't wait to put the show together for week two," Corbett said. Iyla Miller taught two camps so far this summer. She was a baritone/ euphonium teacher and camp counselor at Echo Grove Music Conservatory in Leonard, Mich. with OU music graduate student Alexis Dill and music alumnus Michael Baker, and then she was the trombone instructor at Warren Woods Tower High School's band camp in Warren, Mich. Next, she will be teaching at Roseville High School's band camp.

Music Education students Michael Awe and Kasey Julian will be student teaching in the fall. Awe will be teaching middle school band at Oakview Middle School in the Lake Orion School District. "One of my educational beliefs is that I believe every student should be able to have the opportunity to participate in music regardless of their background," he said. "Music is what brings communities together and I want my students to be able to experience those musical moments!" Julian will be student-teaching at Waldon Middle School with Christina Welling this fall. "I believe that children need room for exploration, a safe space for risk taking and an opportunity to reach their own musical goals," Julian said. "I hope to learn more about this in the fall as I will be teaching 6th, 7th, and 8th grade choir as well as theatre and technology."

Lynnae Lehfeldt, associate professor of theatre (voice and movement) for the School of Music, Theatre and Dance at Oakland University, presentedInspiration: the Movement Work of Trish Arnold at the Voice and Speech Trainers Association in July. She presented with Valerie Madden from Emerson University in Boston, Massachusetts. Lehfeldt also taught Linklater Voice in the six-day MA in Theatre Education Intensive for the University of Northern Colorado this past July and continued her vocal coaching and consulting work. She worked with current musical theatre student Aurora Batton in the Fenton Village Players production of Something Rotten. The production was directed and musical directed by OU accompanist Frank Pitts. In addition, Lehfeldt continued her long standing collaboration with Water Works Shakespeare Festival where she serves as vocal coach. This year's production of A Midsummer Night's Dream features Dryden Zurwaski (BFA '21) and senior musical theatre major Antonio Vettraino. Lehfeldt also worked with the resident cast of the Michigan Renaissance Festival this summer and has been invited to teach at ITMO (Information Technologies, Mechanics and Optics) in St. Petersburg, Russia to teach the "International Research Management Essentials" course in November 2021.

On August 13, the Summer Carillon Concert Series concluded its run of six Friday performances at 6 p.m. at the Elliott Tower. This annual free concert series features carillonneurs from around the world, including OU's resident carillonneur Dennis Curry. Curry was on the Oakland County Megacast to discuss the Summer Carillon Concert Series, which kicked off July 9. Watch here: https://civiccentertv.com/oakland-university.../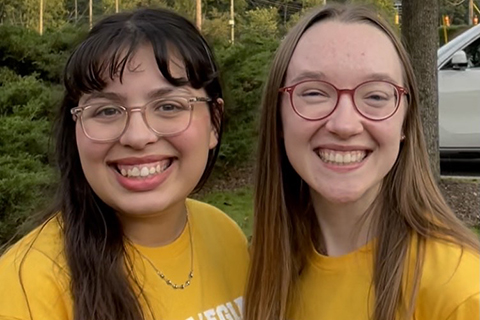 Kasey Julian and Hannah Combs of the OU Chapter of the National Association of Music Education (NafME) attended the National Association of Music Education's Collegiate Advocacy Summit this summer. The Summit is an opportunity to network and collaborate with fellow music education majors from around the United States. This year's Summit featured discussions on post-pandemic advocacy, equity in music education, career planning for the music educator, and much more. "As one of five recipients of the NAfME Collegiate Professional Achievement Award and president of our chapter, which received the Professional Development Chapter of the Year Award, I was asked to lead a breakout room," Julian said. "My breakout room addressed the topic of diversity, access, equity, and inclusion. I offered resources and we had a powerful conversation regarding representation and assessment in music education." Combs called the Summit "an incredible opportunity for professional development and networking." She said, "I made new connections with NAfME chapters across the country, and especially enjoyed learning from NAfME President Mackie Spradley, and President-Elect Scott Sheehan. I really appreciate all of the work that went into this conference, and was honored to be a voice in the discussion with those taking steps towards equity in our field."


OU alumna Sara Chiesa (BM '07) was asked to music direct a virtual graphic novel opera production of W. A. Mozart's Don Giovanni. "We knew that we wanted to facilitate a way to make music and share it with people during such a tumultuous time for the arts," Chiesa said. "It gradually became a grander thing where it was a mixture of college-age students, as well as some friends who are consummate professionals who teach at major universities, who have sung at the Metropolitan Opera, etc." According to Chiesa, the music for the production was all recorded separately. "I recorded practice tracks for the singers, then we had virtual zoom coachings on the music, then I made final tracks," she said. "I sent those to the singers, and they recorded their parts to the final piano tracks. I worked in conjunction with an audio engineer to put the voices with the piano. It was tough in the ensemble numbers where many singers are singing together, and they did not have the luxury of hearing each other before recording. The project was released in March for about three weeks on an online platform where people paid for a one-time ticket to the show. "This project was truly massive and came out better than we had ever imagined," Chiesa said.

Former OU student and pianist Ronaldo Rolim conceived a project entitled "Watershed," which brings together music, poetry and imagery in a program that maps out the trajectory society went through in the past 12 months. "At its core, three variation sets in D minor, a key notorious for its pathos, evoke three different stages of this journey: a stark warning (Mendelssohn's Variations Sérieuses), a march to darkness (Rachmaninoff's Corelli Variations), and a path to redemption (Bach-Busoni's Chaconne)," Rolim said. "I was thrilled to have the fantastic collaboration of mezzo-soprano Chrystal E. Williams and photographer/visual artist Carlin Ma in the making of this project." The program premiered on March 13 on http://astralartists.org. In addition, Rolim played a recital at the Myra Hess Memorial Concerts in Chicago on July 14.

OU alumna Maddie Kaplan was awarded a "Thesis of Distinction" for her OU Honors College thesis and for creating a guidebook of theatre improv games for special education teachers to implement into their daily curriculum. Each game reflects a different skill set to improve interpersonal skills. "Special education has always been near and dear to me," Kaplan said. "I had inspiration for this project from a performing arts camp I volunteer with every year. This camp is for underprivileged special needs kids and young adults. Being a volunteer for this program is incredibly rewarding, watching these kids and young adults have the opportunity to participate in something they are not usually able to take part in is absolutely heart-warming."

Associate Professor of Theatre Anthony Guest and Distinguished Professor of Theatre Karen Sheridan are performing in Wishing Well Theatre's production of Much Ado About Nothing as part of Fenton's first annual Shakespeare Festival. The production, which also features OU student Jalen Wilson-Nelem and Sarah Odom (BFA '21), runs Sept. 11-19 At Rackham Park in Fenton, Mich. For more information, visit www.geneseefun.com/event/wishing-well-theare-inc-presents-fentons-first-annual-shakespeare-festival/.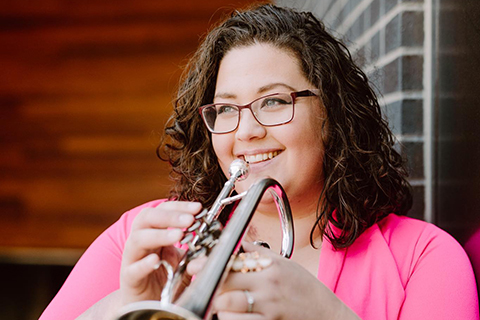 Dr. Jennifer Fox Oliverio, assistant professor of music, recorded an album over the summer of all new works for cornet/flugelhorn and piano with award-winning pianist and OU music faculty member I-Chen Yeh. The album, Enigma, is available for presale at www.jenniferoliverio.com/shop. To see a sneak preview of the album, which will be released in early September, click here.

OU alum Ian Lester is currently pursuing a doctorate degree in euphonium performance, as well as a master's degree in composition at the University of Missouri - Kansas City. Lester has also been enjoying recent success as a composer. His piece, Fanfare for the Isolated Human, which was commissioned by OU's own trumpet professor Dr. Jennifer Fox Oliverio, was premiered by the OU trumpet studio for the final round of the 2021 Trumpeter's Multi-track Competition in April. Furthermore, Ian was the only composer to be selected as a finalist for both the Harvey Phillips Award for Excellence in Composition and the Winston Morris Award for Tuba Ensemble Composition for the 2021 Virtual Tuba and Euphonium Conference (VTEC) in May with his works Moonscapes and Persevere and Rebuild, for the Sun Will Rise Again are set to be recorded in the near future. In June, Lester was one of eight composers accepted into the Julius Quartet's Emerge SOLSTICE Summer Composition Virtual Workshop with special guest and world-renowned composer Steven Mackey. During the workshop, Lester worked virtually with the Julius String Quartet on his piece Two Vignettes. Lester is currently working on his first piece for voice and piano as well as his second piece for wind band.

Musical Theatre student Alec Diem, as well as several OU alumni — Mitchell J.Hardy, AlissaBeth J. Morton, Meghan Andrzejewski, and Tyler Bolda — are currently in rehearsals for Grease at the JET theatre company in West Bloomfield. The show runs August 27-29, and is being performed outdoors at Walled Lake Farmers Market.

Following a national search, Oakland University has selected Elaine K. Carey, Ph.D., as dean of the College of Arts and Sciences. She began her role on June 30, 2021. "Dr. Carey's outstanding research career and track record of academic leadership will advance the CAS as we move forward to support OU's four strategic pillars," said Britt Rios-Ellis, OU's executive vice president for academic affairs and provost. "Her cultural and linguistic strengths, quest for social justice, and work to ensure that the underrepresented have a voice in contemporary quests for equity align well with CAS' past and future trajectory." Dr. Carey's previous work includes roles as chair of the Department of History at St. John's University in Queens, New York; vice president for the Teaching Division of the American Historical Association; co-founder and coordinator of the Joint Faculty Research Colloquium in the Social Sciences and Humanities; director of the James Guadalupe Carney Latin American Solidarity Archive in Detroit; and managing editor of the New Mexico Historical Review at the University of New Mexico in Albuquerque, New Mexico. She holds a Ph.D. in history from the University of New Mexico, as well as a master of arts with distinction in history and a bachelor of arts in international affairs from Florida State University. She has held teaching positions at St. John's University, the University of Detroit Mercy, and the University of New Mexico. Dr. Carey has held research affiliations at CUNY's John Jay College of Criminal Justice, Universidad Iberoamericana, El Colegio de México and Universidad Nacional Autónoma de México. In addition to her work within the academic institutions she has been part of, she has maintained active roles in numerous professional organizations, including lifetime memberships with the American Historical Association, Latin American Studies Association, Congress on Latin American History, and Fulbright Association. Throughout her distinguished career in academia, Dr. Carey has been awarded more than 30 grants and fellowships, has authored five books, 20 scholarly articles (with four more forthcoming), and nearly 50 other publications. She has presented scholarly work at more than 90 professional conferences and meetings.

Theatre alums (and brothers) Brian and Scott Dambacher were featured in an article in the The Times Herald (Port Hurton, MI), "'Theater's back': 3 brothers spearhead open-air theater productions in downtown Port Huron." After graduation, Scott toured as Berger in many productions of Hair, including in Europe. Brian worked as a tech director for us and at Meadow Brook Theatre, then he went to the Yale School of Drama and got his MFA in Technical Design and Production. He was on faculty at Michigan State and Wayne State before deciding to freelance.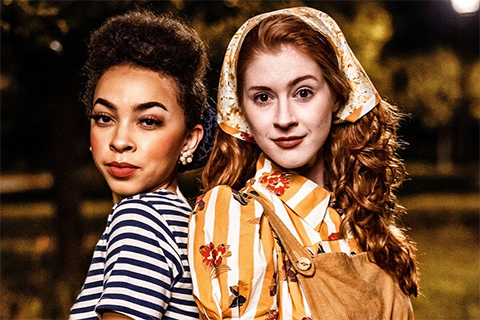 OU alumna Jordan Taylor (BFA '19) plays Hermia in A Midsummer Night's Dream at Shakespeare at Notre Dame. It runs 16 performances through August 29. Taylor is an alum of the OU Acting program currently finishing her last year of her MFA training at Case Western Reserve University/Cleveland Play House.

OU alum Scott Brickner (BM '19) graduated from Western Michigan University in 2021 with a master's in music performance. He also has played with the Battle Creek Symphony frequently as a substitute trumpet player, even stretching back to his time at OU. "I even pinch-hit for Scott Thornburg in the Western Brass Quintet (the faculty brass quintet) at a Kalamazoo Bach Society concert in 2019," Brickner said.

OU alum Daniel Turchyn (BM '13) is continuing in his sixth year of service as a "euphonium warrior" in the U.S. Army bands. "I am currently serving as a member of the 25th Infantry Division Band based at Schofield Barracks in Hawaii," Turchyn said. In July, Turchyn was promoted to the rank of corporal and was recently awarded the Armed Forces Service Medal in recognition of his support during the pandemic for his work at the Tripler Army Medical Center as a screener during the height of the COVID-19 outbreak. He is currently scheduled to move to Virginia in 2022 to serve in the U.S. Army Training and Doctrine Command Band.

OU cello faculty member Una O'Riordan will be giving a recital with Iskander Zakirov, piano, at St. Thomas Community Presbyterian Church in Shelby Township on Aug. 26 at 7 p.m. The performance is free and will feature works by Paradis, Beethoven and Chopin. Also, on Sept. 18, O'Riordan will be premiering Facsimile, a cello chamber concerto by Griffin Candey at Orchestra Hall as part of New Music Detroit's annual Strange Beautiful Music fest. More information can be found at dso.org and newmusicdetroit.com. 

OU Dance alumna Sam Lamer started a dance program for all ages at a K-8 school in the Detroit Public Schools Community District (DPSCD) during her first year teaching with the district. "I'm being transferred to a high school to start another program this year," Lamer said. Her fellow alum, Martin Sanchez, will begin in his new position with the district this fall.

Recent voice alumna Elena Hensel (BM '20) has been selected to join the professional vocal ensemble La Caccina, a Chicago-based professional women's vocal ensemble and non-profit organization committed to exploring the power of the female voice, and contributing new and innovative works to the treble cannon.

Milica "Mila" Govich, a special lecturer in theatre, plays Eileen on the new Showtime series "American Rust," starring Jeff Daniels. She will appear in episode 3, which airs on Sunday, Sept. 26. "Unfortunately I got into a car accident on the way to the set," Govich said. "The silver lining was that Jeff offered me a ride back to the hotel after we were done shooting, so in addition to working with him on set, I got to gab with him for another hour. It was very kind of him." Govich was also an associate artist at Daniel's Purple Rose Theatre Company in Chelsea when she lived in Michigan.

Dr. Amy Hardison Tulley, director of the School of Music, Theatre and Dance, says, "We are excited about our upcoming season, which celebrates our students and faculty in a creative and innovative way. However, we are continuously aware of local and regional changes regarding COVID-19 and how it has the potential to affect students, guest artists, and community productions. We thank our audiences in advance for your support and flexibility." Please check the SMTD website for upcoming performances and events.