Oakland University's PI Academy, which pairs junior faculty with prestigious scholars from across the nation, will welcome Dr. Mary-Jo DelVecchio Good — professor of global health and social medicine at Harvard Medical School — to campus on Oct. 29-30.

While on campus, Dr. Good will serve as a mentor to Dr. Edward Rohn, an assistant professor of interdisciplinary health sciences at OU, and host a public seminar, entitled Shattering Culture: American Medicine Responds to Cultural Diversity, from 1:30-3 p.m. on Tuesday, Oct. 29 in room 4050 of the Human Health Building. The seminar is free and open to the public.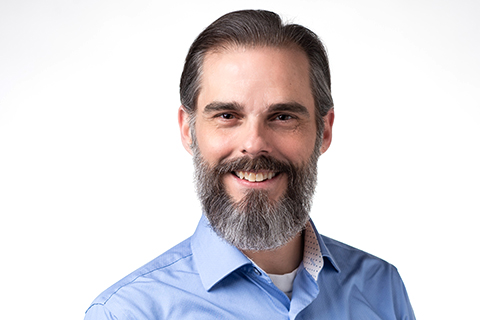 Dr. Edward Rohn
"The importance of having Dr. Good as a mentor is hard to put into words," said Rohn, an alumni of the PI Academy's class of 2019. "Being able to work personally with one of the founders of my field is exciting and a bit overwhelming. Her work was pivotal to my dissertation, and I reference it in my work today. I know her time here will help forward my work in ways I can barely start to imagine."

A comparative sociologist and medical anthropologist, Dr. Good's research broadly focuses on the culture and political economy of biomedicine, biotechnology and bioethics, including clinical realities and moral dilemmas encountered by physicians in the United States and globally. She has published extensively on clinical narratives particularly in oncology and medicine; on the meaning of professional competence and medical errors in medical training and practice.

Her research in the United States, funded by the Russell Sage Foundation, asks whether culture counts in mental health services and medical care, and examines both the professional and clinical cultures of psychiatry and medicine as they shape institutional as well as individual clinicians' responses to the cultural and socioeconomic diversity of patient populations.

"Dr. Good is perhaps the preeminent medical sociologist in America," said Dr. David Stone, OU's chief research officer. "The breadth of her work and the worldwide depth of her collaborators will greatly benefit Dr. Rohn and his work in this field."

Dr. Rohn is an applied medical anthropologist with a focus on stories in healthcare — particularly, the intersection between patients and providers in the clinical or hospital encounter, as well as the experience for each, which may contribute to healthcare delivery. His research areas include persons with spinal cord injury, chronic pain, quality of life, medical education, and the training and making of physicians.

"I hope to learn a tip or two from Dr. Good's skill in writing for multiple audiences bridging the same intellectual and professional divides that I am attempting to bridge," Rohn said. "But I am doubly honored by how enthusiastic and engaged she has been with both my work and me as a person, even before coming to visit.

"I think this will also be good for OU as well, as we continue to attract these high-profile experts to campus through the PI Academy and other avenues," he added.

For more information about the PI Academy, visit www.oakland.edu/research/pi-academy.