More than 40 years ago, Marguerite Mahler was reading the Detroit Free Press when she noticed an article about a new legal assistant program starting at Oakland University. The 40-something wife and mother had left a career in laboratory science to raise her family and was looking to re-enter the workforce.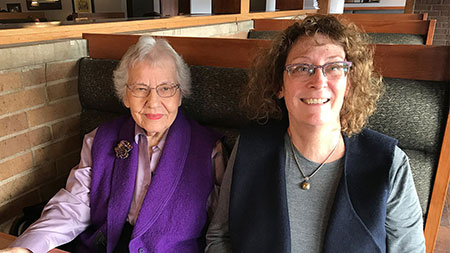 Marguerite Mahler and Barbara Lister-Tait, director of OU's paralegal program.
After taking the first two courses – Introduction to the Law, and Legal Research and Writing, she decided to complete the program, which was capped off with an internship at a local law firm.
"It just sort of fell into my lap," she said of her paralegal education. "But it served me well. I learned a lot on the job, of course, but the program gave me a good foundation. I felt I was as well prepared as anybody."
Following her internship, she got a job at Detroit-based law firm Dickinson Wright, where she was among the first legal assistants the firm hired. Back in those days, she says, the profession wasn't clearly defined, and each assistant had to tell the attorneys about their specific skill set. 
"It was interesting because the attorneys didn't really know what you could do," she said. "I was trained to work in many different areas of law, but preferred to work in litigation.
Mahler was assigned to the firm's labor and employment relations law section, where she put her research skills to work helping attorneys gather and organize information before and during trials. She helped prepare evidence exhibits and also helped attorneys with jury selections.
"The way I described my job is that I was in charge of the facts, and the attorneys were in charge of the law," she said.
During Mahler's 11 years with the firm, she worked on many cases, including an age discrimination case that lasted throughout her career. 
"I was in charge of all the pleadings," she said. "I worked up questions and sat in on depositions. I was always in the background until the case settled in the fall that I retired."
She worked alongside notable people, including John O'Meara, who was later appointed a U.S. District Court judge, and Robert Young, who went on to serve on the Michigan Supreme Court. She also mentored many paralegals, including OU Paralegal Program Director Barbara Lister-Tait, who started her career at Dickinson Wright.
"What I remember most about Marguerite was how calm she was," said Lister-Tait. "Deadlines were always crazy, and it meant a lot to have someone that, if you had a question, she would explain things to you. She was extremely intelligent and understood the law." 
Lister-Tait and Mahler have kept in touch over the years and recently met for lunch. 
"It's always wonderful to see her," Lister-Tait said of her mentor. "I feel very fortunate to have had her guidance, and I'm happy to pay it forward to paralegals that I've worked with, as well as OU students who are preparing to enter the profession." 
Part of OU's Professional and Continuing Education, the paralegal certificate program has prepared hundreds of graduates for careers in various legal settings. It was one of the first legal assistant programs established in Michigan and has been approved by the American Bar Association since 1976.
Learn more about the program at oakland.edu/pace/business/paralegal.