Oakland University's newest gaming destination, the Grizz Den (formerly the Bear Cave), officially opened on Thursday, Feb. 10 in the lower level of the Oakland Center.

"The completion of the Grizz Den marks a huge step forward for the gaming community at Oakland University," said Oakland University's Esports Head Coach Carl Leone. "This will be the perfect space for students to hold community events, unwind after class, and meet new friends."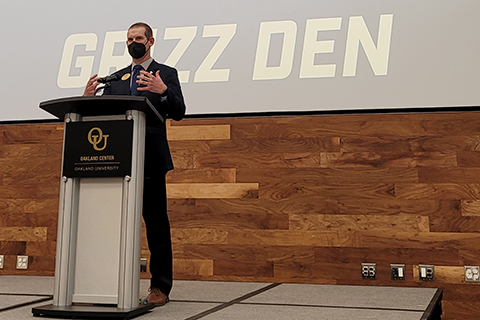 Chris Reed, director of the Oakland Center,
officially opens the Grizz Den for those at
the kickoff event on Feb. 10.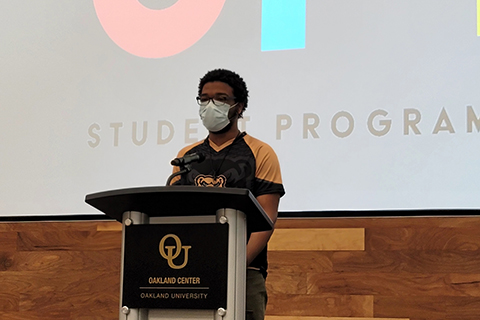 Sophomore Nicholas "Typhoon" Banks, a
member of the varsity Esports Super Smash
 Bros. team, spoke about how much he looks
 forward to using the new Grizz Den space.
Located across from the Habitat, the Grizz Den is home to a wide range of gaming and recreational opportunities, including:

• Pool tables

• Air hockey

• Foosball

• Playstation 5 and Playstation 4

• Xbox Series X and Xbox One

• Nintendo Switch, including five docking stations to bring your own device

• 24 gaming PC's

"By having the Grizz Den being repurposed as a recreational area that allows for PC and console gaming, it gives the Esports program here at the university, as well as our student organizations, a better opportunity to grow as a whole," said Kevin Ton, president of the Valorant Esports Club at Oakland University.

"I think this will give students with the same interests an academic cluster where they can form social connections with one another, which is especially helpful given the pandemic we are living in at the moment. Technology is widely growing and Esports is becoming more popular; I'm very glad that Oakland is showing interest in the Esports realm. This is a step in the right direction, in my opinion."

At launch, the Grizz Den will feature four PC games —  Rocket League, League of Legends, Overwatch, and Valorant — with the Esports library expected to expand in the near future.

For more information, visit www.oakland.edu/oc/grizzden.