At Lowell High School, senior Will Compton is involved in everything from chamber orchestra, to varsity football, to Model UN, to the National Honor Society. He's also a future Golden Grizzly, with plans to pursue an electrical engineering degree at Oakland University starting in fall.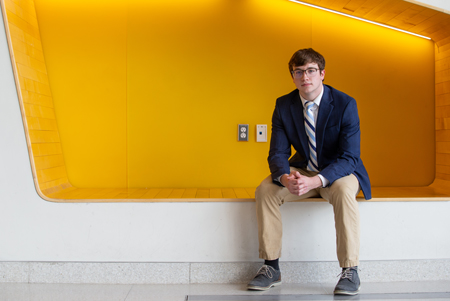 Will Compton, a Lowell High School senior and future OU student, is the third recipient of the Pescovitz Presidential Scholarship.
Compton's leadership and vision, combined with a passion for helping others, has led to his selection as the third recipient of OU's Pescovitz Presidential Scholarship.
The award was established by Oakland University President Ora Hirsch Pescovitz with the goal of fostering scholarly work and leadership skills of the next generation of community, civic and business leaders.   
In 2020, Compton joined a community service initiative to help families in the Midland area following the collapse of the Edenville Dam. He described the devastation he saw after he and his family made the two-hour drive north to help those impacted by the flash flood.
"Ruined furniture, damaged personal belongings and soaking wet debris all lined the streets. The widespread damage was disheartening, but it also motivated me to help as much as I could," he said.
Compton and his family spent the day helping a young couple clean up their flooded basement, removing standing water, ripping out carpet and drywall and throwing away soggy ceiling tiles.
"The work was difficult, but at the end of the day, it felt immensely rewarding," Compton said. "I'll forever be thankful for the chance I had to help this family in need following a devastating disaster."
Compton also found ways to help his hometown community as vice president of his high school's National Honor Society chapter. The organization is committed to upholding four pillars – scholarship, service, character and leadership. 
Compton's time as an NHS leader was complicated by the pandemic, which made it harder to find service projects and learn from previous NHS leaders.
He explains, "Usually, board members see how NHS operates for a few years before they take on the task of running the organization. But NHS events were few and far between, and I barely got to know the previous board members or see how they operated. This year, we forged our own path."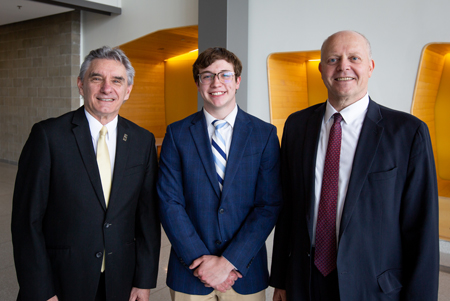 Will Compton is pictured with Honors College Dean Graeme Harper and School of Engineering and Computer Science Dean Louay Chamra.
After brainstorming goals, Compton and fellow board members came up with plans to bring in a local speaker to talk about community leadership, have therapy dogs visit during exam week, restart an honor roll recognition program and collect food donations for Flat River Outreach Ministries, a local nonprofit that supports those in need.
Compton took charge of organizing the therapy dog visit, which helped students de-stress during exam week.
"Seeing the smiling faces of students petting dogs felt very gratifying, and I know therapy dog visits will become a lasting tradition at Lowell High School," he said. "With AP exams right around the corner, plans for another therapy dog visit are in the making." 
These experiences taught Compton how to organize people to accomplish goals and revealed the importance of having a strong support system to overcome obstacles.
"Figuring out how to orchestrate larger events without examples proved difficult at first, but now I'm confident in my leadership and planning abilities," he reflected. "I sincerely hope my efforts supported and encouraged the success of everyone involved, because in the end, the success of an individual begins with a network of support behind them." 
Administered through Oakland University's Honors College, the Pescovitz Presidential Scholarship program provides direct scholarship support for students entering/enrolling beginning this fall, and creates an endowment for scholarships in perpetuity. To qualify, students must demonstrate intellectual vision and creativity, an ability to solve problems and a commitment to improving their communities.