Oakland University's Honors College has welcomed another large and exceptionally talented group of students to campus. 

This fall's incoming class totals 573 students, including 487 First Time in Any College (FTIAC) students and 86 transfer students. Over half of these students achieved a GPA above a 3.9, and 176 of them are arriving at OU with a GPA above 4.0. The highest individual GPA of the group is an outstanding 4.53.  
"Students in the top 5%, nationally, join us here in The Honors College," said, Dr. Graeme Harper, Dean of The Honors College. "This fall's freshmen are a remarkable group in every way. I am personally thrilled to welcome them and to support them."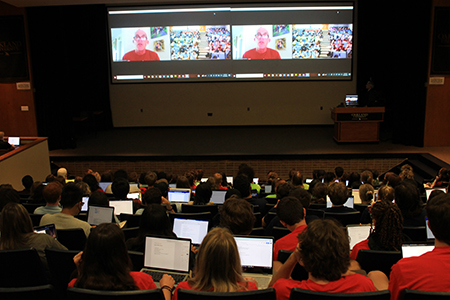 The class received a virtual visit from New York Times bestselling author Christopher McDougall. His 2019 book "Running with Sherman" is among those the class is reading this semester.
This fall's incoming Honors College class also features the inaugural Pescovitz Presidential Scholars. They are Ayah Neiroukh (Biomedical Sciences), Joel Butler (Computer Science), William Compton (Electrical Engineering) and Grace Bruck (Biology).
Dr Harper reports: "Pescovitz Presidential Scholars receive additional scholarships based on their contribution to the communities around them, and to the lives of other people. Their success will also lead to the success of others. Their empathy and commitment is simply wonderful."

Honors College students join each of OU's Schools and the College of Arts and Sciences. This year, the distribution looks like this: 
College of Arts and Sciences: 172 (30%)
School of Business Administration: 69 (12%)
School of Nursing: 52 (9%)
School of Engineering and Computer Science: 119 (19%)
School of Health Sciences: 57 (10%)
School of Music, Theatre and Dance: 23 (4%)
School of Education and Human Services: 17 (3%)
Pre-Med: 34 (6%)
Exploring Major Options: 40 (7%)
Students automatically qualify to join The Honors College if they have earned a GPA of 3.7 or above.
Students who have a GPA between 3.3 and 3.69 can apply to join The Honors College. The application process is simple and can be found at oakland.edu/hc/students.

With the fall 2022 entering class, the total number of OU Honors College students now stands at an impressive 2,047. Last year's graduating class of Honors College students was the largest in the history of Oakland University.
Learn more about The Honors College at oakland.edu/hc.