High school seniors Joel Butler and Ayah Neiroukh are the first recipients of the Pescovitz Presidential Scholarship, an award established by Oakland University President Ora Hirsch Pescovitz with the goal of fostering scholarly work and leadership skills of the next generation of community, civic and business leaders.   
Joel Butler
Butler, a resident of Plainwell, Michigan, about 20 minutes north of Kalamazoo, plans to major in computer science at Oakland. He is known at Plainwell High School as a go-to person for solving technology issues, such as setting up laptops, backing up data and recovering lost files.
In addition, Butler has tutored students in mathematics, meeting with them at the local library and creating practice problems to help illustrate concepts and ensure understanding of the material. 
"I believe everyone can learn anything if they have the right support, so that is something I try to offer to help others be successful," he shared. 
To support his community, Butler helped host online tournaments for the local arcade which had been shut down during the pandemic. The events brought participants together virtually to enjoy the games until in-person events could resume.
Butler is a leader on his high school's robotics team and has cultivated his technology skills by taking courses online and at a nearby community college. Through these courses, he obtained the Cisco Certified Networking Associate certification and expects to complete another certification prior to graduating.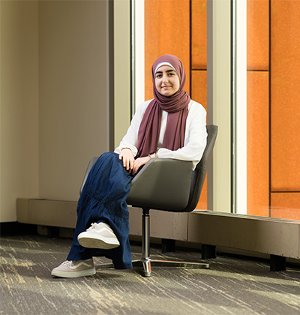 Ayah Neiroukh
Neiroukh, of Rochester Hills, has tutored students both within and outside the Rochester Community School District. This year, she became part of the newly formed Rochester High School Student Tutors, providing tutoring to RHS students from all grade levels.
Additionally, she tutors Hispanic elementary students twice a week through La Casa Amiga, a Pontiac-based outreach program that helps immigrant communities.
"Being conversant in Spanish has allowed me the opportunity to connect with and serve communities that I otherwise never could have," said Neiroukh.
When the coronavirus hit, Neiroukh led a can drive that raised $500 to benefit the Ascension Hospital Caregiver Fund for frontline health care workers. As part of the RHS Rotary Interact Club, she held a food drive in collaboration with the OU Food Pantry. She also volunteers with the food pantry at La Casa Amiga and at the Rochester Older Persons' Commission.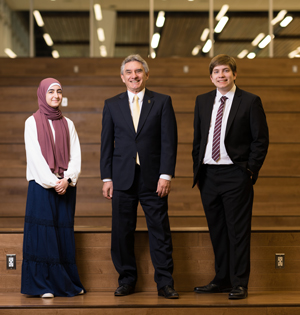 Ayah Neiroukh and Joel Butler with OU Honors College Dean Graeme Harper
As a member of HOSA: Future Health Professionals, she earned third place at an event where students were tasked with coming up with original medical innovations. With her sights set on a career in health care, Neiroukh plans to major in biomedical sciences at OU.
Administered through Oakland University's Honors College, the Pescovitz Presidential Scholarship program provides direct scholarship support for students entering/enrolling beginning this fall, and creates an endowment for scholarships in perpetuity. To qualify, students must demonstrate intellectual vision and creativity, an ability to solve problems, and a commitment to improving their communities. Additional recipients of the Pescovitz Presidential Scholarship will be announced in the coming months.