Three Oakland University graduate students — Ronald A. Benbow, Red Douglas, and Jessica Ross — have been awarded the King-Chavez-Parks (KCP) Future Faculty Fellowship, which was established in 1986 by the Michigan Legislature to increase the pool of academically or economically disadvantaged candidates pursuing faculty teaching careers in postsecondary education.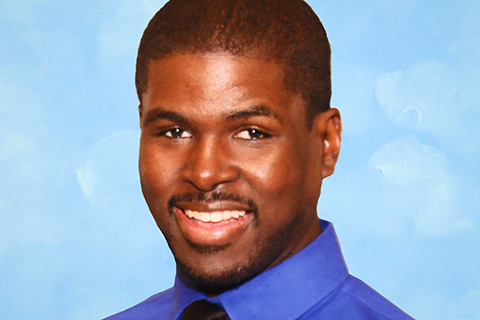 Ronald A. Benbow
"It is an honor and privilege for my name to be selected as a recipient of the KCP Future Faculty Fellowship award," Benbow said. "This opportunity reinforces and empowers me to continue the legacy of the fellowship names which their agencies, sacrifices and advocacy paved the way for me to pursue my path.

"My vision is finding my niche in academia and collaborating with colleagues to produce relevant research in the field, mentoring aspiring allied health professionals and advocating for ACSM's Exercise is Medicine initiative," he added. "As an educator, my goal is to collaborate and develop programs that coach future generations of exercise or movement science professionals to advocate physical activity as a vital sign and exercise as a form of medicine."

KCP Fellowships are funded from an annual State of Michigan appropriation to Oakland University. The Graduate School holds a competition for KCP awards and provides recipients with financial assistance to pursue master's and/or doctoral degrees. A master's recipient can receive a maximum stipend of $20,000 and a doctoral fellow can receive a maximum stipend of $35,000.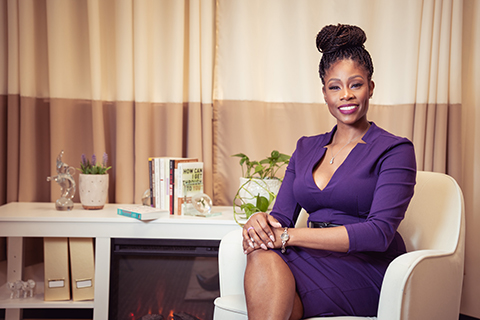 Jessica Ross
"Receiving the KCP Future Faculty Fellowship was meaningful to me because it helped to ensure my access to a quality education," Ross said. "In addition, it affords me the opportunity to be an example for BIPOC and other marginalized individuals that desire to seek higher education. I hope others are inspired to seek scholarships and become more aware of financial support that may reduce hardships and that exist to create more equitable opportunities.

"As a Black woman, I am an endangered species," she added. "Very few people in higher education look like me. It is hard existing in educational environments that do not offer a sense of belonging. As a future educator I am excited about the chance to help students feel connected, reflected, and valid during their matriculation and contribute to the literature and practices that impact marginalized groups."

To be eligible for the KCP Future Faculty Fellowship, students must:

• be academically or economically disadvantaged;

• be admitted into an Oakland University graduate degree program that facilitates a career in post-secondary teaching;

• be a citizen of the United States and meet the Oakland University requirements for Michigan residency; 

• be in good academic standing as defined by Oakland University;

• not be a current recipient of a KCP Fellowship Award at another institution;

• not have received another KCP Fellowship Award for the same degree level (master's or doctorate); and

• not currently be in default status on any guaranteed student loan and/or a KCP loan.

A selection committee reviews applications annually and recommends candidates to the Graduate School. Selections are made on a competitive basis using criteria that includes academic performance, research accomplishments and potential, recommendation letters, and personal statements.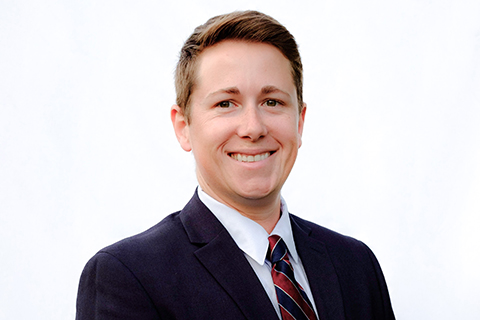 Red Douglas
"I cannot underscore how life changing it is to have received the esteemed KCP Future Faculty Fellowship," Douglas said. "As a first-generation college student juggling multiple jobs throughout graduate school, I was unaware of the many opportunities designed to promote diversity among future postsecondary faculty members. Learning about the KCP Fellowship opened my eyes to the programs that exist to help those from underrepresented backgrounds pursue faculty positions. I am beyond grateful that the Fellowship will enable me to continue my education and doctoral research, which focuses on investigating ways higher education can encourage matriculation among at-risk students, particularly those who have experienced intersectional trauma.

"As a future faculty member and administrator, my goal is to pioneer support services for vulnerable student populations through empirical research, evidence-informed policy, and advocacy," he added. "The KCP Fellowship will not only allow me to make this goal a reality, but in doing so help students who, like me, have faced tremendous adversity. I am proud to be making a lifelong commitment to research, mentorship, and service, and I am exceedingly grateful for the opportunity to represent Oakland University as a KCP Future Faculty Fellow."

KCP Fellows agree to complete a master's degree within four years or doctoral degree within eight years of receiving the fellowship, and are obligated, by signed agreement, to remain in post-secondary faculty teaching or approved administrative position at a public or private, two or four year, in-state or out-of-state post-secondary institution for a minimum of three years equivalent full-time.

"The three students who were awarded the KCP Future Faculty Fellowship rose to the top of a very competitive application pool," said Dr. Brandy Randall, dean of the Graduate School at Oakland University. "They demonstrate the high caliber of the Ph.D. students at Oakland University. I am thrilled that they will one day be representing Oakland in positions at post-secondary educational institutions."

Eligible students who are currently enrolled or admitted into a graduate degree program at Oakland University may complete and submit an application to the State of Michigan. Applications must be complete in order to be considered, and include:

• A KCP application form

• Two recommendation forms which should be current and speak to the fellowship

• FFF eligibility requirements and statement form

• A letter from the academic program coordinator or department chair indicating the student will satisfactorily complete his/her intended degree in a reasonable time. For students admitted to master's programs with the expectations of completing a doctorate at OU or other Michigan university, this letter must also address the likelihood of the student being admitted to such a doctoral program.

• A personal statement indicating academic and career goals in post-secondary education

• A resume or curriculum vitae (i.e., a brief statement of the applicant's education and scholarly achievements).

For more information, visit https://oakland.edu/financialservices/available-financial-assistance/grad or call (248) 370-2700.