Tuesday, Jun 16, 2020
OU's First Year Advising Center goes virtual to help students during COVID-19 pandemic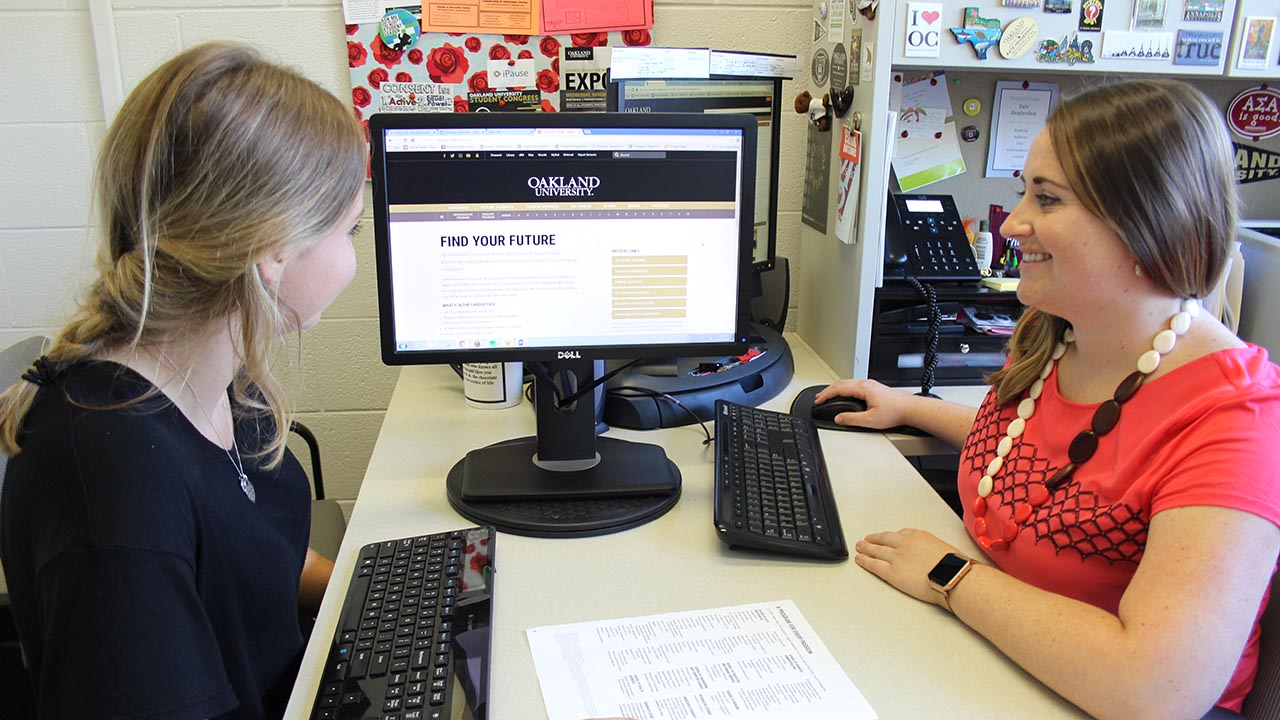 Kate Golder, senior academic adviser with Oakland University's First Year Advising Center.
As a senior academic adviser with Oakland University's First Year Advising Center (FYAC), Kate Golder has been assisting OU students transitioning to their first year in college by helping them plan and schedule their courses, navigate changing majors, and connecting them to campus resources.

"My main priority and goal is to make sure my students feel supported," said Golder, who has been with the FYAC for nearly six years. "I make sure to let all of my students know that I am their go-to person and that they can reach out to me if they have any questions or concerns. I want them to know that as they embark on their new educational experience, they have someone rooting for them and supporting them."

But when the COVID-19 pandemic forced the FYAC to close its physical doors in mid-March, Golder and rest of the FYAC team had to re-examine every facet of their operation as they moved to virtual services nearly overnight.

"We quickly determined our most pressing priorities, identified technology available to meet our needs and created effective practices that would continue to give students the personalized service we are known for," said Sara Webb, senior director of the First Year Advising Center.

During the transition, the First Year Advising Center and Orientation and New Student Programs offices put a great deal of effort into making sure OU students would be able to receive the support and resources they need in order to have a smooth transition into college.

"One of our most significant changes has been the creation of an ongoing virtual orientation experience for incoming students that replaced a one-day, in-person program," Webb said. "By leveraging our connections across campus, we have created a robust online orientation module, online group advising and registration sessions and a series of live workshops and student engagement experiences spanning the entire summer."

The FYAC team has also moved all of its services to an online format while utilizing many modes of technology to ensure that any student can receive services quickly and effectively.

"The advisers in the FYAC have been continuing to meet with multiple students virtually every day," Golder said. "We have also increased our outreach efforts to check in with our students as they transitioned to online coursework. The FYAC lab in North Foundation Hall has been transformed into a virtual WebEx, allowing us to continue to support students with registration questions.

"We also continue to host FYAC Google Chat, which allows students to ask us quick questions," she added. "All of these changes have students' best interests as the main focus and empowers advisers and myself to support students consistently as we have in the past."

The FYAC office remains virtually open Monday through Friday from 8 a.m. to 5 p.m. For more information, visit oakland.edu/fyac.