Nearly 20 years ago, Cristina Kapustij was sitting in Douglas Wendell's biology class at Oakland University when the professor shared news of a landmark achievement in the history of science. Researchers working on the Human Genome Project had produced a rough draft of the human genome – a map of the roughly three billion DNA bases that make up the human genetic code. 
"I remember him being very excited about it," Kapustij recalled. "It was clearly a big deal."
The project had begun more than 10 years prior and involved more than 1,000 scientists from six countries, including the U.S. It gave scientists unprecedented insight into human biology and promised to revolutionize treatment of diseases with a genomic basis, including cystic fibrosis, diabetes and certain cancers.
While this moment stayed in Kapustij's memory, its significance didn't come into focus until years later when she started working at the National Human Genome Research Institute (NHGRI), the organization that led the Human Genome Project in the U.S.

"It's sort of ironic that I work here now, and we always celebrate anniversaries related to the Human Genome Project," she said. "Little did I know sitting in that classroom that this would be something I'd think about all the time."
Helping society through genomics
Although her career in genomics policy wasn't planned, Kapustij says academic and professional experiences helped pave the way to her job as chief of the NHGRI's Policy and Program Analysis Branch, a position she's held since 2015.
The branch is part of the NHGRI's Division of Policy, Communications and Education, whose mission is "to promote the integration and utilization of genomic knowledge to advance human health and society." Moreover, the NHGRI and its offshoots are part of the Department of Health and Human Services, within the executive branch of the federal government.
"NHGRI is one of the 27 National Institutes of Health," Kapustij explained. "We are funded by Congress, so a big part of our job is to tell them about the work we do and how our budget is being used."
Much of the work involves keeping a close eye on the legal, ethical and social aspects of genomics, including privacy, discrimination and informed consent. Kapustij and her staff frequently provide expertise to lawmakers to help ensure that policy keeps pace with science.  
"It's an incredibly dynamic environment," she said. "One of our biggest challenges is figuring out how to use genomic research to benefit society, while making sure that regulations are in place and individual rights are protected." 
They also inform U.S. leaders about NIH-supported genomic research and communicate with foreign leaders seeking to advance genomic research in their countries. Kapustij cited several examples, including a Congressional delegation that went to Africa to learn about a genome-based public health project, and members of the Singapore Ministry of Health who visited the U.S. to learn about genomic medicine programs.

"We are at the forefront of genomics," said Kapustij. "We work on a lot of foundational science that lays the groundwork that other organizations are now building upon and incorporating into their own studies. It's very rewarding to know that the work we're doing is helping people all over the world."
Crafting a career
Along with her work at the NHGRI, Kapustij is an adjunct assistant professor at the Johns Hopkins University Bloomberg School of Public Health, where she teaches a course on genomics policy. She is also a mentor and past participant in the Genetics and Public Policy Fellowship. Co-sponsored by the NHGRI and American Society of Human Genetics, the program allows genetics professionals to contribute to the policy-making process by working closely with members of Congress.

Prior to joining the NHGRI, she was a program manager at the Institute for Human Genetics at the University of California, San Francisco; a policy analyst at the Center for Genome Ethics, Law and Policy at Duke University; a Congressional Fellow for Health Policy in the office of U.S. Representative John Dingell; and a Mirzayan Science and Technology Fellow at the National Academy of Sciences.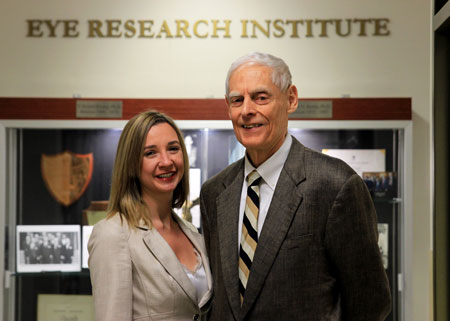 Cristina Kapustij pictured with mentor Frank Giblin, director of the Eye Research at Oakland University.
She has also co-authored articles in peer-reviewed journals – including one article that was based on research she did as an undergraduate at OU.

That research, which looked at how oxygen contributes to the development of cataracts, was funded by the NIH and performed under the guidance of faculty mentors Frank Giblin, director of Oakland's Eye Research Institute, and former Oakland physics professor Uma Venkateswaran.

It was Kapustij's first time doing scientific research, which she later presented as a talk at the Meeting of Minds Undergraduate Research Conference. Giblin recognized her as a poised and self-motivated student with a strong sense of ethics.

"I think Oakland University should be really proud of her," he said. "Especially in this day and age when there's so many implications of research on the human genome. There's all sorts of ethical questions with DNA sequencing and editing, and so many possibilities of curing diseases. I think it takes a really thoughtful and ethical person to manage these issues, which are so important to society."
Appreciating Oakland 
Kapustij had a stellar career at Oakland as a double major in biology and Russian Language and Civilization. She spent a summer studying in St. Petersburg, served as co-founder and president of the Russian Club, and won numerous awards for campus involvement. She cultivated leadership and communication skills as a member of Student Congress and as a student liaison to the Board of Trustees.
"I learned how to take the students' concerns and translate them into language that university leaders appreciate," she said. "In some ways it's similar to what I do now, translating science into a language that's meaningful to policymakers."
Graduating with honors in 2001, Kapustij received the Matilda R. Wilson Award as OU's most outstanding female undergraduate and was chosen as a student speaker at commencement. She also participated in the first OU Day at the Capitol, and later headed to Washington, D.C., where she earned a master's degree in biotechnology from Georgetown University.

She credits her Oakland experiences with helping prepare her for leadership at the forefront of science and policy. 

"There was so much that I did at Oakland that prepared me for graduate school and for my career – from developing my science background, to working on policy and becoming a leader in my field," she said. "Not to mention finding valuable mentors that I still keep in touch with. Every step kept me going in the right direction and helped get me to where I am today."