Dunya Mikhail, an internationally celebrated poet and Oakland University special lecturer of Arabic in the Department of Modern Languages and Literatures, has been awarded the 18th UNESCO-Sharjah Prize for Arab Culture, based on the recommendations of an international jury of experts.

Created in 1998 and run by UNESCO at the initiative of the United Arab Emirates, it rewards each year two laureates — individuals, groups or institutions — who, through their work and outstanding achievements, endeavor to disseminate greater knowledge of Arab art and culture.

The initiative is part of UNESCO's Social and Human Sciences Programme, and the Prize carries monetary value of $60,000, which are equally divided between the two laureates. The 18th edition of the Prize has been awarded to Mikhail, an American-Iraqi poet, and Helen Al-Janabi, a Swedish actress of Syrian-Iraqi origin, in recognition of their strong commitment to the promotion of Arab culture around the world.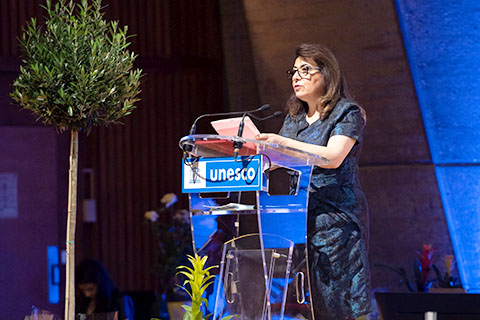 Dunya Mikhail
"I am honored and happy to receive the UNESCO-Sharjah Prize for Arab Culture," Mikhail said. "This deepens my sense of responsibility to continue my contribution to the promotion of cultural dialogue and dissemination of Arab culture in the light of artistic and ethical values."

Born in Baghdad, Mikhail worked as a translator and journalist before immigrating to the United States in 1996, where she earned an M.A. at Wayne State University. Her powerful writing, translation, poetry, and prose — in Arabic and in English translation — speak to the horrors and hardships of war, migration and loss of country, and the complexities that accompany it.

The nuance of Mikhail's work, particularly her poetry, is fueled by a deep sense of identity: as a refugee, an artist, and a woman. Her first book published in English, The War Works Hard (2005), translated by Elizabeth Winslow, was selected as one of the 25 Best Books of 2005 by the New York Public Library.

The award ceremony was held in Paris at UNESCO Headquarters on May 30.

For more information, visit https://www.unesco.org/en.