Barry M. Klein was an unabashed fan of Oakland University. He was a devoted alumnus, a steadfast supporter and an unwavering advocate for the university. With his passing on January 18, 2020, Oakland University lost a generous and loyal friend. As a final act of support, Klein made a transformative gift through his estate which, in part, has established the Barry M. Klein Center for Culture and Globalization. His legacy and vision will elevate OU's standing in the international academic community and contribute to a more complete understanding of the social and cultural forces that impact contemporary global issues.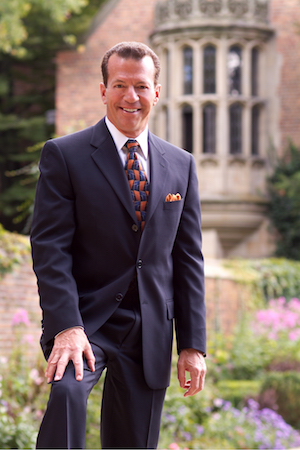 Barry M. Klein
Changing Lives Through Philanthropy
In 2003, Klein made an initial bequest gift commitment through his estate. Today, and thanks to his considerable success, the estate was able to make an additional multimillion-dollar gift that will further grow the George R. and Helen Klein Memorial Scholarship and create two new initiatives: the Barry M. Klein Scholarship Endowed Fund and the Barry M. Klein Center for Culture and Globalization.
The George R. and Helen Klein Memorial Scholarship in the School of Education and Human Services, was established by Klein in 1997 to honor his parents, George R. and Helen Klein, and to give back to the university "that taught him to think critically." He wanted to recognize that both of his parents supported his education at OU, his return from the Haight-Asbury district of San Francisco after the "summer of love" in 1967, and his transition from hippy to "real estate expert."
At the time, he said, "It's a wonderful thing to be able to help people who have the talent and ability but not the financial wherewithal …to give them the opportunity to come to Oakland. It makes me feel very good to see that through scholarships we can attract more gifted students to OU."
The Barry M. Klein Scholarship Endowed Fund will support students in the Honors College. Preference will be given to students who do not qualify for other forms of financial aid and whose continued academic journey will be significantly impacted by receiving a scholarship.
The Barry M. Klein Center for Culture and Globalization is a robust, multi-faceted program that will attract renowned scholars to enrich the academics, educational experience, and social impact of OU.
Barry M. Klein Center for Culture and Globalization
The Barry M. Klein Center for Culture and Globalization is a realization of Klein's vision to recruit world class scholars to OU, promote national and international dialogue and create opportunities for students and faculty to experience culture and globalization studies on an unprecedented level.
The Center will be housed in the College of Arts and Sciences but will collaboratively utilize synergies across campus to create enriching and transformative experiences for faculty, students and the community.
Within the Center, funding from the Klein Estate will establish the following initiatives:
Barry M. Klein Visiting Chair
Barry M. Klein Distinguished Faculty Awards
Barry M. Klein Student Research Program
Barry M. Klein Culture and Globalization Program Support Fund
Kevin Corcoran, Ph.D., dean of the College of Arts and Sciences, is honored to help ensure the new Center operates in the spirit envisioned by Klein. "The Barry M. Klein Center for Culture and Globalization represents an extraordinary vision by an extraordinary man," says Corcoran. "Through the Center, Oakland University will become a place for deep thinking about issues related to globalization and culture. The Klein Center will enrich and educate our students and community and inspire people to make positive changes here, in southeast Michigan, and throughout the world."
Remembering Barry M. Klein
Klein graduated from Oak Park High School in 1964. He was admitted to Oakland University, graduating in 1968 with a bachelor's degree in sociology. As a self-described member of the 1960s counterculture, he said he appreciated the intellectual freedom and diversity he found on OU's campus.
He was the chairman of Barry M. Klein Realty Enterprises, L.L.C. in Centerline, Michigan. In 2010, he moved to Naples, Florida with his wife, Linda Walsh-Klein, where they resided at Naples Heritage, a golf community. He was active in governance and community relations at Naples Heritage. He was also a member of the East Naples Civic Association, a Collier County planning commissioner, and a lifetime Mason.
His passion for Rockabilly music led to him becoming a columnist for and a member of the Rockabilly Hall of Fame.
He was a wine connoisseur and a collector of fine wines, periodically traveling on wine-tasting vacations.
He loved running and fitness and completed many half-marathons in Michigan and Florida. And, while sometimes frustrating, golf always held a special place in his heart.
Klein was the beloved husband of Linda Walsh-Klein and cherished father of Jason A. Klein, Jacquelyn R. Wyatt and Jeffrey B. Klein.

Member of the OU Family
Klein joined the Oakland University Alumni Association shortly after his graduation in 1968 and was a regular presence on the campus thereafter. He served on the OUAA Board and is a former director of the OU Foundation. He received the OUAA Distinguished Alumni Award in 1984 and the OUAA Spirit Award in 2003. He was also an active member of the golf community at OU and a familiar face on the Katke-Cousins and R&S Sharf golf courses.
Klein was also a longtime supporter of Oakland University and gave generously to initiatives that advanced the success of students in our community. In an interview with the OU Magazine, Klein explained his decision to give back to his alma mater.
"I really believe that Oakland University is the most important higher education institution in the metro Detroit area. More than 90 percent of our students come from southeastern Michigan and over 90 percent of graduates stay in the area after graduation. Our graduates have an enormous impact on the future of the state's economy. Because of this, I think it's incumbent on anyone with any philanthropic tendencies to consider giving to Oakland," he said.
A Legacy of Impact
Klein's generosity is helping to shape the future of Oakland University and the future of the countless faculty members and students who will be touched by his support in the many years to come.
Oakland University President Ora Hirsch Pescovitz, M.D., is immensely grateful for Klein's generosity and leadership. "Barry Klein's gift will provide a robust, sustainable center with the unique capacity to expand and advance academic understanding of our world as it exists today," says Pescovitz. "Fusing Barry's vision with OU's academic mission will transform the way we look at the world."
Oakland University's gratitude also extends to Klein's family, particularly Linda Walsh-Klein, who has played an instrumental role in defining the vision for this gift. "The entire university community extends a heartfelt thank you to Linda for her guidance and her passion in realizing this transformative gift," says Pescovitz. "I look forward to sharing with the family all of the ways their support will make a positive difference in the lives of our students and faculty."
Join Oakland University and Linda Walsh-Klein in a virtual celebration of the life and legacy of Barry M. Klein on January 18, 2021 at 2 p.m. Contact donorrelations@oakland.edu to register for this virtual event.