Utilizing "Lean Thinking," Oakland University Industrial and Systems Engineering students Monisha Vasudeva and Sagar Bajaj have been helping Humble Design — a nonprofit that furnishes homes for individuals and families transitioning out of homelessness — improve their operations and optimize the space inside the organization's warehouse in Pontiac, Mich.

"We're excited to be supporting the great work of Humble Design," said Robert Van Til, Ph.D., Pawley Professor of Lean studies and chair of the Industrial and Systems Engineering (ISE) Department at Oakland University.

The project is the result of an ongoing collaboration between Oakland University's ISE Department, OU's Pawley Lean Institute, and the Lean Enterprise Institute, Inc. (LEI) in Boston, which was founded by the father of the Lean movement, Dr. James P. Womack.

The LEI, through the James P. Womack Scholarship and Philanthropy Fund (JPW Fund), recently provided an initial grant of $10,000 to Oakland University to be used to place ISE students into paid internships in community service organizations like Humble Design, where they will be able to continue their Lean learning and assist the organization in improving its performance.

"We see this work as an opportunity to assist Humble Design going forward and expect other students to take advantage of this internship that is supported by LEI," said Dennis Wade, director of the Pawley Lean Institute.

Located at 180 N. Saginaw St. in Pontiac, Humble Design serves individuals, families and veterans rising from homelessness by transforming empty houses into warm, welcoming and uplifting homes with donated furniture and household goods.

"Once someone is referred to us, we meet with them in their home in order to get to know them and their new, empty space," said Laura Corp, operations manager for Humble Design. "We then provide a complete design service for them with donated goods from our warehouse.

"We give our clients everything from beds to silverware to artwork, and it was all chosen specifically for them," she added. "Giving someone a house full of furniture makes them feel secure, happy, stable. It gives them something to fight for."

Over the past few months, Vasudeva and Bajaj have been working to improve operations inside the organization's 12,000 square-foot warehouse in Pontiac — one of four Humble Design locations throughout the United States.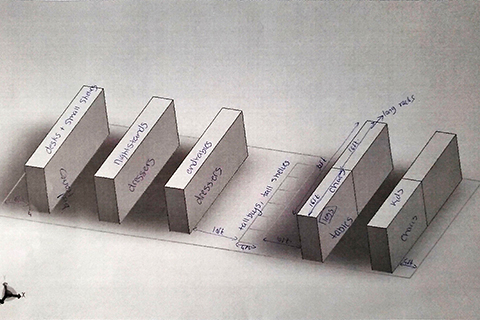 This sketch shows how the OU students plan to
use racks and shelving to optimize space.
"Since Humble Design is a nonprofit organization, their operations vary when compared to a manufactured or any other business," Vasudeva said. "The most challenging part of the process is the time taken to understand the basic thinking and culture of the organization, which is the key to implementing Lean.

"When Lean is implemented without understanding the culture, expected results are not delivered," she added. "The only possible way to overcome this challenge is to ask a lot of open-ended questions to the people working for the organization about their work, problems they face, critical areas of improvement and so on. So, in our every visit to Humble Design, we spent a lot of our time asking questions and trying to understanding the basic thinking and culture."

Humble Design staff members, ISE faculty members, OU faculty members associated with the Pawley Lean Institute, and representatives from LEI have been providing assistance and guidance to the students throughout the process.

"My role is to help develop the thinking and practice of Lean with the OU students, Monisha and Sagar, as well as with Humble Design," said Matt Zayko, a coach and faculty member of the LEI who has been guiding the students.

"We develop this thinking by using the scientific method to select countermeasures to help Humble Design overcome the critical issues that are impacting them," he added. "We spend a high amount of time in the early stages clearly identifying the problem to address, using the A3 thinking process, so that people stay aligned and focused on the same vision and target."

Already, Vasudeva and Bajaj have made several improvements to the warehouse, including: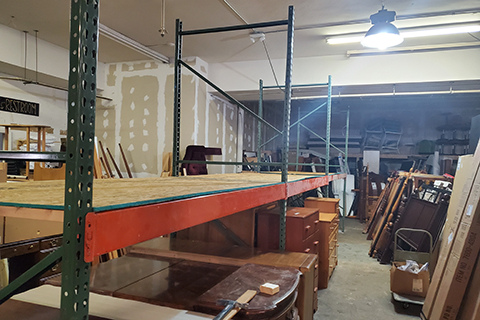 Newly installed racks inside the Humble Design
warehouse help to optimize space.
• Optimizing the space by categorizing the total warehouse into three sections: Section A (rugs, couches), Section B (furniture, bed frames, mattresses, and hygiene products), and Section C (kitchenware, lamps, designer's workstation, toys, art, sheets, curtains, electronics, and toys);

• Implementing new safety regulations inside the warehouse;

• Categorizing items in the warehouse based on color, size and shape;

• Using racks to efficiently place the furniture, rugs, metal bed frames, etc. based on their size, weight and height by utilizing the warehouse's vertical space, instead of the floor space;

• Identifying and eliminating waste by arranging for recycling twice a week instead of once a week.

"To have two students dedicated to studying our warehouse and operations and helping us find creative ways to make both more efficient has been wonderful," Corp said. "It is helping us address issues that we had accepted long ago. We are slowly changing our way of thinking from 'what are we able to do in a week with our limitations' to 'what is the need and what can we do to meet the need that exists.'"

While many improvements have already been made, Corp said the OU students are continuing to work with Humble Design to find even more ways to optimize the space and better serve the homeless community.

"The improvements so far have been mainly safety related," she said. "The other improvements we are working on, such as additional shelving, will not only make the warehouse safer, but will make all of our items easier to see and access, which will be monumental for our designers and warehouse manager. It will also allow our donations to stay in good shape since we currently have to stack everything on top of each other. By the time December rolls around, it should look like a different warehouse!"

To learn more about Humble Design, visit www.humbledesign.org.

For more information about Oakland University's Industrial and Systems Engineering programs, visit www.oakland.edu/secs/departments/ise.

To learn more about the Pawley Lean Institute, visit www.oakland.edu/lean.

For more information about the Lean Enterprise Institute, visit www.lean.org.

To learn more about the James P. Womack Scholarship and Philanthropy Fund, visit www.jpwfund.org.