Michael Kirk is a graduate of Oakland University, whose education sparked the creation of the popular website "Efficiency Is Everything."

Graduating with a bachelor's degree in Engineering Chemistry, and a master's degree in Engineering Management, he took classes that taught him assembly line efficiency could be applied anywhere.

In Industrial and Systems Engineering graduate school, Kirk was introduced to ISE581 — Lean Principles and Applications. Lean is a method for creating efficiency by eliminating waste.

"I have to thank Oakland's master's program for inspiring me," Kirk said. "I took that one lean process course and I was hooked."

After being given a classroom task by his professor to make his home more efficient, Kirk used the "Five S's," which are: Sort, Set in Order, Shine, Standardize, and Sustain. After completing the task and seeing the fruits of his labor, his wife pushed him to develop and share his efficiency tips with the world. That's how he ended up creating the EfficiencyIsEverything.com website.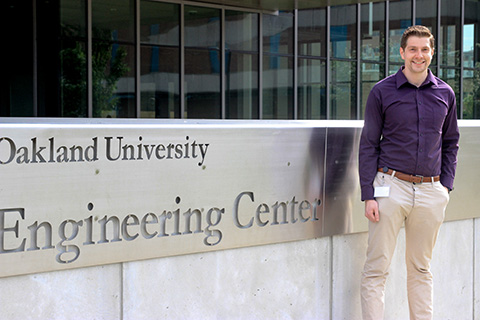 "That too, came as a result of my time at Oakland," added Kirk.

Efficiency Is Everything offers information on how to save time by optimizing life and how to save money on life's expenses like food, cost-efficient dating activities, caffeine and more. 

"I have noticed that using cost efficiency modeling has really transformed my life," Kirk said. "My wife (who was in physical therapy school at the time) and I were both able to graduate with no debt based on the cost-efficient choices we made."  

Kirk said his experiences at Oakland University went way beyond learning about efficiency. It was also at OU where he ended up meeting his wife through their participation in a student organization. The couple used to cook Ramen noodles in her dorm room as a way to stay cost efficient as students.

Kirk's career has allowed him to work on several important projects at The Woodbridge Group, Takata, and Ford Motor Company. Currently, he is working at Nissan as an electrical engineer in their Connected Car Engineering Program. In this role, he works on the module that provides GPS and 4G technology to the vehicles. 

"Efficiency can be created by understanding what a process is and what your inputs and outputs are," Kirk said. "If you can find what's not adding value and eliminate it, you can be more efficient."