Oakland University was the proud host of the 2022 MI-American Council on Education Women's Network Institute (MI-ACE) on October 25. It marked the first in-person session since 2019.
Dr. Anita Hicks and Joi Cunningham, J.D. (co-institutional representatives [IR's] for OU, as appointed by President Ora Hirsch Pescovitz), as well as Dr. Stephanie Lee (MI-ACE Board Member from OU), put the plan in motion to host the annual event nine months ago. The event was attended by roughly 45 representatives including the State Chair, vice presidents, deans, faculty, and administrators from academic institutions across the state.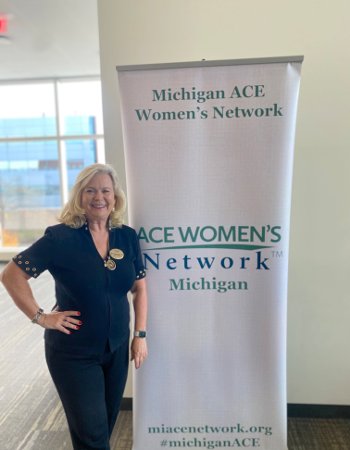 MI-ACE keynote speaker Britt Rios-Ellis
Oakland University's Executive Vice President for Academic Affairs and Provost, Dr. Britt Rios-Ellis, was the keynote speaker. Hicks and Cunningham hosted two breakout sessions for the representatives and highlighted the MIcro-Grant Awarded to Oakland University for the "Half Day in the Life of Another" program.
At this year's event, MI-ACE member campuses reported on activities that support the network's mission by enlisting the support of others at their universities and assessing the needs and facilitating institutional professional development programming.
"The IR Institute is an opportunity to train, celebrate, energize, restore, and stimulate representatives at each member school to serve as leaders in their campus networks and within the statewide organization," according to IR co-chairs Hicks and Cunningham. "The MI-ACE Executive Board fully supports the IR Institute in appreciation for the work of all IRs as the boots on the ground for the MI-ACE Women's Network."
Here is a list of MI-ACE representatives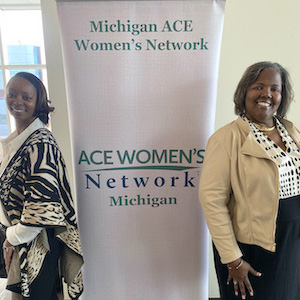 Dr. Anita Hicks, Associate Director of the
Oakland Center, left, along with Joi Cunningham,
VP for Human Resources, (not pictured) are OU's
MI-ACE institutional representatives.
Dr. Stephanie Lee, right, is a MI-ACE Board member.