Colleagues,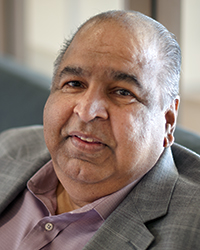 It is with deep sadness that I inform you of the death of Dr. Ravi Parameswaran, who passed away on October 16, 2020.
Dr. Parameswaran joined the Oakland University
community on August 15, 1980, in the School of Business Administration's Department of Management and Marketing, where he served as Professor of Marketing until his death. During his tenure, he also served as the department chair.
Throughout his career, Dr. Parameswaran conducted research in international business and marketing, marketing measurements and research, buyer-supplier relationships, sustainability issues, emerging markets and global interdisciplinary synergies. He also acquired vast industry experience through roles at Ford Motor Company and several other global firms.
Puja Service has already been held for Dr. Parameswaran. To view the online obituary and share your condolences, please visit the A.J. Desmond & Sons Funeral Home website.
The University community extends heartfelt condolences to the Parameswaran family and friends during this very difficult time.
Sincerely,
 
Ora Hirsch Pescovitz, M.D.
President