Tuesday, Jun 07, 2022
Queers & Allies student organization at OUWB celebrates Pride Month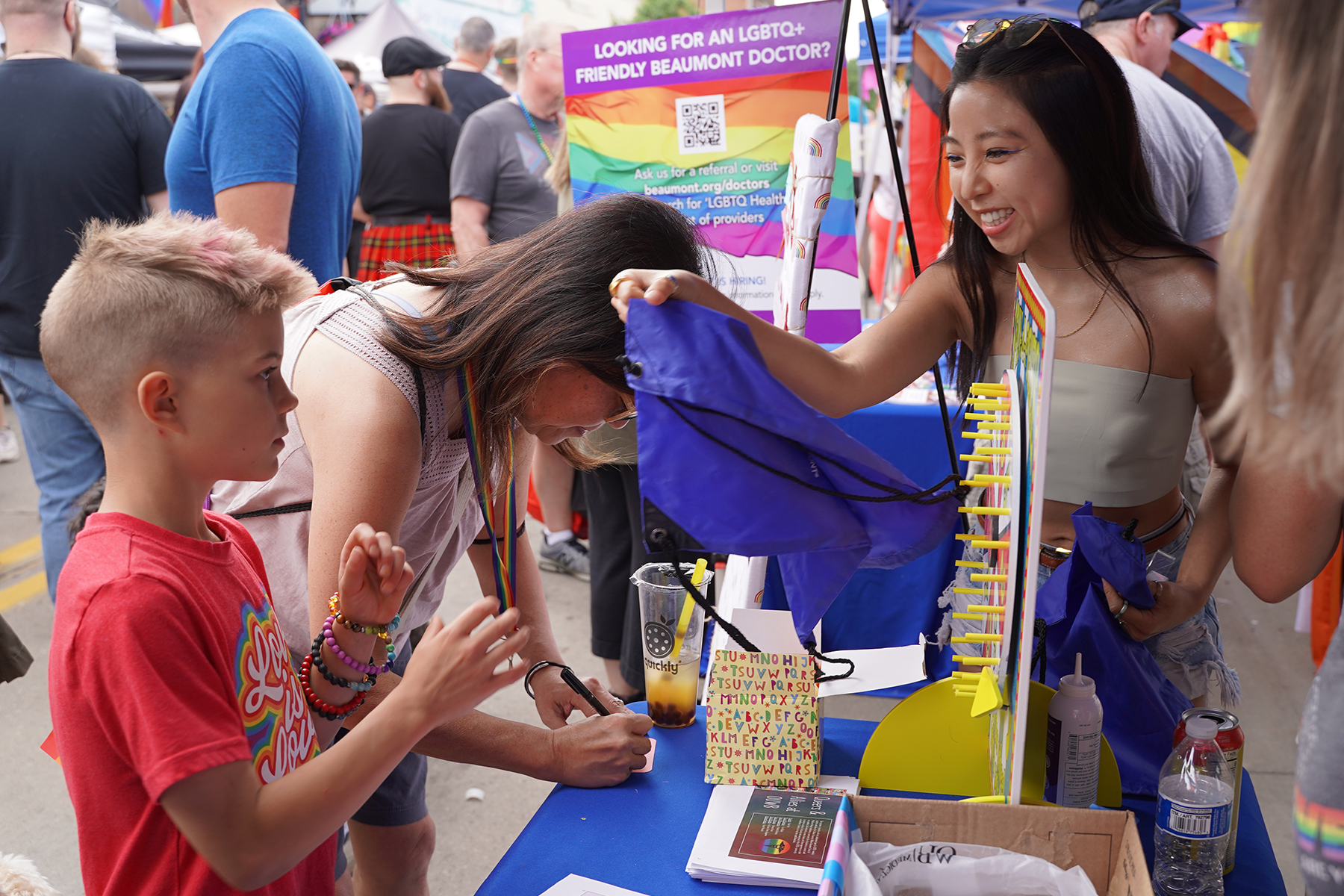 Rising M2 Lily Quach, chair of visibility, Q&A, hands a prize out to an attendee of the 2022 Ferndale Pride event.
OUWB student organization Queers & Allies is fully immersing itself at events in and around Detroit in June to recognize and celebrate Pride Month.
Queers & Allies (Q&A), a relatively new student organization, aims to provide a safe and collaborative space for LGBTQ+ students and allies at OUWB. The group works together to create a community for students to connect and build relationships while sharing experiences.
The group was represented at the Ferndale festival on June 4, and at the event, members of Q&A encouraged community members to write on a notecard what they want their doctor or someone working in the health field to know regarding the care of LGBTQ+ patients.
"Based on what I gathered from the community at last year's Pride festival, I wanted Q&A to do an activity where the community had a sense that their voices were being heard and that they were helping guide the next generation of healthcare providers to be more cognizant of LGBTQ+ patients," said Kevin Van, president, Q&A.
With these events, Q&A hopes to bring benefits to the LGBTQ+ community as well as the medical students at OUWB in order to support a more inclusive environment that is cognizant of the LGBTQ+ community within healthcare.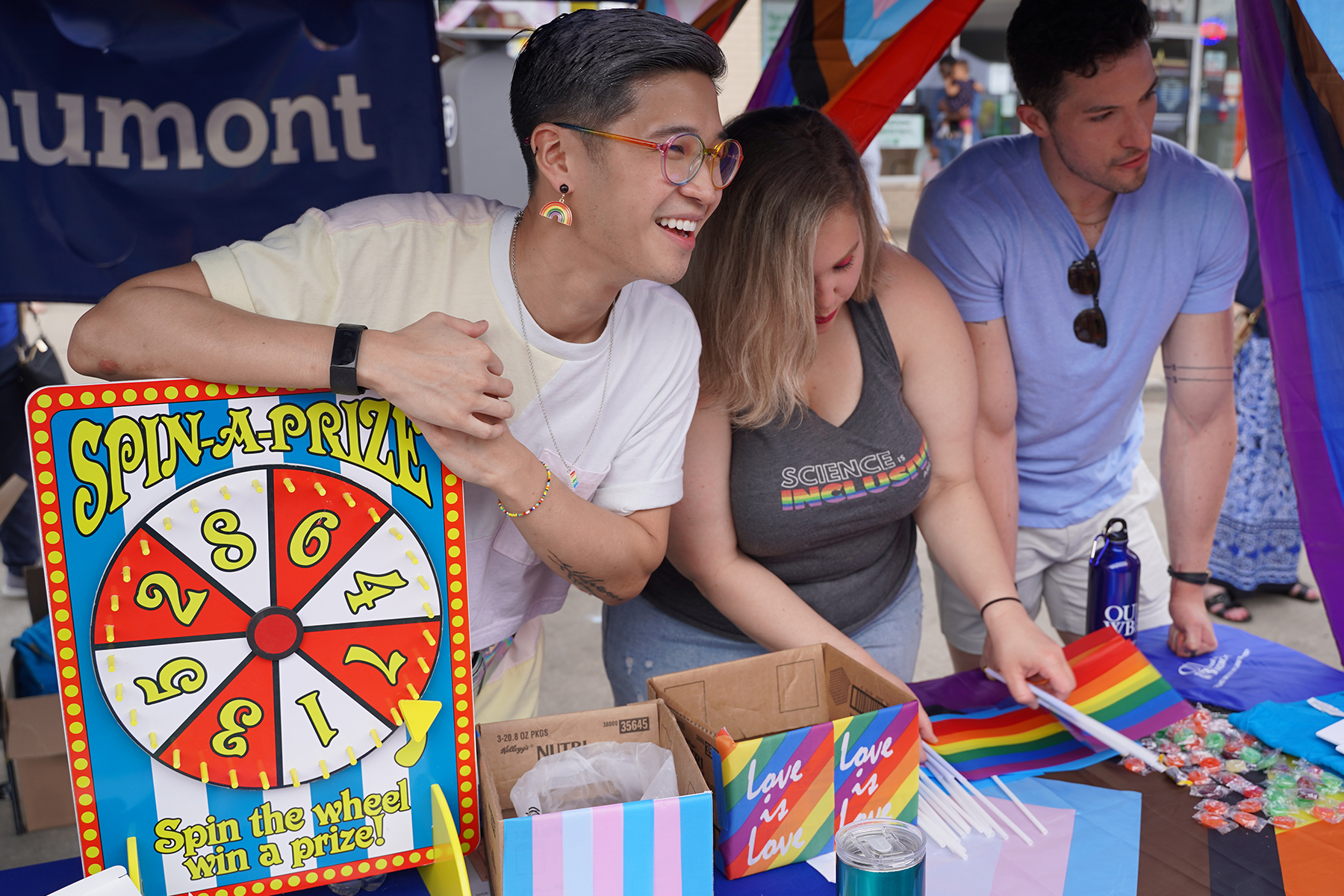 Kevin Van, president, Q&A, interacts with people visiting 2022 Ferndale Pride. 
Getting the events set up was no easy task, considering the COVID-19 restrictions. Van said the process of switching E-Boards from one which was centered around the limitations of COVID-19 to one that was back to coordinating in-person events and volunteering opportunities had its difficulties.
"I am thankful enough to have an E-Board that is supportive of my ideas, as overzealous as they may seem, and also willing to put in the tremendous amount of work to make beneficial changes to our school and its students on behalf of the LGBTQ+ community," he said.
Erin Mueller, chair of operations, was happy to see the booth be successful and said the powerful activity allowed them to connect with the community.
"This activity allowed us to see common themes of discrimination and unfair treatment of LGBTQ+ individuals by health care providers and will serve as learning points for us and our class moving forward," Mueller said.
"Some of the common themes that people wanted to see improvement in are: providers not assuming gender, LGBTQ+ individuals being allowed to donate blood, providing a more comfortable environment for individuals to talk about their sexual health without judgment, and overall more compassion and understanding from the healthcare team."
With this event, and events to come, Q&A hopes to be able to educate their peers and work towards closing the health disparity gap that currently exists in this society.
"As future physicians, it is our responsibility to seek ways to improve our health care system and fix health care disparities when possible," Mueller said.
"The LGBTQ+ community has long standing distrust of the medical system and Q&A is working to change that and provide a safe environment for all of our patients."
With the cards from these events, Q&A is planning on showcasing them in the student lounge for their peers to see during their own Pride Week. The Pride Week will be held next spring before the M4s match.
The Pride Week will consist of a patient panel, a physician talk, a Lavender Graduation for LGBTQ+ OUWB graduates, and more. This would be the first school-wide project like this done before, with a goal to bring greater awareness to the LGBTQ+ community especially in health care.
Also looking ahead, the group will next appear at the Motor City Pride Festival on June 11 and 12 at the Hart Plaza in Detroit, and some students will be walking the parade with Beaumont attendees. Q&A will then head to Royal Oak for its Pride festival on August 12 and 13, which will be hosted on Washington Street.
The in-person events add to the organization's active online presence, especially social media platform Instagram. 
Van believes that the public-facing Q&A Instagram page (@qaatouwb) helps establish a sense of personality among the E-Board members and opens the door for students outside the organization to better approach the board.
Showing off the people and the events can help establish a precedent and will better ensure the activities happening this year will continue in the future.
"While things have definitely changed for the better in most areas of LGBTQ+ rights and awareness, there is still so much that needs to change to enhance the lack of inclusivity and equality that still exists in the community, and in order to make those changes, we all need to take accountability and work together," Van said.
"I might be one voice that speaks up for something that I see as unfair or unjust, but it takes a whole village to enact those changes effectively and appropriately."
To request an interview, visit the OUWB Communications & Marketing webpage.
NOTICE: Except where otherwise noted, all articles are published under a Creative Commons Attribution 3.0 license. You are free to copy, distribute, adapt, transmit, or make commercial use of this work as long as you attribute Oakland University William Beaumont School of Medicine as the original creator and include a link to this article.