Monday, May 24, 2021
Nguyen taps extensive experience as one of OUWB's newest faculty members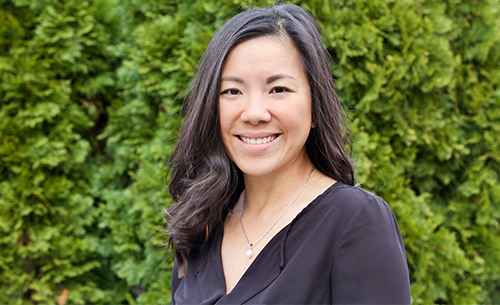 One of OUWB's newest faculty members says medicine always leads back to the foundations of the human body — and that's why she's excited to be teaching anatomy at the school.
Ngan Nguyen, Ph.D., joined Oakland University William Beaumont School of Medicine in November 2020 as an assistant professor in the Department of Foundational Medical Studies.
She primarily teaches human anatomy to first- and second-year medical students, and it's a role Nguyen said she loves.
"I enjoy that it really helps the medical students understand the foundations," she said. "Anything that they do, whether it's in clerkship, residency, or later in their career, it has to come back to the human body."
"It gives you an appreciation of how everything is organized and it really makes you think there was a bigger plan in terms of how we're constructed," she added.  
Prior to joining OUWB, Nguyen served as the Learning Measurement and Assessment Consultant at Columbus, Ohio-based OhioHealth, a health system recognized as one of the top five largest in the U.S. with a network that includes 12 hospitals and about 35,000 associates, physicians, and volunteers.
At OhioHealth, Nguyen designed and implemented the Return on Learning initiative – a multifaceted program created to increase the value of learning and development. The Return on Learning initiative gained national and international recognition by winning several Excellence awards from the Brandon Hall Group as well as Best Practice status by the ROI Institute.
She said many of the tools and techniques she designed are still being used by OhioHealth.
In fact, Nguyen said she's particularly proud of such methods and systems she's developed because they help demonstrate values of programs to various stakeholders "and really help them think about why they're doing what they're doing and who it is that they're affecting, from the learners who are participating in the program to the patients."
Still, Nguyen said she was interested in OUWB because — as an assistant professor teaching anatomy — she could get back to her roots.
Nguyen received her master's degree and Ph.D. in clinical anatomy from London, Ontario's Western University.
Following her graduate career, Nguyen completed a postdoctoral fellowship in electrical and computer engineering at Western University and a surgical simulation fellowship with OhioHealth and sponsored by the American College of Surgeons Accredited Educational Institute.
Nguyen also is a member of the Society for Simulation in Healthcare and American College of Surgeons' Simulation Fellowship Committee.
"I wanted to take what I've learned over the past seven or eight years in medical education, and bring it back to anatomy," she said.
In addition to teaching, Nguyen said she is looking forward to other opportunities she expects to have at OUWB. Specifically, she hopes to start a research lab that will primarily focus on two categories: learning and development (L&D) and measurement and evaluation.
"I'm looking forward to bringing together individuals from OUWB as well as Beaumont who are interested in simulation and forming a core group who want to be involved in implementing simulation to improve the different outcomes, from learning to patient care," she said.
For more information, contact Andrew Dietderich, marketing writer, OUWB, at adietderich@oakland.edu. 
To request an interview, visit the OUWB Communications & Marketing webpage.
NOTICE: Except where otherwise noted, all articles are published under a Creative Commons Attribution 3.0 license. You are free to copy, distribute, adapt, transmit, or make commercial use of this work as long as you attribute Oakland University William Beaumont School of Medicine as the original creator and include a link to this article.