School of Nursing
Make a difference where it matters most. Learn from the best and confidently pursue your purpose. Take charge of your golden opportunity. 
Fully accredited by the Commission on Collegiate Nursing Education, Oakland University's highly-acclaimed School of Nursing offers one undergraduate degree (BSN) with three tracks and three graduate degrees (MSN, DNP, and Ph.D.) with five MSN tracks and two DNP tracks. The School of Nursing also offers three post-masters certificates (AGACNP, AGPCNP and FNP) and a post-baccalaureate certificate in Forensic Nursing.
OU nursing students are able to watch, learn and practice in the best hospitals and clinical sites in the state, and more than 95% of graduates find employment in the tri-county area.
Bachelor of Science in Nursing Program

Basic Track

Accelerated Second-Degree Track


BSN Degree Completion Sequence
Master of Science in Nursing Program
Adult / Gerontological Acute Care Nurse Practitioner (AGACNP) Track

Adult / Gerontological Primary Care Nurse Practitioner (AGPCNP) Track

Clinical Nurse Leader Track

Family Nurse Practitioner (FNP) Track

Forensic Nursing Track
Doctor of Nursing Practice Program
Doctor of Nursing Practice – Nurse Anesthesia Track

Post-Masters Doctor of Nursing Practice Track
Ph.D. in Nursing Program
Majors and Programs
While working as an ER nurse, Chantel Hammond often cared for patients who experienced trauma. Deeply invested in helping those patients, Chantel took her skills to the next level by pursuing a graduate degree in forensic nursing. Under the golden guidance of OU faculty, Chantel has developed into a transformational leader, pushing to help those in need.
Learn more about OU's majors and programs.
Undergraduate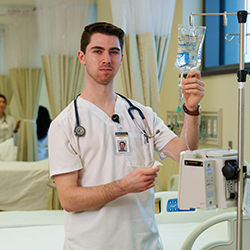 Witnessing the impact nurses made in a loved one's health battle drove Matthew Adamski to seek a future in the profession. OU's School of Nursing equipped Matthew with the connections, confidence and career opportunities to boldly go after his goals - to make a difference in the lives of his future patients.
Take charge of your next chapter at Undergraduate Admissions.
Graduate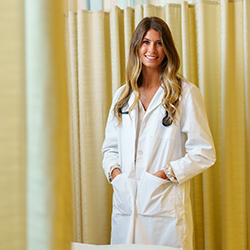 When it came to choosing a university for her graduate degree, Natalie Oltean knew OU not only afforded the expertise to thrive as a nurse practitioner, but also the ability to network and secure a job post graduation. Learning from exceptional faculty amid state-of-the-art facilities, Natalie embraces real-world knowledge, tools and skills as the basis of her approach to exemplary patient care.
Take your journey to the next level at Graduate Admissions.