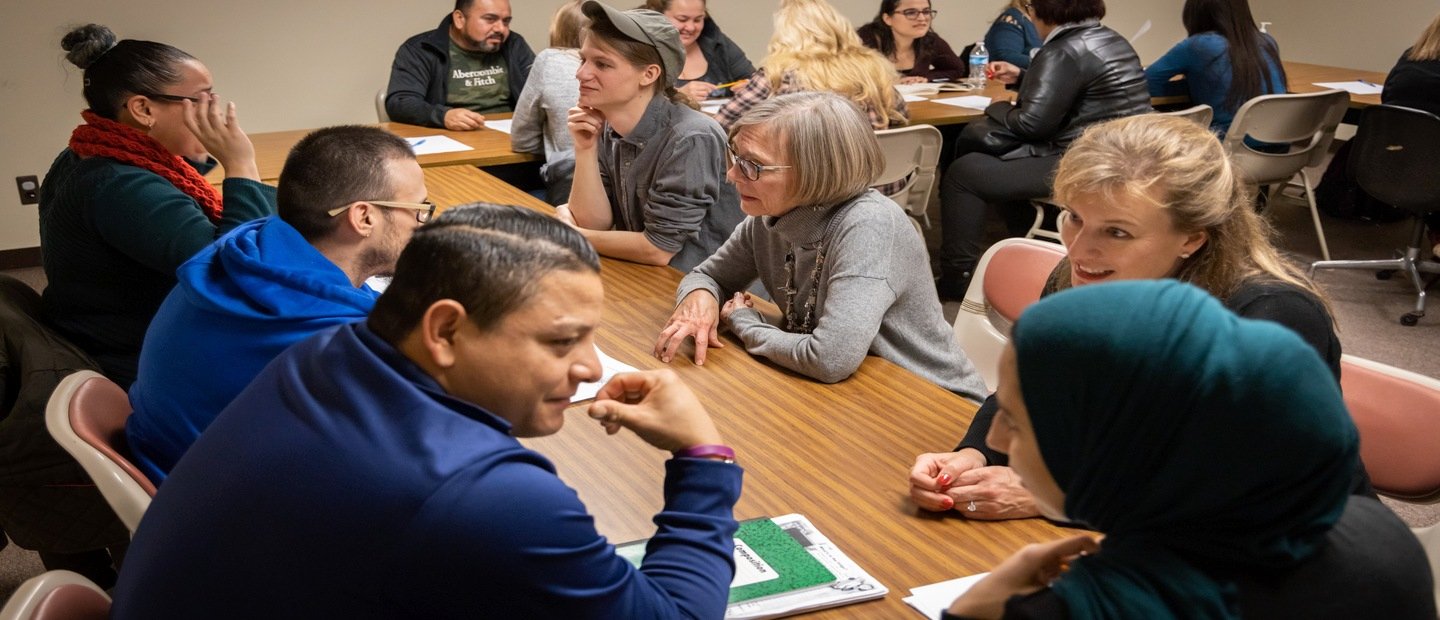 TESL Outreach and Programs
Since 1998, the Department of Linguistics has offered English language outreach classes to adults and children. Adult language classes are offered online and face to face in partnership with Hispanic Outreach La Casa Amiga Pontiac September through June. In addition, the Department of Linguistics undergraduate and graduate students work with PK12 English language learners each summer and during the academic year.
Background and Mission
Among the foreign-born, the Hispanic population is the fastest growing group in the U.S. While areas of the south and southwest have seen the largest growth, the number of Hispanic individuals in Michigan and in Oakland County has grown as well. According to the 1990 census, there were 7,000 Hispanic residents in Pontiac. Current estimates put the number at above 10,000. Many of these individuals are first-generation residents and for most Spanish is their native language. In response to this local need, during the 1998-99 academic year, the Linguistics Department inaugurated the Hispanic Outreach Program. The program addresses the language difficulties of the Hispanic community by providing ESL and literacy intervention strategies.
The original mission of the program, to teach English to members of the local Hispanic community so that they can better understand American culture and customs, secure or advance in employment, and become fully participating members of American society, has now expanded to include all non-native speakers of English. The program is an initiative of the Department of Linguistics and is supported by the College of Arts and Sciences and administered in cooperation with Catholic Social Services of Pontiac. Student teachers in the Linguistics Department's Teaching English as a Second Language teacher-training program provide the English-language instruction under the guidance of a faculty supervisor.
Surveys have indicated that the vast majority of participants feel that the English classes help them in the workplace, and assist in improved English skills which help them either obtain naturalization, employment or advance in their current position. Participants report that they use their English skills to help their children with homework and to interact with teachers and other professionals. Some career counseling is incorporated into the classroom lessons. Approximately half of the participants achieve sufficient mastery in the advanced level class such that many of them no longer need assistance to function effectively in the English speaking community. The remaining students typically continue to work on their English language skills until they too reach fluency.
Free Adult Education ESL
Free ESL classes are held from September through June (following the Oakland University semester schedule) for adults who would like to improve their skills in English as a Second Language. Classes are held for beginning, intermediate and advanced ESL students. Graduate and undergraduate student teachers completing their degree requirements for Teaching English as a Second Language (TESL) certification teach the classes. Oakland University faculty provide support and guidance to both the ESL teachers and students to help each individual grow and learn new skills necessary for achieving work and life goals.
If you are interested in taking free ESL classes, please contact La Casa Amiga to schedule a time to complete a placement test.
Classes are held at:
La Casa Amiga
76 Williams St
Pontiac, MI 48341
Phone number (248) 338 - 4250
Mondays and Wednesdays: 6 p.m. - 8 p.m. (Grades 1-12 ESL classes available)
Tuesdays and Thursdays: 10 a.m. - noon (Childcare is available)
Free K-12 ESL Summer School Program at Deerfield Elementary Avondale School District
ESL classes are available during the last week of June through mid July each year at Deerfield Elementary Avondale School District Rochester Hills, MI. for school children in grades 1-12 on Monday through Thursday mornings 8:30 am through 12:00 noon. These classes are taught by Oakland University Department of Linguistics graduate level K-12 teachers  and undergraduate K-12 student teachers minoring in teaching English as a second language. These students are all completing requirements for a Michigan Department of Education endorsement in teaching English as a Second Language (ESL). Teachers plan lessons to improve student's ability to communicate in English in the four skills areas of reading,writing, speaking and listening.
If you would like enroll your child or for more information about the program contact:
Rebecca Gaydos
Special Instructor and ESL Coordinator
Department of Linguistics and the ESL  Institute
Oakland University
gaydos@oakland.edu
248-370-2176
Free Adult Education ESL Program (The Hispanic Outreach Program)
The Linguistics Department at Oakland University in cooperation with the Hispanic Outreach Services of Pontiac (now a division of Catholic Social Services) runs an Adult English as a second language community outreach program to provide English language classes free to non native speakers of English. Oakland University graduate and undergraduate students working toward the Department of Linguistics Teaching English as a Second Language Certificate Program (TESOL) complete their student teaching at Hispanic Outreach La Casa Amiga. Student teachers gain valuable teaching experience and the sense of accomplishment that comes with community service.
The program was launched in 1998-99. Graduate students in the Department's English as a Second Language (ESL) Certificate Program provided the instruction under the guidance of a faculty supervisor. During this pilot period, the program was sponsored by the College of Arts and Sciences at Oakland University with the support and encouragement of Dean David Downing. Background, goals, and features of the program are detailed below.
Access
Students are often unable to take advantage of traditional ESL programs because of difficulties with transportation (lack of public transportation, personal vehicles, or drivers licenses), childcare for their pre-school children, and time schedules. The program addresses all of these issues. In cooperation with the Hispanic Outreach Services, transportation is coordinated. Private funds for the program are used to pay for on-site day care for the participants' pre-school children and for books and supplies needed for instruction. Finally, classes are offered at two convenient times -- during the morning, when older children are in school, and during the evening, after the workday has finished. In the fall of 2010, the addition of ESL classes for children in grades 1 - 12 was begun in response to the requests by parents who were attending ESL classes themselves and wanted ESL classes for their children, too.
Meeting Identified Needs of the Community
These non native speakers learn English so that they can interact effectively in the community, assimilate into the mainstream, and secure employment. These goals are most effectively accomplished by focusing on oral proficiency, basic reading skills and grammar within the context of conversation and discussion that uses authentic language materials. Students in the free Adult ESL program students are grouped according to their English skills, ranging from beginner to advanced. By grouping students with similar needs, classroom activities and materials can be built around the situations the students are most likely to encounter.
Sponsorship
During its eight years of operation, the Program has received financial support from the College of Arts and Sciences, corporations, and local government agencies. Gifts and grants are used for books and other educational materials, childcare, facility rental fees and the faculty coordinator. During the first year, the Program was entirely supported by the Linguistics Department and the College of Arts and Sciences of Oakland University. In its second year of operation, 1999-2000, funding for the Outreach Program also came from Haden, International with a gift of $25,000. General Motors Corporation has been the major sponsor in recent years, contributing $20,000 in 2001-02, and $25,000 for 2002-03, 2003-04, and 2004-05 and $25,00 in 2007 and 2008.  During the 2003-04 and 2004-05 academic years, the Program also received support through a $25,000 grant from the Michigan Works Program.  PNC Bank supported the Program in 2009 with a gift of $25,00 and in 2010 PNC Foundation supported the Program with a gift of $10,000.
During the first year, the ESL students, mostly women, were transported to the University for instruction by graduate students. The ESL students' children were cared for by childcare workers at the Pontiac Area Urban League Office. At the time, there were only four regular participants. To increase participation, in the winter of 2000, the Program was moved to the Hispanic Outreach Services office that houses the Hispanic Outreach Services, a site that was familiar to the students. The result of this change was dramatic. Within a four-month period, the program grew from four to twenty students. By the end of the year, 56 students were given certificates at a reception celebrating the end of the first year of classes. The program also achieved its goal of retaining students for two semesters. Not only did students continue to attend classes throughout the winter and spring of 2000, several requested a class be offered during the summer so that they could continue their education. When the full program began again in September of 2000, many of the students returned.
Each year since its inauguration, the adult education ESL program at La Casa Amiga (originally the Hispanic Outreach Program) has grown. During the 2001-2002 academic year, there were 225 students attending ESL classes. Many of those students did not attend class every week, but there were 52 regularly attending students during the day program and 57 in the evening program. On average, there were 15 children in the child-care and pre-school programs. Specific information on program growth, participant needs and participant satisfaction is now being collected each semester. Summary reports as well as the surveys used to collect information from participants are available from HOP Reports and Surveys.