Monday, May 16, 2022
High School Workshops promote Lean Learning and Engineering Opportunities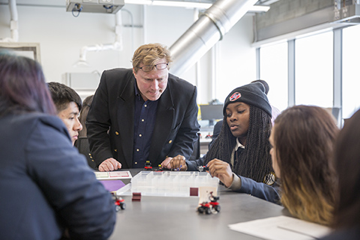 The Pawley Lean Institute and the Industrial Systems and Engineering (ISE) Department have been conducting High School Workshops since 2015. The program promotes ISE and Lean Learning as it introduces ISE as a field of study to high school students from both a college degree and career perspective. The workshop consists of three visits from high school classes to the ISE department as a partnership program with the Pawley Lean Institute. The program has to date has supported 24 school groups and 480 student participants. Schools participating in previous sessions have included: Birmingham Seaholm High School, Detroit Public Schools, Melvindale High School, Hazel Park High School, and Boulen Park Middle School from Troy. The program is currently funded for the 2022-2023 school year.

The program is targeted at high schools in Oakland/Macomb/and Wayne Counties and will reach over 100 high school students per year in the field of Science, Technology, Engineering and Math (STEM). The project is during normal school hours and conducted in the OU Engineering Center.

There are multiple components to the sessions, including:
Hands on, tool orientation
Lean/Continuous Improvement exercises
Ergonomics using simulation tools
Product Life Cycle Management
Manufacturing Systems Simulation
AT&T, Bosch Foundation, Comerica Bank, and the Lean Enterprise Institute have provided funding to support these workshops.