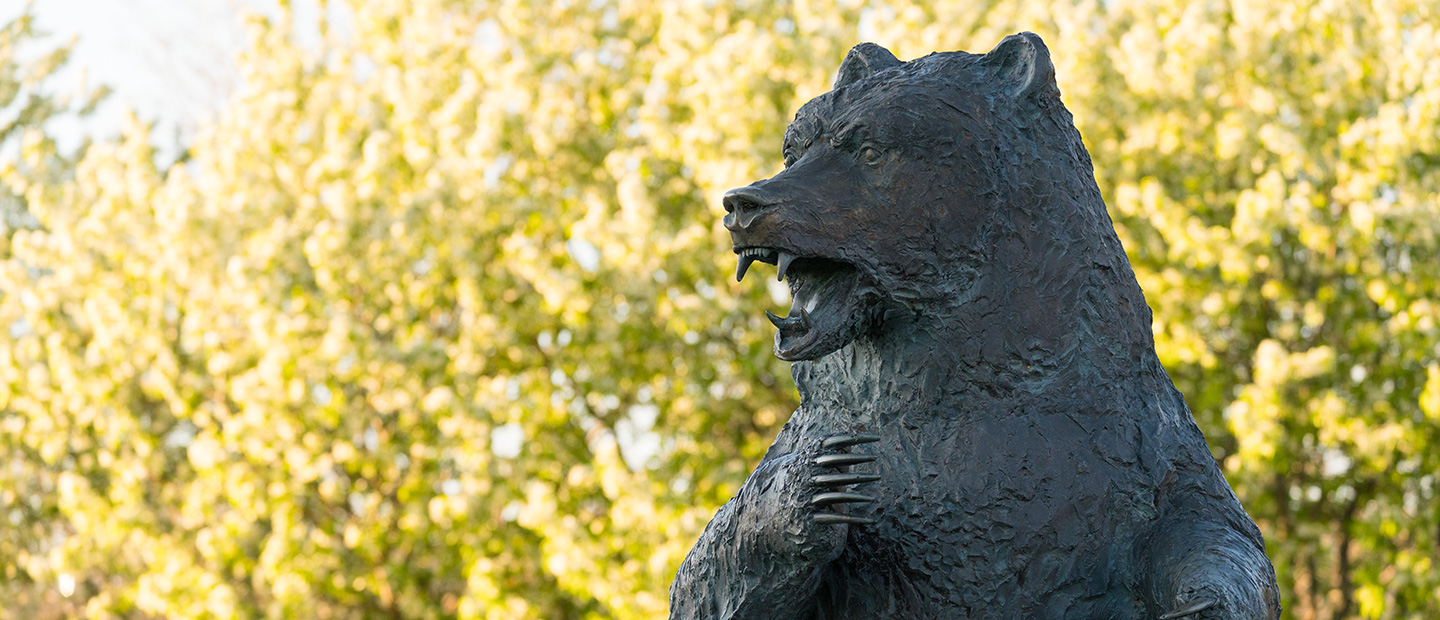 2021 Themes and Opportunities
Return to Campus with Resources
The pandemic hit everyone hard and in a variety of ways.  As we regroup and return to campus this fall, numerous resources are available to support the mental and physical well-being of students, faculty and staff. 
Navigating the return to campus will be different for everyone.  We will continue to build our OU community through a variety of programs and services provided collaboratively campus-wide in both in person, virtual and hybrid formats.  To be successful, we must first take care of ourselves which will in turn help us take care of one another.   
Fall 2021 Menu of Programs and Services
This list is evolving daily.  Check back often for additional resources, updates and links.
FREE Counseling Sessions (students)
Students have unlimited access to counseling through the OU Counseling Center.
Sessions are available in person and virtually!
Pet Therapy
Location:  Outside the Oakland Center near the Elliot Tower.  For inclement weather, inside the Oakland Center.
Dates and Times:
Sept. 1 6-8 p.m.
Sept. 20 12 noon-2 p.m.
Oct. 13 6-8 p.m.
Oct. 25 12 noon-2 p.m.
Nov. 10 6-8 p.m.
Nov. 22 12 noon-2 p.m.
Dec. 6 12 noon-2 p.m. 
By Request Health and Well-Being Workshops
Request a variety of workshops for your staff, student organization, res hall, or other group here!  Workshops are provided by the OU Counseling Center, School of Health Sciences Faculty, and Recreation and Well-Being.
Some of the topics include but aren't limited to Transitioning out of the Pandemic, Re-Socializing in the Workplace, Recognizing Depression and Anxiety, Stress Management, iPause and more!
Mental Health First Aid (MHFA) Training
Available for students, faculty and staff. FREE!
MHFA training is offered in a hybrid setting.  The workshop is 2 hours self-guided and 6 hours in person.  The 2 hours of self-guided training content must be completed in advance of the in person session. 
Registration is required.  Once registered, a link will be sent with the information to get started on the self-guided training content.  Each workshop is limited to the first 20 who register.
Interested?  Email lewis236@oakland.edu to sign up.

Fall dates and times:
Friday, October 1, 9 a.m.- 3 p.m. Rec Center
Friday, November 5, 9 a.m.-3 p.m. Rec Center
Friday, December 3, 9 a.m.-3 p.m. Rec Center
Wellness Coaching (students)
Available for FREE for students through University Recreation and Well-Being.  Registration required.
Wellness Coaching (faculty/staff)
Free virtual or telephonic coaching sessions through University Recreation and Well-Being.
Appointment slots open September 3 and will be filled on a first-come, first-served basis.
Drop-In Meditation Classes
Daily sessions are available on the University Recreation and Well-Being group exercise schedule.
Mindful Moments (faculty/staff)
Join every Friday during the fall semester (excluding breaks) for a ten minute weekly refresh 7:50 a.m.-8:00 a.m.  Register for the Zoom link.  Sessions will be led by various campus experts in well-being.
Group Exercise Classes
Check out the variety of classes (in person and virtual) offered through University Recreation and Well-Being.  Classes are free to students and benefits-eligible OU employees.
Well-Being Videos
The OU Counseling Center offers a series of videos to assist anyone with issues related to anxiety, depression, grief and loss, staying motivated and self-care.
Nutrition Consultations (faculty/staff)
Meet one-on-one for free with a registered dietitian.  Fall schedule opens September 3, dates include:  September 23, October 14, November 4, and December 2.  Registration required.
30-Minute Nutrition Hacks (faculty/staff)
Virtual sessions with a registered dietitian geared towards enhancing mental well-being.
Sessions run 12 noon-12:30 p.m.  Registration required for the Zoom link.

Topics and dates include: 
September 23 Belly & Brain...Together Forever
October 14 Food Matters for the Gray Matter
November 4 Bug Alert...Beneficial Bugs
December 2 Old Dogs Can Learn New Tricks
Mindfulness Series:  Building Strength After Covid (faculty/staff)
Join these sessions to offer yourself a sense of calm during a busy day.  Participation in all three sessions is recommended as they build upon one another.
Virtual, with Caryn Wells, PhD.
Sessions run 12 noon-1:00 p.m.  Registration required for the Zoom link.
Topics and dates include:
November 2 Welcome to Mindfulness
November 16 Well-Being While During or Post Covid-19
December 7 Resiliency-A Mindful Approach
Outdoor Yoga (in the large tent on the east side of Kresge Library) (faculty/staff)
Free sessions for faculty and staff.  Bring your own mat or one will be provided.
Register for a spot in advance.
Dates: September 17, 24, October 1, 15
Time:  12:10 p.m.-1:00 p.m.
Step Into September (faculty/staff)
Get back to campus with a fun and engaging walking experience September 6-October 20!  Compete against your colleagues on a team of three.  Create a team or join one!  Registration required.  Participants will use the OU Carrot App for tracking.
Take Care of You: Building Community
Five key focus areas have been identified as important when taking care of yourself and as you navigate your return to campus.
Communication
Set expectations with yourself and those around you by expressing your comfort levels

Discuss any concerns you have with your supervisor regarding returning to campus

Be willing to have a non-judgmental, listening ear for others who may have reservations about returning to campus

Reach out to someone if you need help or are feeling emotional distress:
Giving and Asking For Forgiveness

Seek to Understand

Be willing to respect other people's perspectives as you want them to respect you
Adjusting Your Work and Study Space
Do a dry run of coming to campus and going into your office on a weekend when less people are around and you can get a sense of things

Arrive early (if possible) on your first few days back in the office to get re-acclimated

Clean & Tidy up your space to prepare for a productive day

Add things into your space that will bring a sense of comfort and calm such as air purifying plants (see below), essential oil diffuser, photos, small lamps for a more calming feel to your space

Peace Lily (toxic to animals)

Parlor Palm (safe to animals)

Snake Plant (toxic to animals)

Boston Fern (safe to animals)

Bamboo Palms (safe to animals)
Exercise and Self-Care
Create a daily healthy routine for yourself so you have structure and feel in-control of certain things throughout the day:

exercise before work

eat breakfast by a certain time

drink 80oz of water per day

set time aside for yourself

get at least 7 hours of sleep

Take a moment for yourself throughout the day to pause and practice breathing exercises 

Participate in an iPause workshop that focuses on self-care and stress management...ask a coworker to join you :)

Ask a colleague to join you (virtually or in-person) in a GroupX class...focus on having fun while doing something great for your body and mind

Take small chunks of time throughout the workday to exercise at your desk:

Chair tricep dips

Desk or wall push-ups

Chair squats

Calf raises

Seated leg lifts

Create a relaxing/calming/happy personalized playlist to help your mind and emotions throughout the day

Engage with apps as needed throughout the day:

Headspace

(mindfulness & meditation)

MoodKit (uses Cognitive Behavioral Therapy to help with depression)

Youper (therapy exercises, mental health assessment, online medical visits)

MY3 (suicide prevention)

MindShift (anxiety management)

Talkspace (online therapy)

Happify (skill building for lasting happiness)

Sanvello (stress, anxiety and depression support)
Reconnecting with Peers, Coworkers, and Campus
Start small and build/re-build connections from there...don't feel like you have to dive in head-first right away...remember to respect yours and others comfort along the way

Discuss team building concepts / ideas with coworkers to participate in (virtually and in-person)

Ask a coworker to get involved with the Green Bandana Project to show your support of mental health at OU

Ask a coworker to join you at a Pet Therapy session to experience the love and affection from certified therapy dogs
Rock Your Mental Health
For all students, faculty and staff!
Get ready to ROCK by joining OU Rec Well for an engaging and educational challenge centered around mental health.  Learn the resources, tools, and how to nurture your own mental well-being and support the mental health of your peers and colleagues. Earn prizes and get your green bandana as we build our community of support.  
The Peer Wellness Ambassador team has hidden 50+ painted rocks around campus (all outside until the weather gets bad).  When you find one, scan the QR code attached to the back of the rock and follow the associated directions.  Bring the rock to the Rec Center and exchange it for a prize and a green bandana!
*One rock per person.