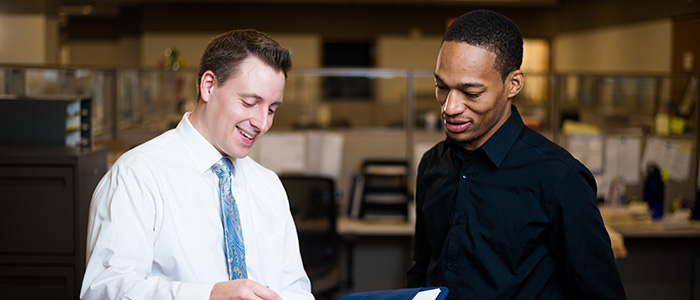 A message from President Pescovitz
To my colleagues in supervisory roles,
Young workers, families and even seasoned professionals are living busy, multifaceted lives that are more demanding than ever before. In light of this, it is becoming increasingly unrealistic to expect that the confines of traditional work environments will always best serve Oakland University and each of its employees.
In order to innovatively address this, we are expanding opportunities for flexible work arrangements to allow our employees to more effectively address family and personal needs, as well as to work more efficiently and productively. We expect this to boost employee morale, reduce tardiness and absenteeism, increase employee retention and help us recruit top talent.
Research indicates that the most successful flexible work arrangement programs benefit from top-down endorsement and advocacy. Please know that I recommend and whole-heartedly support flexible work arrangements. I believe they benefit both our employees and the University and they will help make OU a University of Choice.
Like any new initiative, this program will likely require fine tuning to meet the unique circumstances and needs of our community. As we move forward, I invite your input, collaboration and best effort to make this a successful endeavor. Please join me in doing all we can to make Oakland the University of Choice for all of our employees.
Thank you,
Ora Hirsch Pescovitz
President


Formalizing existing flexible work arrangements

All flexible work arrangements that were approved or allowed prior to the rollout of the University sponsored flexible work arrangements program must be submitted and recorded through the same process that new arrangements are required to use. Request forms are available on the Faculty and Staff pages of this web section. Supervisors and employees are advised that for reasonable, non-disruptive and occasional or short-term work arrangements, submission of a Flexible Work Arrangement Form is not required.
Any flexible work arrangement that is subject to oversight outlined within the University guidelines may be terminated if established application, review and approval procedures have not been followed. Conflicts arising from flexible work arrangements that have not been formally approved based on University guidelines will be resolved according to University policy independent of flexible work arrangement provisions.


Additional information
Do you have a question, concern or idea regarding flexible work arrangements at OU? If so, share them with us by emailing to benefits@oakland.edu.