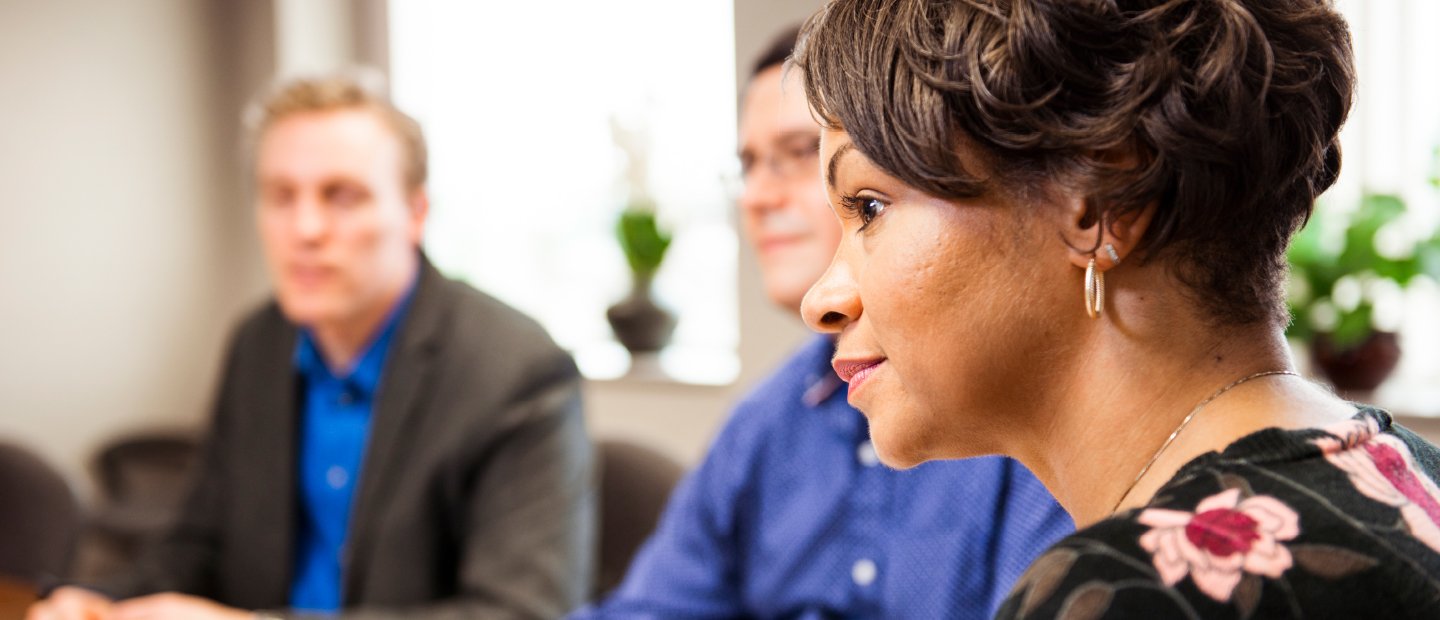 Elevate your career with an Executive MBA that complements your professional experience, with an emphasis on leadership and strategic thinking. Our integrative, action-based learning curriculum delivers a comprehensive understanding of the entire business process through engaging classroom discussions, analyzing real business cases, working in learning teams and participating in intensive business simulations.
Core Curriculum
Oakland's EMBA program features hands-on learning methods, with a focus on integrative thinking, analysis of real business cases, working in learning teams and participating in business simulations. Special courses centered on business issues, execution of strategies, and delivery methods meet unique needs of the participants.
Each student is required to complete 39 credit hours of coursework. The curriculum is divided into four components to meet the following objectives:
Provide foundational knowledge of key business disciplines
Develop leadership skills through coursework and professional development activities spread throughout the program
Offer a global perspective through coursework and optional international experience
Offer insights on the most current and relevant business issues
Preparatory Work and Program Launch (1 credit)
Online preparatory work/tutorials is available for those students who wish to review quantitative skills and obtain a basic introduction to business concepts prior to the program launch. The program launch will be a three-day orientation that will include teambuilding and communication, and an introduction to business concepts.
Business Core (22 credits)
The business core includes the functional areas of business such as financial and managerial accounting, data analytics for executives, economics, marketing, finance, global supply chain and operations management, and business information systems.
Specific program requirements are available in the Graduate Catalog.
Leadership and Professional Development
Leadership Development (11 credits)
Leadership development starts day one during the program launch and is emphasized throughout the program. Understanding the difference between leadership and management, and learning how to leverage your leadership style is key. Courses in leading people and organizations, bargaining and negotiations, law, ethics, and strategic management will be offered. EMBA students will also cover topics such as leveraging leadership style, overcoming team dysfunctions and 360 evaluations. The program includes leadership assessment tools, one-on-one coaching and 360 evaluations.
Professional Development (1 credit)
This skills-based course develops students' leadership and professional skills with the help of group and individual coaching sessions, assistance with resume reviews and applications for senior level opportunities. The program also includes a series of executive seminars and interactions with professional development staff.
Topical Discussions
Topical Discussions (4 credits)
A rotation of elective courses on topical issues. Recent topics have included Leading Diversity + Inclusion, and Digital Leadership.
Sample Schedule
The cohort structure of Oakland's Executive MBA program means students enter the program and complete the curriculum together in a set timeframe. Not only does this structure mean you know exactly when your classes are and when you will graduate, you also build a close relationship with your fellow students who will become lifelong members of your personal and professional network.
The sample schedule provides a general overview of how courses flow through the program. 
Summer 1
Program Launch (1 credit)
Team Building & Communications
Introduction & Business Concepts
Fall 1
Financial Accounting & Disclosures (2 credits)
Strategic Thinking & Competitive Analysis (2 credits)
Business Information & Analytics Systems (2 credits)
Leading People & Organizations (2 credits)
Winter 1
Managerial Accounting & Decision Making (2 credits)
Data Analytics for Executives (2 credits)
Marketing Management (3 credits)
Summer 2
Global Supply Chain & Operations Management (3 credits)
Global Macroeconomic Environment of Business (2 credits)
Global Immersion (Optional)
Fall 2
Strategic Finance (3 credits)
Managing Innovation & Change (2 credits)
Bargaining, Influencing, Negotiation & Communication (2 credits)
Law, Ethics and Leadership (2 credits)
Winter 2
Global Strategic Management (3 credits)
Privacy & Security (2 credits)
Lean Leadership (2 credits)
C-Suite Presentations & Professional Development (1 credit)
Accomplished Faculty
As a member of Oakland's elite EMBA program, you will tap into the expertise of Oakland University Business School faculty who are recognized in their respective fields.  Industry leaders and accomplished executives lend their deep business knowledge and real-world experience to the program as instructors and guest speakers. Our engaging faculty members provide unparalleled learning, facilitate invigorating discussions and develop leading-edge strategies, positioning you for a lifetime of professional success.