When the COVID-19 pandemic exposed the critical shortage of personal protective equipment (PPE) for health care professionals, OU alum Michael Medvinsky knew it was time to act.
Medvinsky, who is the dean of pedagogy and innovation at University Liggett School, a preK-12 institution in Grosse Pointe Woods, took two 3D printers home from the project room once face-to-face instruction was suspended. During ordinary times, the printers are used daily as part of the school's curriculum. Now they sit in Medvinsky's home and print face shields for health care workers on the frontlines.
With the blessing of University Liggett School, the school donated the filaments for the printers. "We also received generous donations from members of the Liggett community to order more materials for the printers," says Medvinsky. Although the delivery times for orders are now taking longer, Medvinsky says he has been able to produce the equipment continuously.
The Ultimaker printers run 24 hours per day and Medvinsky often sets his alarm for 1 a.m. to start the next batch.
Medvinsky recently picked up sewing and started to produce face masks as well. These masks are donated to medical professionals to wear over their N95 masks, he says.
So far, he has sewn about 200 cotton masks and printed 180 face shields. "My whole family is involved in it," he says about the efforts. His family – wife Elizabeth, 14-year old daughter Dahlia and 13- and 9-year old sons Ari and Jude – assist with cutting fabric and elastic. Although it can be tedious work, Medvinsky says his kids enjoy knowing that they are helping others during this crisis.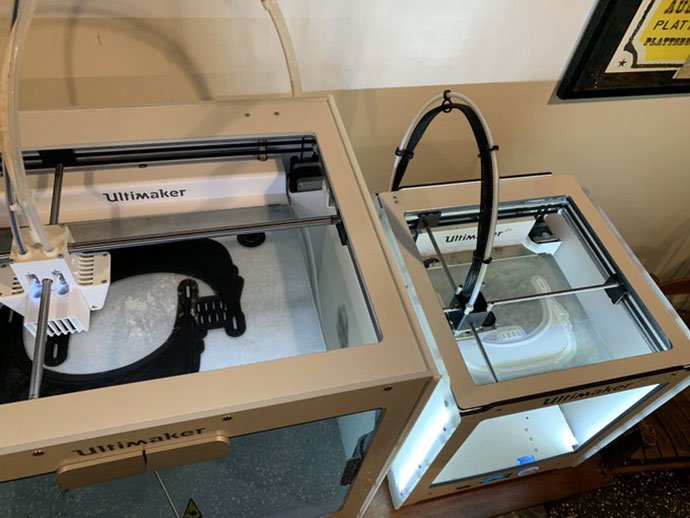 Medvinsky uses two Ultimaker 3D printers to create face shields for health care professionals.
While some of his creations go to family and friends in the medical field, other medical professionals have also reached out to him after they saw his posts on social media about printing PPE. "We have more demand than supply at this point," he says, adding he plans to continue to print PPE as long as they have the means to do so and the need is there. So far, the PPE has been donated to the Henry Ford Health System, the VA Hospital, Beaumont and Michigan Medical.
Medvinsky schedules PPE pickups from his front porch and contacts a hospital as soon as 10 items are ready to go.
He says he has received "nothing but gratitude" for creating and donating medical supplies.
"We have received so much positive feedback. It just makes us want to continue to do what we are doing," he says. "We are grateful to have the opportunity to contribute by getting medical professionals the help they need."
Medvinsky, a recipient of the 2014 Outstanding Young Alumni Award at OU, has deep ties to Oakland University. He received a Bachelor of Music in music education and Master of Music Education from OU and currently teaches a technology in teacher leadership class here. He taught music education methods from 2010–15 at Oakland University. In addition to teaching at Liggett and OU, he coaches online classes on Creating Cultures of Thinking for Harvard Graduate School of Education and Project Zero.

His wife, Elizabeth, also an OU alumna, is the director of community music at OU's School of Music, Theatre and Dance and her parents both retired from Oakland University: Jackie Wiggins as a distinguished professor of music emerita and Bob Wiggins as professor in education and human services.
Medvinsky started his career as an engineer in the automotive industry but soon realized that his passion was music. He says Oakland University prepared him for this career change. "That's what makes OU so unique, they met my needs," he says of his education at OU, adding that even though he got a later start in the field he loves, OU steered him in the right direction. Now, as an educator himself, he makes sure to meet learners where they are. "I want students to look closely, think deeply and wonder incessantly," he says.
Medvinsky says that during his time at home, he has had some time to reflect on how people may feel disconnected because of social distancing. He believes that helping each other will bring people together because "we are better together," – a mantra that is close to his heart.