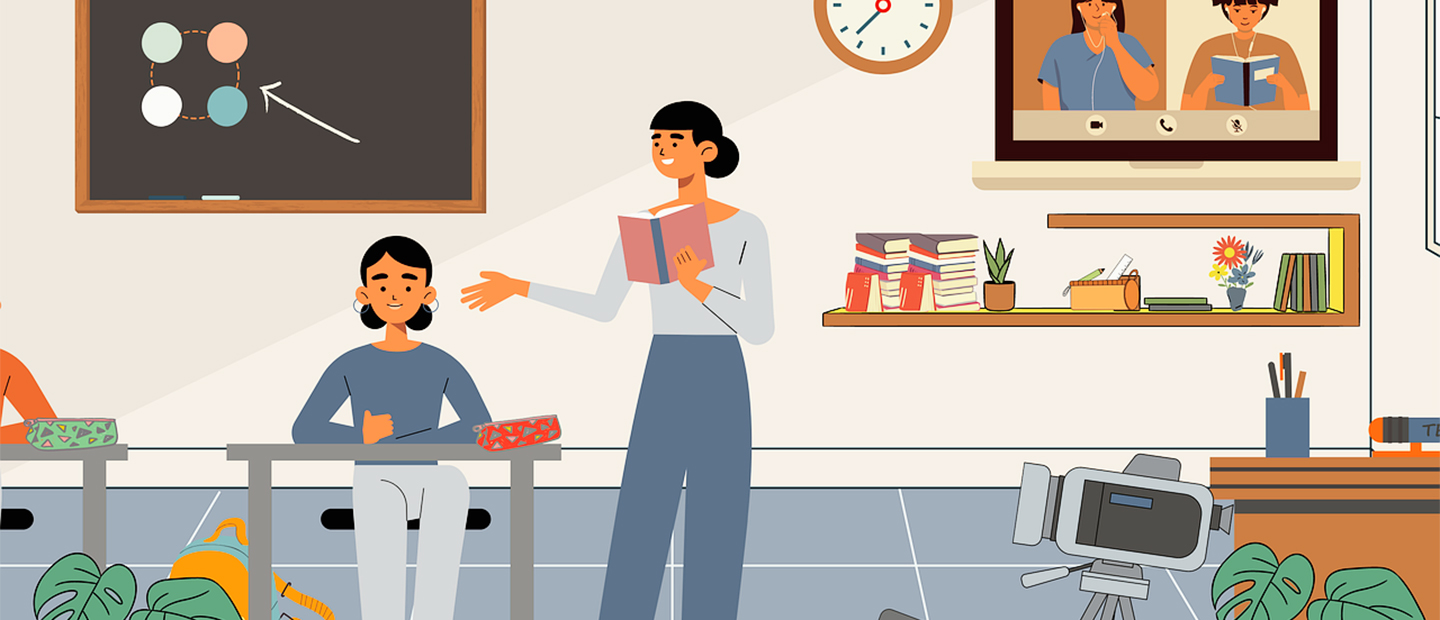 Where Are We With HyFlex? HyFlex Updates
You have likely already heard about a relatively "new" teaching modality at Oakland University: HyFlex. The registrar's office defines HyFlex instruction as when a "course combines in-person and online learning" and "students can choose their mode of participation." In other words, students can decide whether to attend each class session online or on campus. A HyFlex course "is designed for this flexibility and enables equal student learning in all participation modes." To provide equal engagement in this course design e-Learning and Instructional Support (e-LIS) department offers HyFlex Guides, a HyFlex eSpace, Workshops, 1-on-1 appointments, and department-specific workshops (for department specific workshops email idteam@oakland.edu).
What Tech Is Needed and Available for HyFlex?
At OU, general purpose classrooms are outfitted with a webcam and a podium microphone. This is a great starting place for teaching with HyFlex. Now, however, CSITS is making it even easier for more instructors to teach with HyFlex instruction by updating technology in new GrizzFlex classrooms. These classrooms have multiple cameras to help online participants view the in-person instructor, students, and whiteboards. In GrizzFlex rooms, there are also overhead microphones around the classroom, which allow students to be heard by their virtual counterparts regardless where they are seated in the classroom. As more classrooms are updated with this technology, HyFlex is becoming an increasingly accessible modality for faculty to try.
HyFlex as an OU Course Code
There are also new registration features that will help students identify opportunities to take HyFlex classes. Starting for summer semester 2023, students will be able to see HyFlex listed as one of the available instructional methods when registering for classes. Displaying the type of instruction will be helpful for many students when deciding in which courses to enroll. By showing the students the available instructional methods, they will be able to select courses that best suit their schedules and learning styles. Offering more instructional methods like this will give students more flexibility and help support the university's Strategic Goal #1 of fostering student success. 
If you have any questions about the new registration features, contact the registrar at regservices@oakland.edu or by phone at (248) 370-3450.
Reflections on Experiencing HyFlex
In November 2022, the Instructional Design team at e-LIS partnered with Classroom Support to deliver a workshop to demonstrate best practices for HyFlex classes. Chad Bousley facilitated the workshop, and Danielle Nicholson was present as an online participant and Zoom chat facilitator.
Chad's facilitator thoughts: "It was easy to answer questions from the attendees in the room, so I had to be aware of the online participants and take pauses to make sure the online participants weren't being ignored or left behind. Coming in early to test the technology vastly helped make the workshop run more smoothly. Thankfully when the virtual participants had a question or wanted to make a comment, they could be heard loud and clear, and when in-person participants asked questions, the overhead microphones made it easier for the virtual participants to hear them clearly." 
Danielle's virtual attendee thoughts: "As someone who both hosts my own workshops with e-LIS and takes regular courses at OU, I really appreciate the increasing use of HyFlex practices across campus. Being able to watch and virtually participate in events helps me to stay connected to the OU community, whether I'm sick, snowed-in, or just want to stay home. The e-LIS HyFlex workshop was a great experience that really sold me on HyFlex. Thanks to the GrizzFlex technology, I could see and hear everyone in the classroom. Some in-person participants also brought their own laptops, so they could read and respond to the Zoom chat individually, and that further helped collaboration and discussion. It also helped to have 1-2 people (in-person and online) specifically assigned to monitor the chat to make sure everyone was heard and acknowledged. HyFlex does take some practice, but it really is worth it. If you want to learn more about this modality, I highly encourage attending an e-LIS HyFlex workshop."
Megan Widman MSW, Social Work Instructor thoughts: "I've found that teaching in a HyFlex format has created a deeper sense of community in my classes. HyFlex creates a class environment that is more inclusive and accessible for all students, especially those that may have chronic illnesses or are primary caregivers to a child or other family member. I have noticed less student absences when teaching HyFlex courses, which leads to better learning outcomes. One of the tips I have for those who are teaching a HyFlex course for the first time is to prepare. This includes reaching out to e-LIS for support on HyFlex teaching best practices and CSITS to learn what technology is available in your classroom. Preparation also entails arriving to the classroom early to ensure that you have time to set up everything, including starting the Zoom meeting and testing the audio. I will also assign one student who I know is attending on Zoom to be a co-host, so they can let people into the virtual classroom if I am busy lecturing. Finally, I always have two extra batteries with me for the microphone in case the batteries run out in the middle of class. This has proved useful on more than one occasion!"
HyFlex Best Practices
Thinking about teaching HyFlex? Here are a few best practices to get you started:
Upload any documents, information or materials to Moodle before the lecture begins so students can access everything seamlessly during the lecture.

Use a virtual whiteboard and document camera. This will help to ensure that there is an equitable environment for in-person and virtual students. If you are only referring to a paper in your hand or something written on the whiteboard in the classroom, then the virtual students will not be able to see what you are showing the in-person students. The e-LIS HyFlex Teaching eSpace includes recommended tech options for

HyFlex whiteboard equivalents

.

Design opportunities for collaboration between students regardless of modality. 

Students can work together as one learning community and do not need to be separated by modality. If/when your in-person students bring laptops, they can pair with online students for group work. 

There's no drawbacks in mixing students in the online and in-person environments as long as students know how to control their mics and speakers. Have students mute the mics on their personal devices and silence their devices' sound whenever the classroom mics and speakers are being used.
Conclusion
It's an exciting time to teach HyFlex at Oakland University! New registration features will make these instructional methods clear to students and provide more transparency in the registration process. More classrooms are also being updated with technology to make HyFlex instruction run smoothly. However, you don't have to wait for a fully equipped GrizzFlex room to try this modality's practices yourself. Experiment with whatever technology is available to you, and see what works best for you and your students. For more information on HyFlex tool recommendations and best practices, a great place to start is the HyFlex eSpace in the references and resources section. 
There are multiple offices on campus working to support faculty and students in this modality, and more resources are being developed every day. As we all continue to explore this new modality, sharing our experiences, advice, and recommendations with each other will help us all become more comfortable and confident with it.
References and Resources
Save and adapt a Google Doc version of this teaching tip.
About the Authors
Chad Bousley (he/him) is an Instructional Designer at e-LIS. Chad Bousley is an Instructional Designer at e-LIS, who helps faculty with online course design, creating interactive activities and implementing online teaching best practices.  Outside of the classroom, Chad enjoys learning foreign languages and playing guitar.
Danielle Nicholson (she/her) is an Instructional Designer at e-LIS. She helps faculty use technology to make their online teaching experience easier, more efficient, and more enjoyable. In her free time, she enjoys reading and nature walks.
Image from Pixabay. Others may share and adapt under Creative Commons License CC BY-NC.