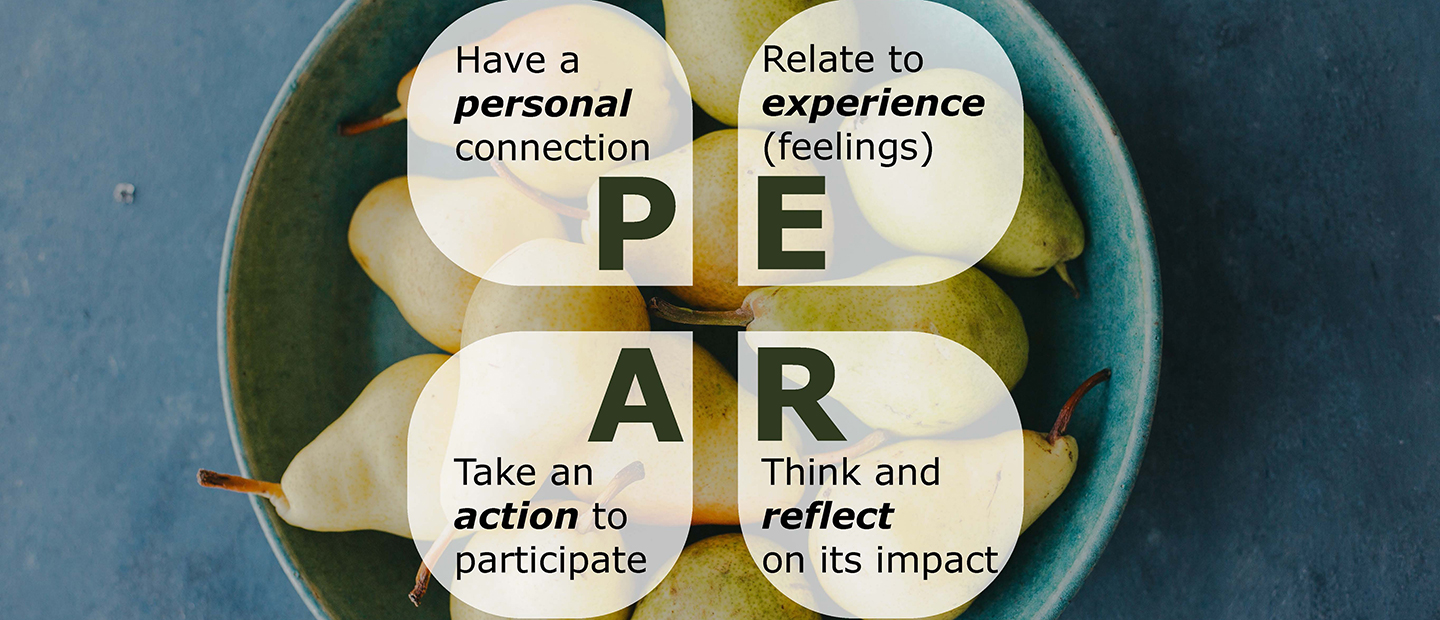 The P.E.A.R. Approach For Developing Discussion Questions
When developing questions for students, we tend to ask the questions that we think will provoke the answer we want and hope that students will dig deeper. The PEAR approach develops discussion questions that encourage critical thinking and more in-depth answers. The PEAR approach responds to Kolb's experiential learning style theory and helps students to better process and retain information via a four stage learning cycle (McLeod, 2013). PEAR questions ask students to analyze the concepts in the readings and make connection between theory or practice and their personal lives and can have students experiment with the ideas in the readings, share what they would have done differently as a result of their reflections in light of their new knowledge, or argue the opposite of a classmate's position.
P

ersonal - having a personal connection

E

xperiential - related to their experience (feelings)

A

ctive - they must do something

R

eflective - think about how it impacted them
Good PEAR questions utilize action verbs that can be mapped to a skill level on Bloom's taxonomy (see Resources for a good listing of such verbs), too, and are developed using a careful and deliberate process:
Identify what needs to be learned.
Develop a question that assesses that knowledge using the PEAR approach.
Administer the question to a small group of students or colleagues. This step is often skipped, but this "peer review" or "piloting" often yields good feedback that can be used to more precisely shape the question. If your department has graduate students or student workers, they can be your best hope for this "test run," as they are more likely to answer as your students will, unlike your colleagues.
Analyze the results and make modifications.

Note here that if #3 does not gain you the answers or types of answers you're not asking what you think you might be asking. You may even want to repeat #3 and #4 a couple of times before moving to #5.

Give question to students. Don't be shy about asking students how they would have refined the question once they've answered it. This gives you a chance to hear how they think and gives them a chance to feel greater investment in the course (which leads to better course evaluations!).
Analyze the results to determine if material was learned.
Make modifications for next time.
Repeat as needed to refine the question.
In a face-to-face course, you can send your students home with PEAR questions to write out their answers and bring to class. These can be used as jump starters for traditional discussion or as part of a "silent discussion" where students are paired or put in small groups to exchange papers and respond to one another's )(and subsequent) answers before coming back together as a class for a fuller discussion. In an online course, PEAR questions should yield richer, more meaningful discussions on the discussion boards, in blogs, or however you choose to use them.
References and Resources 
249 Bloom's taxonomy verbs for critical thinking. (2013).
McLeod, S. (2013). Kolb – learning styles. 
Save and adapt a Google Doc version of this teaching tip.
About the Author
Wren Mills (Ph.D.) is a professor for Distance Learning and English at Western Kentucky University. Originally published December 2017. Photo Credits: Khloe Alredge (Unsplash), adapted by Madeline Shea, OU graphic design major. Others may share and adapt under Creative Commons License CC BY-NC. View all CETL Weekly Teaching Tips. Follow these and more on Facebook, Twitter, and LinkedIn.