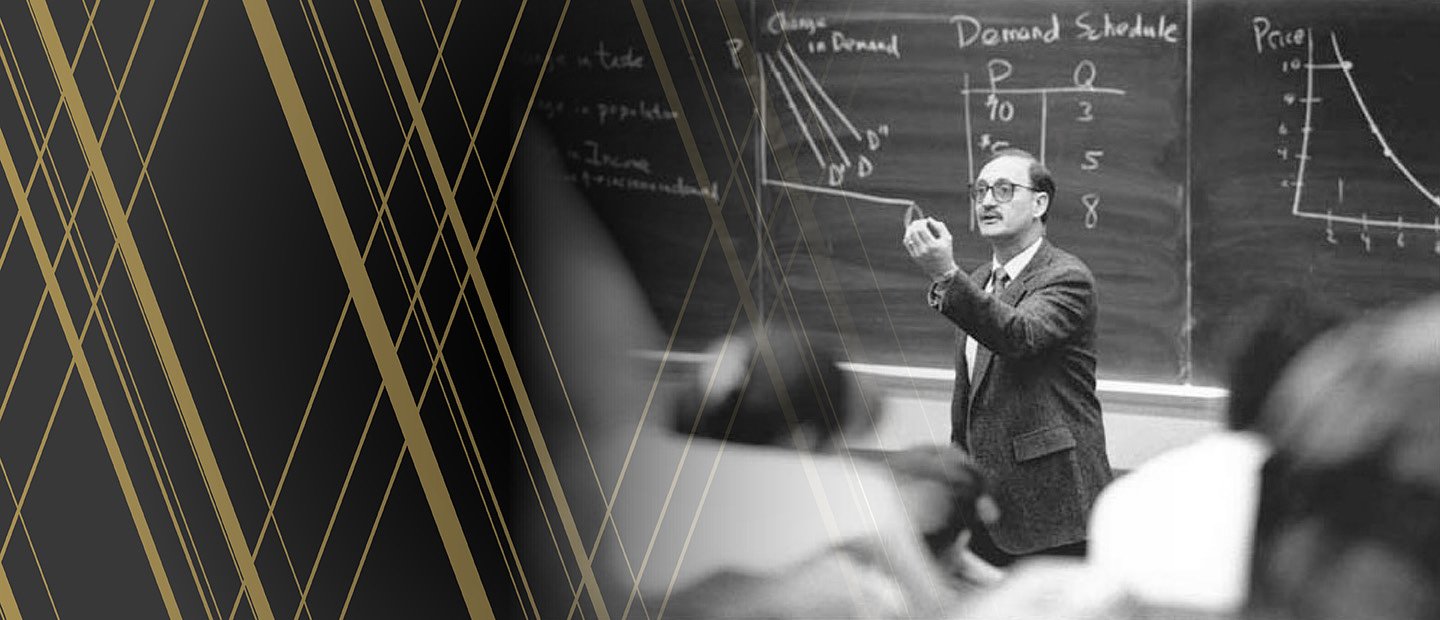 Honoring Our Past | Celebrating Our Present | Creating Our Future

The Oakland University School of Business has evolved from a small liberal arts business program in the College of Arts and Sciences to a Department of Economics and Business Administration to an AACSB-accredited business school offering undergraduate and graduate business degrees.
The Oakland University School of Business will commemorate its 50th anniversary at the Golden Gala, presented by the Elliott Foundation, Saturday, May 21, at the Royal Park Hotel; and at the Celebratory Brunch, Sunday, May 22, at the Oakland Center.
Fifty Formative Years
Over the last five decades, OU's business school has experienced tremendous growth in its reputation in the business and research community, thanks to the work of its expert faculty members and the success of its graduates in the work world.

1969
The Department of Economics and Business Administration at Oakland University transforms into the School of Economics and Management, offering a BS in Management, offering courses and majors in accounting, finance, marketing, human resources management and management information systems.

1971
First master's program in business called the Master of Science in Management begins.

1980
Master of Science in Management evolves into the MBA.

1986
Board of Trustees approves School of Business Administration as new name.

1988
Earns prestigious accreditation of its undergraduate business and MBA programs from AACSB-International.

1999
First Executive MBA cohort starts classes

2000
Moves into Elliott Hall, which is named for Nancy and R. Hugh Elliott.

2007
ACHIEVE and Business Scholars programs for undergraduate business students launches.

2010
Stinson Student Advancement Center, which provides a one-stop area offering student services, meeting and lounging areas, opens.

2011
The Tim and Marsha Healy Café opens, serving Elliott Hall visitors a selection of fresh food items and Starbucks products.

2011
Ideas 2 Business program begins. 

2015
$2-million Student Managed Investment Fund, powered by The Kresge Foundation, in new Data Analytics and Trading Floor Lab welcomes first students.

2017
Graduate Certificate in Business Analytics begins.

2018
The Executive MBA is relaunched with a leadership focus.
Graduate Certificate in Business Essentials begins.
Graduate Certificate in Finance begins.

2019
First Business Honors cohort enrolls.
Graduate Certificate in Information Security Management begins.

2020
The Online MBA program launches.

2021
Master of Science in Business Analytics program launches.
Graduate Certificate in FinTech begins.
Graduate Certificate in Leadership in Business begins.
Graduate Certificate in Marketing begins.

Coming Fall 2022
Master of Accounting 4+1 program
Master of Science in Business Analytics 4+1 program
Graduate Certificate in Human Resource Management

Coming Winter 2023
Master of Science in Finance program

Homes of the Business School
Since its inception, the School was housed in North Foundation Hall. Later it moved to the first two floors of West Vandenberg Hall. The School then relocated to Varner Hall before moving to its current home in Elliott Hall.
Sponsors
Special thanks to our sponsors for their support.
The Elliott Foundation, Presenting
PricewaterhouseCoopers, Platinum
Mr. & Mrs. Russell M. Shelton Foundation
Kelly Services, Bronze
Ernst & Young, Student Volunteer
FANUC, Student Volunteer
SMART, Student Volunteer
Automation Alley, Table
Bank of Ann Arbor, Table
Borg Warner, Table
Doeren Mayhew, Table
DTE Energy, Table
First State Bank, Table
Flagstar Bank, Table
Independent Bank, Table
Kim and Ken Janke, Table
Kresge Library, Table
Mahindra, Table
OU Division of Student Affairs and Diversity, Table
OU Economics Advisory Board, Table
OU School of Nursing, Table
Lisa and Don Pietrowski
No matter what level of involvement you choose, we thank our sponsors for their support. It will help us to create a future that empowers business students to reach their full potential.

Contact
Rick Rachner, Assistant Vice President for Philanthropy, rachner@oakland.edu, (248) 364-6109 or Kristen Cometto, Director of Philanthropy, kcometto@oakland.edu, (248) 370-2121.
Celebration Events
50th Golden Gala Celebration
Presented by the Elliott Foundation
Saturday, May 21, 2022
Royal Park Hotel, Rochester, Michigan


Golden Celebration Brunch
Sunday, May 22, 2022
Oakland Center, Oakland University campus
10:30 a.m. - 1 p.m. 


These events are at capacity. Please direct any questions to events@oakland.edu.